New-look PT Cruiser unveiled
Changes are few and fairly small, but the eye-catching Cruiser does get a few improvements for 2006.
June 17, 2005; Posted: 5:01 p.m. EDT (2101 GMT)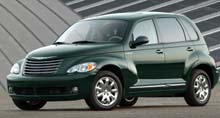 2006 Chrysler PT Cruiser (Photo: DaimlerChrysler)
2006 Chrysler PT Cruiser interior. (Photo: DaimlerChrysler)
NEW YORK (CNN/Money) - Not too long ago, it was a red hot automotive oddity. Not only was it hard to classify, it was a genuinely inexpensive car that didn't look like a bland hatchback or a tiny sedan.
That combination of eye-catching, fun looks and a low price tag made the PT Cruiser an instant hit when it was introduced in 2000. Buyers signed up on waiting lists and paid full sticker price -- and sometimes more -- to be among the first to own one.
Within months, those who had to have one first already had one. Chrysler finally increased production to meet the strong demand among those who were willing to have one second, third, fourth and so on. Actual prices paid for the cars started coming down. Now you see PT Cruisers everywhere.
Chrysler kept up demand for the car by introducing a string of variants -- special paint jobs, nicer interiors, wood trim, a convertible, a turbocharged engine -- but the basic design has been left intact. Evocative of a 1930s panel truck of no specific make or model, the PT Cruiser has held on to one design longer than most other, less eye-catching vehicles.
Finally, for the 2006 model year, the PT Cruiser is changing. Technically speaking, it isn't a redesign. It's a "refresh." That means changes are minor and mostly restricted to appearance.
If you're sick of seeing PT Cruisers, this won't help. On the other hand, if you haven't bought yours yet, you're not out of luck. There are even a few improvements.
The company did a lot of workshops and "clinics" with current PT Cruiser owners, said Dennis Krozek, director of front-wheel-drive vehicles for Chrysler.
"They told us, 'Don't mess with the design," he said.
The headlights have a scalloped shape along the bottom and the grill no longer extends below the front bumper. Overall, the front end has a somewhat flatter and lower appearance.
Mechanically, everything's the same except the turbocharged version of the engine gets a 10 horsepower boost. It now produces 230 instead of 220 horsepower.
Inside, the Cruiser takes on a look more in keeping with new Chryslers including the signature analog clock like that on the Chrysler 300 sedan. There's also more storage space in the glove compartment and center console.
The seats are also new and improved.
Other than that, the PT Cruiser will keep on truckin' pretty much as is.
Later in the day, the company also unveiled the new Dodge Ram truck.
2005 Chrysler PT Cruiser specs, prices and photos
Other recent redesigns, new additions and future cars:
Two-door Dodge Challenger to return?
New Porsche coupe photos released
---
Feedback: autos@cnn.com