LONDON, England (CNN) -- Want to know a little more about your education options? CNN has compiled some fast facts about executive education programs: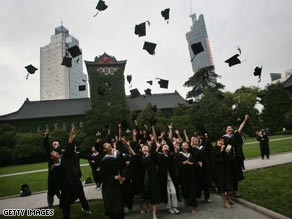 The classic MBA is a two-year full-time program. Accelerated and distance learning MBAs are increasingly popular.
A typical MBA student has several years' work experience and is in their late 20s. Those who take an Executive MBA, or EMBA, tend to be older, more senior managers.
Courses are expensive, but the rewards are high -- some new MBAs now get a $100,000 basic salary, according to a survey.
The biggest accreditation body for business schools is the U.S.-based AASCB. Another notable one is the Association of MBAs in the UK.
The world's first business school was France's ESCP-EAP, which opened in 1819.
The first U.S. school opened in 1881. It was the University of Pennsylvania's Wharton School.
The United States now dominates business education -- according to the Financial Times MBA rankings for 2007, eight of the top 10 were based at U.S. schools.
However, there are a number of increasingly good schools in Asia, the Middle East and Africa.
China and India are among the fastest-growing markets in the world for business education.
The cost of an MBA varies enormously. However, many students end up spending $100,000 on a two year course, counting living expenses.
According to educational experts, demand to take MBA courses can often be strongest when the economy is weak.
The converse is often true -- demand to enter business schools dropped markedly during the dot-com boom.
As well as general MBAs, specialist courses exist in everything from social entrepreneurship to luxury goods and the wine trade.
Increasing numbers of MBAs offer an international perspective, and many demand students spend some time studying abroad.
E-mail to a friend