DA: Final BTK episode 'pathetic'
Ten life terms for confessed killer 'the best we can do'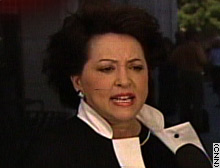 Sedgwick County District Attorney Nola Foulston
WICHITA, Kansas (CNN) -- The judge in the BTK case on Thursday sentenced Dennis Rader, 60, to a minimum of 175 years in prison for the 10 murders to which he has confessed.
Sedgwick County District Attorney Nola Foulston spoke with CNN correspondent Jonathan Freed outside the courthouse after the hearing.
FOULSTON: It's over.
FREED: Can you believe it's over?
FOULSTON: Oh, my God. I'm so glad. We had this final episode in the courtroom where Dennis Rader had these big crocodile tears. It was just pathetic.
FREED: The nature of his statement today where he actually apologized to the victims -- did you expect that to come today?
FOULSTON: That was pathetic. It was not only this little hoo-hah that he did, but also, how did you like the Golden Globe awards that he gave out today in court? That was very interesting, don't you think?
FREED: He was almost taking a final bow today. That's how it came across.
FOULSTON: I call it the Golden Globe awards. ...
He was giving out kudos to the jailers; he was giving it out to even law enforcement. But you know what? He had criticism for me. I couldn't believe it. He didn't like my PowerPoint [presentations]. [He] kind of criticized them and thought they could be done a little bit better. That's the control freak in him.
FREED: You all along have been saying you wanted the appropriate end result for the community, but most importantly for the victims' families. Do you feel you got that today?
FOULSTON: Yes, we got the maximum sentence; it's 10 life sentences, the "hard 40" on the last sentence on the death of Delores Davis, which means he would not be eligible for parole for 40 years [on that count].
So the cumulative effect with each of these running consecutively is 175 years. It's not the death penalty. But it's the best we can do in this case.
FREED: People are asking themselves, 'Why is he not eligible for the death penalty?'
FOULSTON: In this particular group of cases, they started back in 1974, and they ended in 1991. We did not have the death penalty in Kansas until 1994. So all of those killings were before the death penalty. ...
The only one that had the 40 [-year] sentence was Delores Davis' death that occurred in 1991. And that law took effect actually the year before. So all of the sentences got the highest term that they could get. ...
FREED: How long do you think it's going to take for this community to actually move on? Do you think this is enough or is there still healing to go?
FOULSTON: People will just will finally -- as they did during the periods when he was absent -- they're going to forget about him. And the less media we hear ...
This is great. This is kind of like a going away party for Dennis Rader. I think we should pop some Coke cans and say goodbye and as the truck moves out we all ought to wave at him. He'll be leaving probably tomorrow morning off to the penitentiary and kind of that's the farewell, that's the goodbye. And then when that's done, that's it. ... He's history.
FREED: What is life going to be like for Dennis Rader from this point on? Can you give us an idea where he will be, the conditions that he'll be living under?
FOULSTON: He will be at the El Dorado penitentiary that's really just down the road, about 25 miles down the road. It's the maximum security penitentiary in Kansas. It's the newest facility. It also houses our death row inmates.
We're not sure if he'll be under 24-hour lockup [with] an hour for exercise or if he'll be in general population. I'd vote for general population.
We will send up there a list of recommendations that we would hope that the Kansas Department of Corrections would employ, including some requests that he not have the ability to look at any type of media about himself, anything that would kind of pump him up, that he be limited in what he can draw.
We don't want him to have any crayons so he can draw pictures of women or do any torture devices.
We'll be making those recommendations we would for any other sex offender or pedophile, that he not be any given advertisements from the paper that he could clip and cut out -- pictures of little girls or women -- and use those to facilitate any sexual fantasies. ...
FREED: Dennis Rader today in his closing statement said that he was scared when he first came to the detention center here. Is there anything to be scared about where he's going?
FOULSTON: A credible threat would be placed on anybody that would be a pedophile in the penal system. They don't usually fare well.
There the Kansas Department of Corrections would obviously take that into [consideration] and make a determination as to whether or not he should be in the 23-hour lockdown program.
So it really is up to them for the protection of their prisoners to make that final determination. It's not up to me.
FREED: You said you'd like to see him in the general population. Is that because some part of you hopes he'll come to harm in the general population?
FOULSTON: That would be unfortunate if it happened, but we know that some prisoners don't like individuals who are pedophiles. And I wouldn't go so far as to say that, but in the general population, that's an easier management place. He could go either place. ...
I think he ought to, you know, kind of hack it out with the rest of the guys there. And I think that either place would be suitable for him. ...
FREED: You said "hack it out." What do you mean by that?
FOULSTON: ... He's going to be there in the penal institution and be there and work through life in the prison, get used to it.
FREED: Will he be able to give interviews from prison and able to write books, publish, anything like that, [to] sell his story?
FOULSTON: He will be limited by some requirements of the penitentiary. And that happens when the department of corrections make their regulations.
Individuals within a penal institution certainly have First Amendment rights. They do have the protection of doing some things.
But there are also some laws that private individuals have in suing Mr. Rader, and there are a number of lawsuits on file where the proceeds of any of those private enterprises might be restricted.

Home Page

CNN.com gives you the latest stories and video from the around the world, with in-depth coverage of U.S. news, politics, entertainment, health, crime, tech and more.

Home Page

CNN.com gives you the latest stories and video from the around the world, with in-depth coverage of U.S. news, politics, entertainment, health, crime, tech and more.