King: Conservatives 'will be very happy'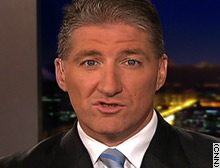 CNN Washington correspondent John King
WASHINGTON (CNN) -- President Bush announced on Tuesday that he's selected U.S. Circuit Court Judge John Roberts Jr. as his nominee to replace retiring Justice Sandra Day O'Connor on the Supreme Court.
CNN Washington correspondent John King talked to CNN anchor Heidi Collins about the nomination and and announcement.
KING: The president's choice is appellate court Judge John Roberts. He sits on the D.C. Circuit Court of Appeals, which is considered the appeals court just below the United States Supreme Court. He is a familiar face to conservatives. They will be very happy with this appointment.
Judge Roberts is the president's choice to replace Sandra Day O'Connor. He is a former private attorney. He was a law clerk for then Associate Supreme Court Justice William Rehnquist. He also worked in the White House counsel's office, in Ronald Reagan's White House.
This is one of the names conservative groups have been suggesting would be a favorite for them since early on in this process. There had been a lot of speculation the president might choose a woman or he might choose a Hispanic to replace the retiring Justice Sandra Day O'Connor.
Roberts is relatively young. He was born in 1955 in Buffalo, New York, and he's a veteran in Washington legal circles -- conservative Republican legal circles for some time now. Again, he is an appellate court judge. He's not unfamiliar to this president. The law firm that he worked for was involved in the president's fight back in 2000 to win the contested election.
Immediately, Heidi, as this battle unfolds, everyone will say that in John Roberts, you have someone who by his record so far, seems to be more conservative than Sandra Day O'Connor and will tilt the court a bit to the right. But he is also someone who has had bipartisan support in the past. So, it will be very interesting to see how the Democrats react to this one.
COLLINS: Yes. Obviously, he's going to be a favorite for the conservatives, as you have said. But I'm reading here that Roberts did help write a brief that stated, "we continue to believe that Roe was wrongly decided and should be overruled." Obviously, that's going to be an issue.
KING: Of course it's going to be an issue. Abortion is one of the many hot-button issues that will come up. Most believe Sandra Day O'Connor's resignation in and of itself, does not create the possibility to overturn Roe. There are still five votes even with Justice O'Connor stepping off the court, but that certainly is one of the issues.
And there is a case on the docket this fall that is not a challenge to Roe itself, but it is an abortion restrictions case out of the state of New Hampshire -- parental notification, parental consent issues at stake in that case.
So, certainly abortion is one of the issues. Gay marriage is another issue that will be contentious in the coming nomination battle. We will have here a number of other issues as well. So, it'll be quite interesting.
He is one of the contenders, who is on the record when it comes to the abortion issue. That will be a key lightning rod -- a key issue in the hearings themselves. Although the White House has made it clear that it believes that once a person is a nominee for the Supreme Court, that it is inappropriate to ask them how they would vote on a specific case.
They certainly can go back through the record -- and you have some of it in front of you. But the White House will say it is out of bounds to say, "Judge Roberts, how would you vote next month or next fall or next year if you had Roe v. Wade before you again?"
COLLINS: Roberts is obviously not female.
KING: Heidi, the president will say when asked later about this that he did consider female candidates, and that diversity is important to him, but that most important was putting someone who he believes has the right conservative philosophy on the court. And the White House believes it has that man in 50-year-old John Roberts, a very young man. The president is clearly thinking about his legacy here, putting someone on the court who could serve for some 20, 30 years or more.
Roberts has been an appellate judge for two years. So in terms of decisions as a judge, it is not that long of a paper trail for the Democrats to go through. Roberts is a man who has had bipartisan support in Washington. So the president is clearly thinking about his legacy. Once again, the president has picked a conservative. That has been true since day one of the Bush administration.
We should also note, Mr. Roberts' law firm, Hogan & Hartson, had a big part of Mr. Bush's legal fight in the recount back in election year 2000. So the president is rewarding someone who was involved with him politically a long time ago. The White House tells us privately that it understands the fight to come, because even it describes Roberts as someone who will tip the court more to the right.
The White House is acknowledging, yes, he is more conservative, at least they believe so, more than Sandra Day O'Connor. But as we've discussed in recent weeks, sometimes presidents are surprised once their picks get on the court. They don't think that will be the case in this case.
COLLINS: Yeah, we never really, really know. John King, thank you.

Home Page

CNN.com gives you the latest stories and video from the around the world, with in-depth coverage of U.S. news, politics, entertainment, health, crime, tech and more.

Home Page

CNN.com gives you the latest stories and video from the around the world, with in-depth coverage of U.S. news, politics, entertainment, health, crime, tech and more.