Woodward adds twist to CIA leak case
Reporter learned Plame's name a month before it was publicized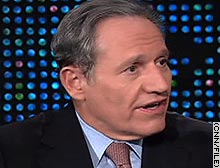 Bob Woodward said a Bush administration official's reference to Plame was "casual and offhand."
WASHINGTON (CNN) -- An unnamed Bush administration official told the Washington Post's Bob Woodward the identity of a CIA analyst almost a month before it was publicly revealed, the reporter said in a statement published Wednesday.
Woodward said his source was not I. Lewis "Scooter" Libby, Vice President Dick Cheney's former chief of staff who was indicted in the CIA leak investigation last month.
Libby's lawyer said Woodward's disclosures undermine the case against his client, the only person indicted so far in an investigation led by special prosecutor Patrick Fitzgerald.
Libby was indicted October 28 on charges of obstruction of justice, perjury and making false statements. At that time, Fitzgerald said he was keeping the investigation open but that "the substantial bulk of the work" had concluded.
Woodward, an assistant managing editor at the Post, said he provided a sworn deposition to Fitzgerald on Monday about conversations with three administration officials after being contacted by the prosecutor on November 3, almost a week after Libby was indicted.
In a first-person statement published by the Post, Woodward made no mention of having spoken to White House Deputy Chief of Staff Karl Rove, who has also been at the heart of the investigation. (Woodward's statement)
Still, Mark Corallo, a spokesman for Rove's legal team, said, "Rove did not have any discussions with Woodward on this matter."
The CIA asked for the investigation after Plame's identity was published by syndicated columnist by Robert Novak in July 2003. Plame is the wife of career diplomat Joseph Wilson, who had publicly challenged the Bush administration on a key element in its case for war against Iraq.
Woodward's disclosure raises questions regarding when Plame's name was first leaked to the press.
Because Libby is charged not with leaking Plame's name but with lying about his conversations with three other journalists -- NBC's Tim Russert, Time's Matt Cooper and former New York Times reporter Judith Miller -- the relevance of Woodward's testimony on Libby's case is uncertain.
However, Libby's lawyer, Ted Wells, said in a statement that Woodward's disclosure contradicts Fitzgerald's statement that Libby was the first government official to discuss Plame's identity.
"Hopefully, as more information is obtained from reporters like Bob Woodward, the real facts will come out," Wells said.
Woodward said he was contacted to testify after his source went to Fitzgerald to discuss his contact with Woodward related to the leak investigation.
In his statement, Woodward did not disclose the name of his source, citing the official's refusal to waive that aspect of their confidentiality pact. All three sources cleared the Pulitzer Prize-winner to testify, he said.
"It was the first time in 35 years as a reporter that I have been asked to provide information to a grand jury," Woodward said.
Woodward: 'I hunkered down'
Woodward did not disclose his involvement in the case to the Post's executive editor, Leonard Downie Jr., until late last month because he feared being subpoenaed by Fitzgerald, according to Washington Post media reporter and CNN contributor Howard Kurtz.
"I explained in detail that I was trying to protect my sources. That's job No. 1 in a case like this," Woodward told the paper. "I hunkered down. I'm in the habit of keeping secrets. I didn't want to do anything out there that was going to get me subpoenaed."
In an interview with CNN, Downie said Woodward had apologized to him for withholding information. (CNN Access)
Downie said Woodward should have disclosed the conversation with him at the time, but "we didn't have something we can report at that time."
"It's a conversation we should have had so that we can make a decision together," Downie said.
Downie said he was not angry at Woodward and said his reporter's pledge of confidentiality was "sacrosanct."
"He made a mistake and he apologized for it," Downie said. "We're going to move ahead now."
Miller resigned from the Times last week after coming under criticism from others at the paper, but Downie said the two cases are not "analogous."
Earlier this year, Miller spent 85 days in jail for refusing to testify in the case, before finally agreeing with Libby on a confidentiality waiver.
Testimony surrounds book research
In his deposition, Woodward said an administration official told him during a mid-June interview that Plame worked at the CIA's weapons of mass destruction program as an analyst. The interview was conducted as part of Woodward's research for his 2004 book on the run-up to the Iraq war, "Plan of Attack."
Woodward said he testified that the official's reference to Plame, referred to as "Joe Wilson's wife," was "casual and offhand, and that it did not appear to me to be either classified or sensitive." Woodward said he believed that CIA analysts usually were not undercover.
Woodward said he told Walter Pincus, a fellow Post reporter, of the conversation, but Pincus does not remember the conversation, Woodward's statement said. Woodward said he did not discuss the conversation with other government officials.
On June 20, 2003, Woodward interviewed a second Bush administration official -- whom Downie identified as White House Chief of Staff Andy Card -- in which references to "Joe Wilson's wife" were part of a prepared list of questions.
Woodward said his notes and tape recordings of the conservation suggest that Plame's identity did not come up.
Woodward said he had a phone conversation with Libby on June 23, 2003, regarding an 18-page questionnaire that he intended to give to Cheney. The questionnaire included questions about "Joe Wilson's wife," but Woodward does not recall discussing Plame with Libby during that call.
That was the day that Fitzgerald said Libby discussed Wilson's wife with Miller, his first contact with the press on the matter.
Woodward also does not remember discussing Plame with Libby during a June 27 interview.
Woodward asked Libby about the accusations that Iraq attempted to obtain "yellowcake," a source of nuclear material, from Niger, a charge Wilson traveled to Africa to investigate in 2002.
Administration accused of smear campaign
The identity of Wilson's wife was revealed by Novak eight days after Wilson disputed the administration's case in a New York Times opinion piece. Wilson has accused the Bush administration of retaliating against his criticism by leaking his wife's identity to discredit him.
Woodward said it was possible that he could have asked Libby about Wilson's wife, according to his statement, but no references to her appear in his interview notes. References to Plame would have appeared in his notes if she had been discussed, Woodward said.
Woodward's description of his conversations with Libby discredits the charge that Libby was involved in a "scheme" to discredit Wilson, said Wells, Libby's lawyer.
Woodward became famous for his reporting, along with Carl Bernstein, of the Watergate scandal during the the 1970s. Woodward kept secret the identity of his key source, known as "Deep Throat," for more than three decades. (Full story)
Woodward was a guest on CNN's "Larry King Live" the night before Libby's indictment was announced, making no mention of his own involvement.
He said the disclosure of Plame's identity had caused "quite minimal damage" at the CIA and called Fitzgerald "a junkyard dog prosecutor."
"He goes everywhere and asks every question," Woodward said.

Home Page

CNN.com gives you the latest stories and video from the around the world, with in-depth coverage of U.S. news, politics, entertainment, health, crime, tech and more.

Home Page

CNN.com gives you the latest stories and video from the around the world, with in-depth coverage of U.S. news, politics, entertainment, health, crime, tech and more.