Eager fans cheer Discovery liftoff
By Geneen Pipher
CNN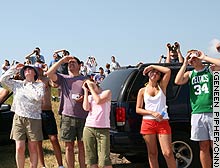 A crowd of spectators in Port Canaveral looks skyward Tuesday as Discovery ascends into space.
PORT CANAVERAL, Florida (CNN) -- "Ten seconds!" yelled one of the hundreds of eager space fans crowded along the bank of the Banana River to watch the space shuttle launch.
As the clock ticked down, people stood up and pushed forward for a better view. Binoculars were raised and cameras were at the ready.
A hush fell over the crowd as the official NASA countdown blared from a nearby van, "3... 2 ... 1 ... and liftoff!"
As Discovery roared skyward, the jubilant crowd erupted into applause and cheers.
"Go Discovery! Go!" exclaimed a woman.
"Look! You can see the smoke!" said another.
Even 10 miles from the launch site, a chest-rattling rumble could be felt after the shuttle performed its normal roll maneuver about 10 seconds into the launch.
"Oh! It was amazing!" said Thor Hurlen of Aalesund, Norway. "You see it on television, but now, to experience it for real and to feel its power -- it's just fantastic."
As shuttle and crew disappeared beyond the horizon, a thick plume of white smoke hung in the air. Spectators lingered, watching the sky and taking pictures.
When the announcement came that Discovery's solid rocket boosters had successfully separated, the crowd cheered and applauded again. Many vehicles honked their horns.
"That was the most amazing thing I've ever seen," said Darrell Pearce, 34, of Nashville, Tennessee. "I got to see it come off the launch pad. I got to see it roll over [and] even see it until it was just a speck of light way off in the distance. It was amazing."
Tammy Smith, 23, of Morgan City, Louisiana, agreed.
"When I saw it I was like, 'I can't believe I was a part of this event,'" she said. "I am just overwhelmed right now. It was very beautiful."
For the Burrows family, who were visiting the United States from Burnley, England, Tuesday's launch was moving.
"I got a lump in my throat," said Hazel Burrows, 40, as she hugged her 8-year-old daughter. "I had to have my hankie ready because I had tears in my eyes. It was just so emotional."
Hazel's husband, Leigh, 30, said the joy of the launch inspired him.
"It was quite emotional, really," he said. "Thinking about all the things that are happening in the world right now, especially in the United Kingdom with the bombings and things, this just kind of provides you with hope for the future. Something so amazing. Something so positive, you know?"
As he packed his truck to leave, Dave Apostol of Melbourne, Florida, reflected on his first shuttle launch.
"It was awesome!" said Apostol, who camped out overnight to get a spot right by the riverside. "It's a testament to man's dream. It's like the Super Bowl of man's technology. It's the Super Bowl of man."
Some spectators were less impressed. Jim Morgan of Punta Gorda, Florida, said he expected more.
"It was all over so fast," he said. "All that buildup and then boom! It was gone."
Doug Schneider, 29, of Orlando, Florida, said the launch was incredible, but he worries for the crew and plans to watch the sky for Discovery's return to Earth.
"The initial high right now is just so great," he said. "But what I keep thinking about [after Columbia] is, 'is it going to make it home?' I am anxiously awaiting that. ... I am just glad everything turned out OK today."

Home Page

CNN.com gives you the latest stories and video from the around the world, with in-depth coverage of U.S. news, politics, entertainment, health, crime, tech and more.

Home Page

CNN.com gives you the latest stories and video from the around the world, with in-depth coverage of U.S. news, politics, entertainment, health, crime, tech and more.