Sheriff: 'This could have been a tragedy'
Recovered scout wanted food, water, mom and video games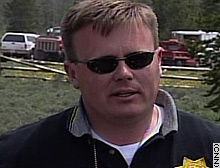 Summit County Sheriff David Edmunds
KAMAS, Utah (CNN) -- Volunteers Tuesday found an 11-year-old boy cold and thirsty but alive four days after disappeared from a Boy Scout camp in rugged northeast Utah.
Summit County Sheriff David Edmunds spoke to reporters at a news conference to confirm that searchers had located Brennan Hawkins.
EDMUNDS: I know you've already heard and you've heard from the family -- we did find him. Unbelievable, the condition that Brennan was in. He was a little dehydrated, a little weak, but other than that, he was in very good health. He's currently being taken down to Primary Children's [Medical Center], where they're going to give him the once-over, I'm sure.
But his family is with him and [there is] just a lot of exuberance down there. You know, everything came together on this. We're very pleased with the volunteers that came out here and helped us and the search-and-rescue operators throughout the state that came to help us. ...
When they found him, he said he had seen [searchers on horseback] before and he was scared to approach them. And he was very disoriented, obviously, and he didn't know what to do. He hadn't had anything to drink. We specifically asked him about that. ...
As soon as they got there, he ate all of the food that they had on them, all the granola bars and everything. Obviously, [he was] extremely hungry. [He] downed a bunch of water. [It is] just great to see that happen. And the searchers were beside themselves with joy by the time I got up there. ...
After he got a couple of drinks and water and some food, he immediately wanted to play a video game on one of the searcher's cell phones. So, obviously, [he was] not in too bad of shape at all. So we're all very pleased and very happy. ...
REPORTER: Who made the contact? Was it the boy to them or them to the boy?
EDMUNDS: He was not far off a trail. Basically, he was found due west of here. And he did actually traverse that ridge, somehow, some way.
REPORTER: And crossed the river?
EDMUNDS: No, he didn't cross the river. He was -- he never did cross the river. He was found due west of here. He was that side of the river when he was lost and he just went straight up that ridge, it appears.
REPORTER: Did he call for attention or did they spot him?
EDMUNDS: You know, in all of the exuberance, I don't know that we actually got that. I think more than anything it was the guys on four-wheelers that saw him. I don't know if he called out or not. ...
REPORTER: Did he say what had happened?
EDMUNDS: He didn't talk much at all. He just wanted something to eat. He wanted some water. And, obviously, in the next couple of days to the next couple of weeks, we're going to sit down with him and chat with him and ask him what exactly happened, but he was in no mood to give us a lot of details. He just wanted something to eat and wanted to see his mom.
REPORTER: How far is it?
EDMUNDS: Well, the exact distance I don't know. ... But, you know, he walked a good distance. Suffice it to say, it was several miles.
REPORTER: How did he survive?
EDMUNDS: You know, the weather has held, and I've said that from the onset. If the weather hadn't been so good, I don't know if it would have been as positive as it has been. We were very fortunate in the weather. And, you know, if it would have got much colder, this could have been a tragedy.
Mom and dad had prepared for the worst
REPORTER: Was he by Lily Lake?
EDMUNDS: He was, just south of Lily Lake.
REPORTER: What was he doing? Was he sitting? Was he standing?
EDMUNDS: I don't know. They didn't give me any of that. ... But, I'm sure information will be forthcoming. I don't know if he was sitting, standing, or what he was doing. He was extremely thirsty and hungry. We know that for certain.
REPORTER: What was the reunion like with the family, the mom?
EDMUNDS: It was unbelievable. It was something to see. It's one of the most touching moments I think I've ever seen in my life. You know, the mom and dad, they -- obviously, they had prepared themselves for the worst and then they found their son to be alive. I'm sure that's a feeling none of us could imagine unless we had gone through it ourselves. So, it was something to witness.
REPORTER: Was he taken by helicopter or ambulance to the hospital?
EDMUNDS: He's in good enough condition that he didn't need to be helicoptered down to the city. He's with his family. They all piled in the ambulance with him, which was appropriate, and they're taking him down via ambulance. ...
REPORTER: What was your reaction when you saw him?
EDMUNDS: I was numb to it, you know, I think, as all the searchers were. We just kind of stood there for a minute and couldn't believe our eyes. We had all pretty much prepared ourselves for the worst. We've had too many that have gone bad in the last few years and this is kind of a redeeming search for us and the folks that were involved in this, so, just a lot of joy and exuberance.
REPORTER: Is there anything about the strategy that you used that you think is a lesson to be learned from this, the way that you went about the search, and where you looked?
EDMUNDS: We didn't do anything different on this search than we've done in the past. Again, there was some ... luck on our side. And Mother Nature certainly cooperated, and I really attribute that more than anything else to him still being alive -- that Mother Nature was good to us.
The searchers, obviously, their due diligence and them getting out there ... we can't talk enough about what they did, but the weather, more than anything else. ...
REPORTER: [Was he] several miles [away] and over this mountain?
EDMUNDS: Yep, over the ridge. At some point he traversed that ridge. I don't know when it was. I don't know if it was the first night, second night. I don't know when, but at some point, he crossed that mountain, which seems unbelievable to me, and certainly well outside the parameters that we initially set. ...
It really blows all of the statistical data that we know out of the water, and it speaks volumes about finding the place last seen, and then expanding out from there. And that's exactly what's been done here, obviously with much help from the volunteers that came in. But, we started where we last knew he was, and we just expanded from there, and it's taken this much time to go into some of these lower-probability areas. Obviously, at the onset of this search, that's an extremely low-probability area.
REPORTER: Had searchers been to Lily Lake before?
EDMUNDS: Not necessarily in the area where he was found, but in the vicinity, yes. And again, I'm going to be very interested to hear when and where he saw the horses and was afraid to approach them. ...
REPORTER: [The family of Garrett Bardsley, a 12-year-old scout who disappeared in Utah last year and was never found,] has been a huge support in this. What was their reaction when they heard the news?
Mother Nature smiled on searchers
EDMUNDS: I haven't talked to the Bardsleys. Obviously, my heart goes out to them. As happy as I am for the Hawkins family, this brings back a lot of wounds from the Bardsley search, and my deepest sympathies still go out to them, and it's hard to talk about that, quite frankly. ...
REPORTER: Do you know if Brennan said anything about what led him to stray?
EDMUNDS: No, he hasn't. We started to prod him about that, some of the searchers did, and he just didn't want to talk about it.
REPORTER: Did he say why he didn't just stay put?
EDMUNDS: No, he didn't. He just did not want to talk about any of that. He wanted food, water and his mom, which I think any 11-year-old boy would want.
EDMUNDS: Yes, it was actually some of the volunteers that made the initial find. ...
The individual, he did not want to be named. He doesn't consider himself a hero. I begged him to come down to the news conference with me and talk, but he absolutely said he wasn't going to do that. He did not want to be identified as a hero. He doesn't see himself as a hero, but I see him as a hero and I think the Hawkins family does, as well.
REPORTER: But he's certainly emblematic of all of those volunteers who were out there.
EDMUNDS: Amen. [He] typifies ... the can-do attitude of these folks that went out there, dropped everything and went into the woods. So, absolutely, I have nothing but good to say about those people.
REPORTER: Was he on his own, or was it a group?
EDMUNDS: He was on his own. There was two of them. There were two of them on four-wheelers.
REPORTER: It looks like nasty weather is finally starting to roll in.
EDMUNDS: Yes, nasty weather is coming in. I knew that there was going to be some precipitation today and I was very concerned about that. You know, again, it couldn't have been at a better time. Obviously, very fortuitous for young Brennan and for us, as well. It looks like there may be rain before the day is over and that would have been devastating to the search had he gotten wet and then it got cold again tonight.
So, I think it's safe to say that if the rain would have come tonight and it would have got as cold as it did last night, this could have been a tragedy.
REPORTER: When was the find?
EDMUNDS: It was just about noon. ... Then we scrambled to get medical personnel up there. That's the medical helicopter that you saw. We did everything that we could to get medical -- we didn't know what his condition was for sure, and we were getting sketchy information, so we wanted to get paramedics up there as quickly as possible because we didn't know for sure what kind of condition he was in. Fortunate for everybody involved, he was in great condition.

Home Page

CNN.com gives you the latest stories and video from the around the world, with in-depth coverage of U.S. news, politics, entertainment, health, crime, tech and more.

Home Page

CNN.com gives you the latest stories and video from the around the world, with in-depth coverage of U.S. news, politics, entertainment, health, crime, tech and more.