Unlikely hero for unclaimed bodies
Mumbai man works to ensure dignity for the dead
By Marianne Bray
CNN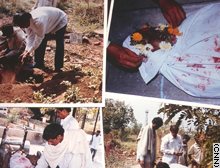 Bhatt has pictures scattered around his office of him carrying out cremations and burials.
MUMBAI, India (CNN) -- Kishor C. Bhatt picked up the body parts of a Christian woman who was torn apart when she was hit by a truck and placed them in a bag.
He saved a newborn baby from a garbage bin while others just gaped. He retrieved the head of a man whose body was chopped by a train and carried it between his hands to the police while the corpse jerked on the track.
Bhatt is not a police officer. He's not a fireman or an ambulance driver. He's an interior designer from the central Mumbai suburb of Jacob Circle, and he has become an unlikely hero for many in this city where the world's richest live alongside the poorest in Asia's largest slums.
During the past 37 years, the 54-year-old has carried out the last rites for as many as 1,500 unclaimed bodies -- slum dwellers, beggars, orphans and the sick -- who have no family, or whose family are too poor to pay for them.
Sending off the dead in the right way is especially important in India, where ceremonies are designed to purify and console the living and the dead.
Pictures are scattered around Bhatt's "Priti Arts" shop on Arthur Road, where he sits with one leg crossed over the other, his hands in his lap, amid plastic reinforced dogs, Buddhas and even a head of Jesus Christ.
On his desk there's a picture of him with a Bombay police commissioner. Another of him with Bollywood actor Anupam Kher.
It all started in 1968 when he was living in Sarashtra. The then-17-year-old went to give food to the victims after floods washed into Sutar, Gujarat.
He was distraught when he saw hordes of human corpses entangled with those of animals, and told his father.
Bhatt's father, the owner of a garment company, told his son that irrespective of what a person was doing when they were alive, they deserved to get their last rites.
So Bhatt began picking up unclaimed bodies and giving them last rites. What's even more surprising is that Bhatt is a Brahmin from the priestly caste. They do not typically associate with Muslims and Catholics, so it is considered a greater nobility for him to be carrying out this work.
Pictures show him placing flowers around the face of a Hindu girl and sprinkling red powder over her white wrap before cremating her in a ceremony called a puja. There is also a picture of him thigh-deep digging a grave for a Muslim.
He shows a medal from the Muslim Council. It "Presents this Memento of Appreciation Service to the Humanity 2001 for outstanding performance in the Field of Social Service."
In a city where orphans live hand-to-mouth, where AIDS is on the rise, and where beggars and new migrants live on the streets, it is not uncommon for them to be run over while they are sleeping or to die of sickness or lack of food.
"If there is an unclaimed body lying on the street, I have to cremate it or bury it, instead of letting it rot," says Bhatt, the married father of a daughter.
It is a mark of respect that he bears at his own cost, despite many offering donations. Mostly he carries out cremations, which costs upward of 1,000 rupees ($23), but he can get a burial for 200 rupees. He even scatters the ashes into the Arabian Sea at Chowpatty Beach.
While Indian authorities treated him with suspicion in the early days, he has become such a figure in Mumbai that hospitals and police officers ring him up to tell him that a body has arrived, and no one has claimed it.
As two young girls dressed in blue school uniforms peer though his shop window, Bhatt says his proudest moment was when a rich Muslim man asked him to organize his last rites, even though he had the means and the family to pay for it.
His most moving came when a man he helped one day by putting him in hospital turned up a few days later and sat at the foot of the tree outside his shop to die.
And Bhatt says his most uplifting was when he was able to show a Muslim family that there was somebody there to help, by paying for the last rites for their daughter.
"This is to reinstate the belief in God and the spirit beyond," he says, noting that he carries out this mission for peace of mind and solitude, even as he recounts gruesome stories with great gusto.
"People need to reinstate faith in mankind."
When asked how he would like his last rites done, he simply pulls out a photo of a dead cow he has blessed, with flowers placed around the body, covered with a white cloth. There's also a snake burning on a funeral pyre.
He doesn't think about his own death, he says, as he takes some change from his pocket to give to a woman who is walking a cow outside. It's for the grass, he explains.
He is surrounded by magazine and newspaper articles entitled "Messiah of a Different Kind," and "Living with the Dead," but the most memorable picture is one of a boy with dark hair and eyes, draped with a garland of orange flowers and brown beads.
It is his son, Viren, who died of fever when he was 17 years old. Bhatt performed the last rites for him only after finishing the ceremony he was already conducting for an unclaimed corpse.
That is his biggest sadness.
"I would have been happy if my son could have followed in my footsteps," he says, his lips drawn and eyes downcast.
His dream now is to set up a cremation area where anyone can get their last rites free of charge.

Home Page

CNN.com gives you the latest stories and video from the around the world, with in-depth coverage of U.S. news, politics, entertainment, health, crime, tech and more.

Home Page

CNN.com gives you the latest stories and video from the around the world, with in-depth coverage of U.S. news, politics, entertainment, health, crime, tech and more.