A eunuch's tale from the slums
A glimpse into a secretive world reveals a hard life
By Marianne Bray
CNN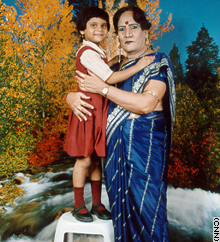 Asha Khan, with the girl whom she adopted. She wants her to become a doctor.
•Because there is no count of hijras in the census and they are so mobile, it is difficult to get headcounts for them in India.

•But by asking community leaders, estimates of the number of hijras have come in as high as 5 million to 6 million.

•About 85 percent of hijras are "akwa," or non-castrated cross-dressers. In Western culture they would be seen as pre-operation transsexuals.
•Hardly 8 percent of hijras visiting Hamsafar clinics are castrated or "nirwaan" hijras.
•There are seven hijra clans or "gharanas" in India at the moment, and most of them are centered in Mumbai.

•Hijras have mostly lost their ritual roles in harems and temples and have taken to sex work or as brothel keepers.



Source: The Humsafar Trust, a Mumbai-based male sexual health agency.
MUMBAI, India (CNN) -- It was four o'clock on a Saturday afternoon in Mumbai, and I was off to a slum to talk to a eunuch.
An undercover constable and a social worker were leading the way. As we passed the stalls that fringed the outside of the Chembur Vashi Naka slum, I wondered just what I had got myself into.
In this land eunuchs are known as hijras, or a "third gender," neither a he nor a she. While they were once worshiped in the Hindu world and also worked for Islamic rulers, they are now widely feared.
Even though "Indians attribute a sacred power to them ... (they are) often considered vulgar and 'in your face,' and are sometimes despised, mostly silently, and harassed by toughs on the street," according to Dr. Serena Nanda, a professor of anthropology at the City University of New York, who has written a book on hijras.
Eunuchs have ambiguous backgrounds. Some of them are intersexual; others are born male and fail to develop. Gay men and transsexuals also are included in their ranks, according to experts who have worked with the community. Contrary to popular belief, most are not castrated, says Ashok Row Kavi, president of the Humsafar Trust in Mumbai, a male sexual health agency.
As we neared the slums, the undercover constable stepped off his motorcycle and talked to the social worker. Both of them stood out in their pressed trousers and shirts.
After a head shake and a slight beckoning of a hand, I entered the darkness of the slums.
As we made our way through the narrow alleyways, over cracked wet paving stones perched above open sewers, and through a line of women filling up metal pots of water, a toddler tumbled down the steps of one dwelling at our feet.
Quickly the constable scooped up the baby, saying: "At least it's not dead," before handing the baby back to the father.
Soon we reached another hut, and the officer pounded on the door, shouting: "I want to talk to you."
After a few minutes, a "he/she" as the constable called her, came to the door
A troubled past
With long dark tousled hair, a square chin and sleepy eyes, the tall 55-year-old Asha Khan looked at me reluctantly and suspiciously.
Wearing a dark T-shirt and loose pants, she led the way into the while-tiled room lit by a fluorescent light. The officer said Khan could dress for me but it would take time. I insisted it was not necessary and so we sat down -- the eunuch, the constable, the social worker and I.
A television stood in one corner while a fridge hummed in the other. A picture of a young girl took pride of place on one wall.
The maid, dressed in a blue sari, began the first of many journeys across the room and into the kitchen beyond, carrying a stainless steel canister filled with water.
With her hand patting the constable's knees, and at other times, resting on it, Khan recounted how her problems began when the young Yusuf Khan began to develop "feminine characteristics," as she put it.
While her parents, who were well to do and lived in Rajasthan, loved her, soon her five brothers and two sisters were tormenting her and the villagers demanded she be removed, making her family outcasts.
So she left one day, escaping to a group of eunuchs in Ahmedabad who showed her the secrets of their world. But she also became a victim.
"I was forced to beg for them, exploited sexually by outsiders who believed that intercourse with me would rid them of sexual disease and impotency," she said.
At the age of 18 she fled to Mumbai, where a guru or leader took her under her wing, teaching her the tricks of the trade, as well as how to read and write.
"People believe that our blessings are important because we take the ill luck and misfortune from them," she said.
"What could be worse for us -- that more misfortune could fall on us? We take it on us."
Curse of the hijra
Misfortune has long been a companion of India's eunuchs. Because the country has historically recognized only two genders, hijras have been deprived of the right to vote, own property, marry, or go to schools, according to a report written by the People's Union for Civil Liberties. Only this year, did the Indian passport office allow eunuchs to write "E" instead of male or female.
Estimates of their numbers range from 50,000 to six million, and they mostly live in Mumbai, Chennai, Kolkata and Delhi.
Ironically, their lot is considered so bad that they turn up to places of joy, such as weddings and births, to take away everybody's else's bad luck. Indians feel so uncomfortable around them, they offer large sums of money so they leave.
"Nobody would like to be cursed with 'may your son be a hijra,'" says Kavi of the Humsafar Trust.
Even Western banks in India have called on their services to humiliate clients in default, local media reports say. They find that sending eunuchs to sing, dance and clap on doorsteps, shout out and create a noisy commotion, works incredibly well.
"The fact that in the south of India the only occupations they have are sex work and begging speaks to a deep level of structural intolerance in contemporary Indian society," says Arvind Narrain, who helped write a report on hijra sex workers in Bangalore.
On the streets, Indians pay money so as not to be nudged by eunuchs' elbows, stroked on the cheek, cursed or exposed to what lies beneath their saris.
Mumbai life
In Khan's secretive clan of about 80 members, the income was pooled so the elders had enough to eat. She gained respect as a dancer and attended births and weddings.
She began dancing in bars and after some time decided to go independent, taking on five eunuch orphans who are now supporting her and her small hut in the slum.
In 1998 she adopted a five-day-old girl whose parents had died in the communal riots. A picture of Mamta, in a beautiful orange dress in front of a poster of a foreign land, beams from the wall. Khan wants the eight-year-old to become a doctor.
"I am proud of her and her studies," Khan says, as she rises from the couch and kneels on the ground in front of a cabinet, pulling out a set of pictures for me to take.
While the government does not recognize her, and her family disowned her, she says Mumbai has given her a life and defends her line of work.
"We do not want to harass or embarrass for fun -- we have stomachs to feed."
In earlier centuries, eunuchs were respected because "of our wisdom and fair dealing." They held important positions in courts and palaces. But now "the public has got a wrong perception about us," she says. "Many cross-dressers and transsexuals impersonate us eunuchs and give us a bad name."
Reincarnated as a 'normal human being'
Khan once tried to contest a civic election, but as is the fate of eunuchs in India, she was denied eligibility.
As a power cut plunged the room in darkness, Khan said she wanted an acknowledgment that eunuchs exist, so they can get a house, medical attention, go to school.
In her next life she wants to be reincarnated as a "normal human being," a policeman in fact, with the power to stop bad things from happening.
"Look at Indian society," she says, pointing to her maid, who must have been on her 20th run through the room.
"If I were born as female, I'd have a miserable house, a drunk husband when he got home who would take all my money."
We got up to go. As the power went out a second time, she reached out and placed her hand on my head, muttering a few words as she did so.
I left her hut with what I really hoped was the eunuch's blessing.

Home Page

CNN.com gives you the latest stories and video from the around the world, with in-depth coverage of U.S. news, politics, entertainment, health, crime, tech and more.

Home Page

CNN.com gives you the latest stories and video from the around the world, with in-depth coverage of U.S. news, politics, entertainment, health, crime, tech and more.