Police release image of bombers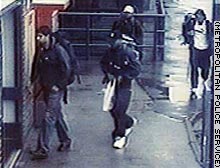 The image shows, from left to right, Hussain, Lindsay, Khan and Tanweer, at Luton Station.
(CNN) -- Police have released the first image of all four London bombers together, captured on CCTV as they set out on their mission, in a bid to find out more about their final movements.
The image shows the men, carrying rucksacks, at Luton station at approximately 7.20 a.m. on July 7, the morning of the attacks which killed at least 55 and injured 700 more.
Police also confirmed Saturday the identities of two suspected bombers.
Mohammed Sidique Khan, 30, is believed responsible for the attack at the Edgware Road train station, and Germaine Lindsay, 19, is believed to be responsible for the bombing of the train between King's Cross and Russell Square stations.
Officials familiar with the investigation had already confirmed the identities, which have been widely reported in the media.
Scotland Yard previously named the other two bombers: Hasib Hussain, 18, believed to be responsible for the bus bombing in Tavistock Square, and Shahzad Tanweer, 22, believed to be responsible for the bombing at Aldgate Station.
From Luton, the men traveled together by Thameslink train to King's Cross in London.
District Assistant Commissioner, Peter Clarke, head of the anti terrorist unit, appealed for anyone who had information about the men to call the police.
The death toll in the bombings rose to 55 on Saturday after a victim died in Royal London Hospital in Whitechapel, authorities said.
The death toll includes Hussain and Tanweer. Police do not expect the death toll to rise significantly, Scotland Yard said. (Victims identified)
When authorities last counted on Thursday, 48 people remained hospitalized, 10 of them in intensive care, police said. Two of those, including the latest victim, have since died.
British police said Saturday they were monitoring the questioning of Egyptian biochemist Magdy el-Nashar, who was arrested Friday in Cairo.
Mohammed el-Nashar, the biochemist's brother, told CNN on Saturday that Magdy el-Nashar expressed sorrow over the attacks right after they happened and was planning to return to England to study. (Full story)
Egypt's Interior Ministry has said in a written statement that el-Nashar "denied any relationship to what happened recently in London."
Meanwhile, three knowledgeable sources told CNN on Friday that TATP -- an explosive frequently used by terrorist groups -- had been discovered inside a flat in Leeds linked to el-Nashar.
It was not immediately clear whether TATP was used in the London terrorist attacks.
Focus on Leeds
Three of the suspects met frequently at the Hamara Islamic community center in Leeds, according to a nearby shop owner.
He said the men used to wait for each other before going inside.
The police investigation has focused on Leeds, because it was the home of Hussain and Tanweer. The shopkeeper, who also lives in Leeds, said police had questioned him in the case.
The merchant, who did not want to be identified, said that in recent months Hussain, Tanweer and Khan repeatedly used the center in the Beeston neighborhood. Khan was from Dewsbury, West Yorkshire.
Authorities have seized computers from the center, which also has a gym inside.
"They always used to wait for all three guys to meet before they get inside," the resident said. He said the three would go inside the building, then post a sign on the door that said, "Gone for lunch."
Police are trying to determine what brought Hussain, Tanweer, Khan and Lindsay together.
Investigators also are looking into who may have financed the bombings.
Khan's family released a statement through police saying they knew him as "kind and caring" and they are grieving the fact he had been "brainwashed."
Hussain's family apologized Friday for any role their 18-year-old son may have had in the attacks.
The family said they had "no knowledge of his activities" and that if they had, "we would have done everything in our power to stop him."
"We, the family of Hasib Mir Hussain, are devastated over the events of the past few days," the family said in a statement issued by West Yorkshire Police.
"Hasib was a loving and normal young man who gave us no concern and we are having difficulty taking this in." (Full story)
Authorities believe Hussain detonated the bomb aboard the bus nearly an hour after the three near-simultaneous explosions on the commuter trains.
A closed-circuit TV image of Hussain, who died in the blast, showed him with a rucksack at Luton Station at 7:20 a.m., more than two hours before the attacks.
British Prime Minister Tony Blair called on Saturday for a battle of ideas against what he described as the fanatical beliefs behind attacks like the London suicide bombings.
"What we are confronting here is an evil ideology," he said.
"It cannot be beaten, in my view, except by confronting it, symptoms and causes, head on." (Full story)
CNN's Nic Robertson and Henry Schuster contributed to this report.

Home Page

CNN.com gives you the latest stories and video from the around the world, with in-depth coverage of U.S. news, politics, entertainment, health, crime, tech and more.

Home Page

CNN.com gives you the latest stories and video from the around the world, with in-depth coverage of U.S. news, politics, entertainment, health, crime, tech and more.