2 London bombers visited Pakistan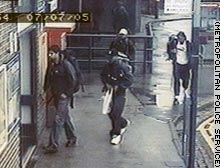 The four bombers pictured on the morning of the attacks.
LONDON, England (CNN) -- Two of the four suspected London bombers traveled to Pakistan in the year before the July 7 terrorist attacks, Pakistani intelligence and immigration officials tell CNN.
Shahzad Tanweer, 22, and Mohammed Sidique Khan, 30, flew into Karachi on Turkish Airlines Flight 1059, arriving November 19, 2004. The pair departed Karachi a week later on a train to Lahore and left Pakistan on February 8, 2005, on Turkish Airlines Flight 1057, the officials said.
The men -- both British citizens of Pakistani origin, born in the United Kingdom -- were photographed by immigration upon their arrival at Karachi airport.
No one has said why they traveled to Pakistan, but investigators have been looking at the Pakistani connection since the bombers were identified.
British authorities have identified two other men they believe carried out the attacks -- Germaine Lindsay, 19, and Hasib Hussain, 18.
The bombs went off on three Underground trains and a double-decker bus during the morning rush hour of July 7. They killed 52 people, plus the four bombers, and injured more than 700.
Scotland Yard officials have maintained since nearly the beginning of the investigation that the attacks had the hallmarks of an al Qaeda operation.
Meanwhile, the Egyptian biochemist wanted for questioning in connection with the attacks is still in custody in Cairo, where he was detained by Egyptian authorities Thursday.
Those authorities would not confirm where and by which agency Magdy el-Nashar is being held.
Under Egypt's 24-year-old Emergency Law, suspects can be held for months without charges.
Egyptian authorities Monday declined to publicly comment on el-Nashar's questioning, only saying that British officials were not directly involved, an Interior Ministry spokesman said. He declined to say how long el-Nashar would be held.
The British and U.S. embassies declined to comment.
Egypt's Interior Ministry said in a written statement last week that el-Nashar, 33, "denied any relationship to what happened recently in London."
His name came into the investigation last week, when British authorities searched his apartment in Leeds as they executed 10 search warrants in the area.
At one point, a bomb squad was sent into the apartment, but investigators would not reveal what, if anything, was found.
A knowledgeable source told CNN that investigators found TATP -- an explosive commonly used by terrorist groups -- inside the home.
It was not immediately clear whether TATP was used in the London terrorist attacks.
An Egyptian security official said el-Nashar's name was found in the mobile phone of one of the suspected suicide bombers he helped to find an apartment in Leeds, the semi-official newspaper Al Ahram reported Monday.
El-Nashar aided Hasib Hussain, the 18-year-old suspected bus bomber, in finding the apartment, owned by an Iraqi, the newspaper reported.
In an interview in Cairo Saturday, Mohammed el-Nashar told CNN his older brother Magdy arrived in Egypt June 30 and had been staying with him and his parents.
Mohammed el-Nashar said police confiscated computers and papers from their home shortly after his brother was detained.
Mohammed el-Nashar described Magdy as a peaceful, generous man who was religious but not particularly devout and he said that his brother is divorced and has a 3-year-old daughter.
He also said his brother expressed sorrow over the London attacks right after they occurred.
Magdy el-Nashar has a doctorate in biochemistry from Leeds University, about 200 miles north of London. El-Nashar spent time at North Carolina State studying chemical engineering in 2000.
He had lived in Britain since 2000, but he left the country on a study break and planned to return to continue his studies, the Egyptian Interior Ministry said.
British politicians are to discuss bringing forward the introduction of new anti-terrorist legislation.
Home Secretary Charles Clarke was to meet his Conservative and Liberal Democrat counterparts on Monday to discuss the proposals.
Three new offences including "indirect incitement to terrorism" had not been expected to come into force until next year, but they could be brought forward in the wake of the bombings.
An authoritative think tank released a report on Monday saying that backing the United States in Iraq and Afghanistan had put Britain more at risk from terrorist attacks.
The report said Britain had suffered by playing "pillion passenger" to the United States. (Full story)
-- CNN Correspondents Chris Burns, Kelli Arena and producer Ayman Mohyeldin contributed to this report

Home Page

CNN.com gives you the latest stories and video from the around the world, with in-depth coverage of U.S. news, politics, entertainment, health, crime, tech and more.

Home Page

CNN.com gives you the latest stories and video from the around the world, with in-depth coverage of U.S. news, politics, entertainment, health, crime, tech and more.