Taking on the super-chefs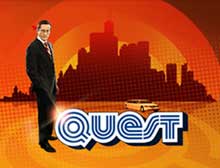 (CNN) -- This month CNN's Richard Quest jumps out of the frying pan and into the fire -- swapping the television news anchor chair for the heat of the kitchen.
In his latest 'Quest', Richard shares the stove with some of the world's most celebrated chefs whose genius has catapulted the humble cook onto the international stage.
To uncover their secrets Richard travels to three continents to experience life at the chef's top table and piece together the ingredients of their success.
Among the 'big cheeses' of the culinary world he encounters are Gordon Ramsay, Jamie Oliver, Heston Blumenthal, Wolfgang Puck and Sanjeev Kapoor.
These super-chefs are a new breed of celebrity, respected for their wealth, power and influence; worshipped for their panache, creativity and style.
Along the way, Richard endeavors to master three 'golden' recipes from his newfound culinary mentors. It's a journey that ends at the mercy of the food critic, as he dishes up a make-or-break feast for three of the England's most educated palettes.
Can some of the world's finest cooks teach Richard to tickle the taste buds of his distinguished dinner guests -- Fay Maschler (of London's Evening Standard), Jay Rayner (of The Observer) and Derek Brown (Ex President of the Michelin Guide)?
In the U.S., Wolfgang Puck is the ultimate super-chef. Originally from Austria, he has become a one-man industry that demonstrates just how far the celebrity chef can evolve.
Flagship restaurants across America, a string of 'Puck Express Cafés', frozen food products, a catering business and a library's worth of best selling books are all in the mix for this kitchen craftsman.
Richard visits Wolfgang at Spago's Beverly Hills, (Los Angeles) to hear for himself how the Puck name has spawned a multi-million dollar food empire.
He will also learn to cook his first recipe, a main course of filet steak au poivre.
Gordon Ramsay teaches a few tricks of the trade
For Indian master chef Sanjeev Kapoor, hotels and restaurants the world over cannot match the love and passion that goes into home cooking.
And that's exactly what he motivates his viewers to do through his popular TV show Khana Khazana - to follow his mouth-watering, simple yet innovative recipes and try them out for themselves.
With a staggering viewer-ship of 150 million in 53 countries across the globe, Kapoor is one of the most well-known faces in India.
As he leads Richard through the street markets of Mumbai and puts him to work in the kitchen, 'Quest' discovers that at the heart of Kapoor's success lies a master plan -- a burning desire to make Indian home cooking the dominant force of world cuisine.
An Indian starter known as Hara Bhara Kebab will give Richard his first 'golden recipe' and his first challenge.
A TV star, restaurant mogul and sublimely talented chef, Gordon Ramsay is a truly global star.
His hit shows Ramsay's Kitchen Nightmares and Hell's Kitchen have taken the UK and U.S. by storm and his restaurants have accumulated no fewer than eight Michelin Stars.
The Ramsay empire has recently expanded to Tokyo where we encounter the ex-footballer sporting a kimono.
Sanjiv Kapoor takes Richard through the flavors of India
He owes much of his celebrity to his infamous temper and sparks are bound to fly as Richard probes his motivation and questions his iron fist rule that leaves trainee chefs quivering in his wake.
Ramsay will provide Richard with his desert -- a white chocolate panna cotta.
With his dinner recipe complete, there are still more chefs on the Quest radar and as Richard's journey unfolds, it becomes clear that not all super-chefs are motivated by the same goals.
Jamie Oliver, the so-called 'Naked chef', has become an inspirational leader, even a voice of the people. He campaigns on behalf of organic producers, helps disadvantaged youngsters and has even single-handedly changed government policy on state-funded school dinners.
Like other chefs with seven-figure incomes, he has fully-exploited the power of television and his books sell like hot cakes.
But in Jamie Oliver, Richard finds a very different kind of super-chef -- a man not driven by Michelin stars, just a deep-seated belief that through simple, healthy food he can actually improve the quality of life for generations to come.
Having gained a privileged insight into the art of cooking, Richard finds himself peering at test tubes in the chemistry lab as he investigates the new wave of Molecular Gastronomy and marvels at the weird and wacky creations of cooking's answer to Frankenstein, Heston Blumenthal.
Jamie Oliver shares his passion for food and cooking
The fastest chef in history to win three Michelin stars, the self-taught Blumenthal has turned to science to mould his menus, daring to question the wisdom of deeply held culinary traditions.
He continues to send shockwaves through the culinary establishment, unraveling our taste buds, championing innovation and unmasking the food we thought we knew and loved.
To help him prepare for culinary ordeal, Richard will also spend an evening as the personal assistant to Eric Chavot, head chef at the prestigious Capital Hotel in London's Knightsbridge.
On a sell-out Friday night, the pressure cooker atmosphere will be at its most intense, a perfect place to find out what it takes to cut the mustard in a high-class two Michelin star kitchen.
Eric represents the majority of chefs -- well-known within the industry but yet to be touched by the fickle finger of celebrity -- the question is, would he open the door if fame came knocking?
They say a good cook is the peculiar gift of the gods. He must be a perfect creature from the brain to the palate, from the palate to the finger's end.
When the talking stops and the fat is chewed, it's time for Richard Quest to discover just how generous the gods have been to him.

Home Page

CNN.com gives you the latest stories and video from the around the world, with in-depth coverage of U.S. news, politics, entertainment, health, crime, tech and more.

Home Page

CNN.com gives you the latest stories and video from the around the world, with in-depth coverage of U.S. news, politics, entertainment, health, crime, tech and more.