The quest for beauty
By Producer Neil Curry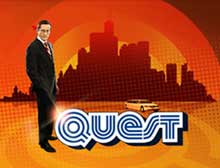 (CNN) -- "OK let's go. Hands down. No, head up. Look to the light! Oh dear!"
Richard Quest is being instructed in the art of cat walking by one of the world's best known supermodels -- Naomi Campbell.
"How can I avoid falling over?"
"Well you don't have to wear high heels, you'll be fine."
Richard will benefit from more supermodel instruction in the weeks ahead as he prepares for his catwalk debut at a fashion show in London.
By then Claudia Schiffer, Linda Evangelista and top choreographer Sean G. Huston will have contributed their advice on demonstrating a more beautiful posture.
Linda Evangelista once famously said that she would not get out of bed for less than $10,000. The 40-year-old model maintains that both she and the fashion world has changed a lot since then.
"I think a lot of barriers have been lifted and I think the race issue, the height issue, even the age issue have gone. I'd like to see the body shape issue disappear too."
Naomi embraces what she admits is the cliche that true beauty comes from the inside.
That's a view firmly rejected by comedienne and fashion doyen Joan Rivers.
"I spit on inner beauty. Who would a man rather dance with, Claudia Schiffer or Margaret Thatcher?"
Joan's advice is that when nature betrays you it is the plastic surgeon who proves to be the true friend during the ageing process.
"I always say to a woman, 'Get your face done. Better a new face coming out of an old car than an old face coming out of a new car.'"
Of course Joan pulls no punches when it comes to Richard's facial features.
"You've got another four years then you're going to have terrible bags."
With her comments ringing in his ears Richard heads for the offices of Dr Jean-Louis Sebagh -- the botox king.
"You're very hyper-active on your forehead muscles. You frown, you raise your eyebrows all the time. You're squinting a lot and you're a sun freak."
Dr Sebagh prescribes a course of botox injections, which has assures Richard will not paralyze his head and leave him expressionless.
The expression on Richard's face as he enters the Playboy Mansion in California is certainly clear. Richard's eyebrows almost hit the ceiling as Hugh Hefner discusses the challenges of maintaining seven 20-something girlfriends. With his 80th birthday approaching he's cut down to just three.
Richard asks: "If you weren't Hugh Hefner would you be called a dirty old man?"
"Probably yes" Hefner replies.
"I do think that I get away with a great deal that other guys wouldn't be able to."
The founder of the Playboy empire is proud to have changed perceptions of female beauty in magazines. His legend is established. His identity is equally clear.
"I am, quite frankly, the luckiest guy on this planet, that's who I am."
According to the gossip columns Mallika Sherawat is the first Indian actress to be offered a pin-up spread in Playboy. But an awful lot has been written about Mallika since her record 17 kissing scenes and scantily clad appearances in one Bollywood movie. She is proud of her looks.
"When you take your clothes off you have to be confident that what's beneath the clothes should be fantastic -- otherwise what's the point of taking them off?"
Mallika is happy with what she sees as a globalization of beauty, with African and Latin American role models such as Halle Berry as Jennifer Lopez in the public eye. She feels it's given Indian women a new confidence in their own beauty.
"I think a woman who's confident, who's aware of her own abilities and her own limitations and who accepts gracefully failure as part of her life. All this combination makes a beautiful woman."
Indian women have won the Miss World and Miss Universe titles more than any other country in the past decade. Beauty pageants are often portrayed as meat markets - women parading themselves in a demeaning manner before the judges.
Richard has a chance to assess that for himself as he joins the current Miss World as a judge of the Miss England competition, held in Quest's home town, Liverpool.
He discovers that, although only the most beautiful women get through the door, everyone's keen to tell him that things have changed and that personality is a much more important factor these days.
He finds that he's not searching for just the prettiest face or the best figure but for the women who will best represent England in the Miss World competition.
The winner is a Muslim university student who speaks five languages and talks intelligently about her goals and aims. So why did she want to be a beauty queen?
Hammasa Kohistani said: "I want to show the world that beauty queens are not just empty shells. That beauty is not just on the outside, they're also beautiful on the inside."
So we're back to the inner beauty issue again. It's taken up by the striking veteran French actress Jeanne Moreau. "I do not think that for human beings the physical beauty is totally separated from inner beauty. Your mood shows on your face. That is something that comes from the inside. If you're in a good mood there is something different about your complexion, the light in your eyes, your mouth doesn't droop. There is energy coming out of you."
"Beauty is an endless quest."
Certainly Richard's beginning to think so, but these are the words of Dr. Nancy Etcoff -- psychologist at Harvard Medical School and author of the book "Survival of the Prettiest".
"It's a moving target. It is addictive. It is a powerful drug."
Adrenaline is the drug pumping through Richard's veins as he waits backstage for his first catwalk appearance. After all the advice, all the knowledge he has gained through his journey, top tips from supermodels, it's now down to him.
He'll only be out there for 20 seconds but a lot can happen in 20 seconds. And now it's time to strut ...

Home Page

CNN.com gives you the latest stories and video from the around the world, with in-depth coverage of U.S. news, politics, entertainment, health, crime, tech and more.

Home Page

CNN.com gives you the latest stories and video from the around the world, with in-depth coverage of U.S. news, politics, entertainment, health, crime, tech and more.