Al-Zarqawi: Katrina an answer to prayers
Al Qaeda leader says God granted wish of Iraqis, Afghans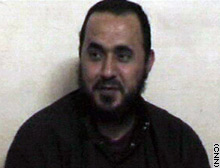 Jordanian-born Abu Musab al-Zarqawi, the leader of Al Qaeda in Iraq, appears in an undated photo.
(CNN) -- An Islamist Web site on Sunday posted a recording from al Qaeda's leader in Iraq saying Hurricane Katrina was an answer to the prayers of Iraqis and Afghans who have suffered under U.S. occupation.
The audio message thought to be from Abu Musab al-Zarqawi came on the fourth anniversary of al Qaeda's terrorist attacks in the United States on September 11, 2001.
The voice on the recording was verified to be al-Zarqawi by a CNN Arabic speaker familiar with many of his previous statements.
The United States and the Iraqi government call Jordanian-born al-Zarqawi the most wanted terrorist in the country. The United States has posted a $25 million reward for information leading to his capture.
In the recording, al-Zarqawi said, "I believe the devastating hurricane that hit the United States occurred because people in Iraq or Afghanistan -- maybe a mother who had lost her son or a son whose parents were killed or a woman who was raped -- were praying for God and God accepted their prayers."
The reference to Hurricane Katrina means the recording was made after August 29, when the powerful storm hit the U.S. Gulf Coast. (Special coverage)
Marking the anniversary of the 9/11 attacks Sunday, President Bush attended a ceremony on the south lawn of the White House, where he and other members of his administration observed a moment of silence.
In Louisiana, New York firefighters and police officers helping victims of Katrina held their own 9/11 services. (Full story)
Those observances came as the co-chairmen of the bipartisan 9/11 commission told CNN that the government's response to Katrina showed little was learned from the 2001 attacks about how to handle disasters.
Recent European intelligence reports reviewed by Time magazine suggested that al-Zarqawi's authority is expanding beyond Iraq and that he now rivals Osama bin Laden in influence among Middle Eastern and European jihadists. (Full story)
The last time bin Laden released a statement late last December in an audiotape on which he praised al-Zarqawi and designated him the al Qaeda leader in Iraq.
Al-Zarqawi's group, Al Qaeda in Iraq, has been behind many of that country's worst insurgent attacks, beheadings and kidnappings.
Laying out its ideology in a broad manifesto, the group last month said the insurgency is in better shape than the United States acknowledges and vowed to continue the insurgency and "destroy the American empire." (Full story)
The U.S. continued to battle the insurgency in Iraq Sunday, with a U.S. military spokesman saying an operation launched two weeks ago to drive insurgents from the northern city of Tal Afar has been "extremely successful." (Full story)
And Iraq's president told CNN his country would not suffer unduly if the United States were to reduce its spending there in order to direct more resources toward its own Gulf Coast.
Asked how long his nation will depend on U.S. assistance, Jalal Talabani predicted his country will "be able, within two years, to stand up and to depend on its own sources."
CNN's Caroline Faraj contributed to this report.

Home Page

CNN.com gives you the latest stories and video from the around the world, with in-depth coverage of U.S. news, politics, entertainment, health, crime, tech and more.

Home Page

CNN.com gives you the latest stories and video from the around the world, with in-depth coverage of U.S. news, politics, entertainment, health, crime, tech and more.