Al-Zarqawi's home
By Henry Schuster
CNN

Editor's note: Henry Schuster, a senior producer in CNN's Investigative Unit and author of "Hunting Eric Rudolph," has been covering terrorism for more than a decade. Each week in "Tracking Terror," he reports on people and organizations driving international and domestic terrorism and efforts to combat them. Henry Schuster is away. His next "Tracking Terror" column will appear in December.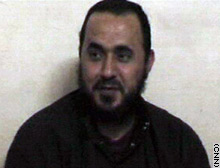 Abu Musab al-Zarqawi in an undated photo
AMMAN, Jordan (CNN) -- There was a boom, then another. They were definitely explosions. We scrambled out to the balcony of our hotel.
Just days after the triple suicide bombings here, it was the same evening U.S. Secretary of State Condoleezza Rice paid a visit to the site of one of those bombings.
Expecting the worst, we saw a fireworks display -- the Jordanian national colors of green, red, black and white exploding across the sky, arcing downward.
Instead of more handiwork from Abu Musab al-Zarqawi, it was a tribute to the late King Hussein, who would have been 70 this day. It wasn't a national day of mourning, but rather a holiday, despite the fact only days before terrorists had struck at the heart of the country.
There had been much talk that the reaction to the bombings represented a tipping point, a moment when Jordanians were going to disavow their native son al-Zarqawi, who had started his terrorist career in this country but was now the leader of al Qaeda in Iraq and behind numerous suicide bombings there.
There were protests and marches in Amman. Some of them no doubt were heartfelt, but others had a staged feel.
The truth is a bit more complicated.
Al-Zarqawi's popular support
At Friday prayers in Zarqa, al-Zarqawi's hometown, there were angry denunciations of him. "I would shoot him if he came here," one man said. Others in the crowd that had gathered around our cameras, pushing and shoving, agreed with this man.
But there were other voices taking issue with that sentiment.
One man, his face contorted with rage, yelled out that the Israelis and Americans were behind the attacks on the hotels, that al-Zarqawi was a religious man.
He recounted how al-Zarqawi had once rescued a dog from some young men in the neighborhood who were abusing the animal. His implication was that such a man could not have committed terrorist acts.
We went to al-Zarqawi's old neighborhood, where he grew up and where a fundamentalist interpretation of Islam increasingly is taking hold.
One cousin denounced the terrorist attacks but then said he didn't know whether al-Zarqawi was responsible for them.
What about the Internet postings from al-Zarqawi's group, claiming responsibility for the actions, we asked.
Again, there were denunciations of Israel and the United States. The Jews were behind it, a young man told us. "This is terrorism actually, but it doesn't mean it is Abu Musab," another said.
Thousands are dying in Iraq, said the man, revealing what gives al-Zarqawi such support.
A journalist who spent time in a Jordanian prison with al-Zarqawi revealed that sympathy for the al Qaeda in Iraq leader ran deep -- at least before the bombings -- because Jordanians perceived him as a hero in Iraq.
Abdullah Aburomman mentioned a survey conducted by a Jordanian university -- allegedly suppressed by the government -- that said 70 percent of those polled looked at al-Zarqawi as a holy warrior.
"This guy, he is fighting the occupation in Iraq, they are the enemies, etc., but I am sure this result will be changed after what has happened," Aburomman said.
A personal battle
There is another group, aside from those in his hometown, who feel a connection to al-Zarqawi. In this case, however, there is nothing but animosity.
"This is a war," one Jordanian security official said. And to Jordan's General Intelligence Department, it is intensely personal. By the count of the security services, al-Zarqawi had attempted no fewer than 15 attacks against Jordanian targets since April 2004, each of them thwarted.
That figure doesn't include the alleged plot in April 2004 to drive a car and a truck into the General Intelligence Department's headquarters. At the time, the department said that attack could have killed up to 80,000 because the plotters were going to use toxic chemicals.
For all his bloody successes in Iraq, where al-Zarqawi has emerged as someone as dangerous as Osama bin Laden, he seems obsessed with making his mark in his own country -- and the General Intelligence Department is equally obsessed with stopping him.
Twice, security sources said, al-Zarqawi's group had tried to assassinate the department officer who used to interrogate him when al-Zarqawi was in prison here during the 1990s. This is the same official now leading the investigation into the hotel attacks.
"He [al-Zarqawi] was talking about to everybody that I will kill that officer," Aburomman said.
"I think that al-Zarqawi ... wants to tell them that I win in this war and you fail to stop me."
Security officials admitted that al-Zarqawi had outwitted them this time.
By choosing so-called soft targets -- hotels -- instead of aiming the attacks against the General Intelligence Department and other government sites, and also by using Iraqis instead of Jordanians, al-Zarqawi had been lethally successful this time.
But security officials also got an inadvertent boost from al-Zarqawi, when his group posted a statement on the Internet explaining there were four suicide bombers, including a woman. Up until that point, the General Intelligence Department had suspicions of the fourth bomber.
Al-Zarqawi's ego, his desire for one-upsmanship, may have given the General Intelligence Department a crucial break, Aburomman said.
Audiotape surfaces
Those who refused to believe al-Zarqawi was behind the hotel attacks told us they wouldn't believe it until they heard him claiming responsibility. Internet postings, they said, weren't enough.
Now that an audiotape believed to be from al-Zarqawi has emerged, outlining the reasons for the attacks, will those people change their minds?

Home Page

CNN.com gives you the latest stories and video from the around the world, with in-depth coverage of U.S. news, politics, entertainment, health, crime, tech and more.

Home Page

CNN.com gives you the latest stories and video from the around the world, with in-depth coverage of U.S. news, politics, entertainment, health, crime, tech and more.