Raman: For Iraqis, vote 'about life and death'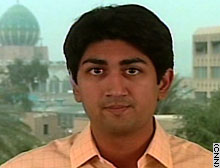 CNN's Aneesh Raman
BAGHDAD, Iraq (CNN) -- Iraqis went to the polls Thursday to vote on a permanent government, one they are counting on to help lead to a more secure nation and better life in the war-torn country.
CNN correspondent Aneesh Raman was at a Baghdad polling station Thursday morning and said it appeared more people had come to vote in the parliamentary elections than in October's constitutional referendum. CNN.com asked Raman how Election Day unfolded.
QUESTION: What is the mood of Iraqi voters?
RAMAN: It is essentially this -- Iraqis have voted twice before, but never has their vote had as much practical importance. In January when they voted it was symbolic. It was about defying the terrorists and electing a government that was transitional, that had an expiration date by virtue of its creation. It had no power in terms of time to change anything.
Then in October they voted on a constitution that wasn't even complete. It wasn't finished until four days before they voted so many Iraqis never even read it, and it's expected it will be put forth for another vote next year.
So this is the first election where Iraqis are electing a government that has no excuse in getting the security situation better and to get basic services -- water, electricity -- guaranteed. Iraqis see the importance in that, and this four-year government is important to them because it's not transitional or interim.
So there's hope the government will finally be in a position to change things.
QUESTION: What are officials saying about voter turnout?
RAMAN: From everything that I've seen [in Baghdad], it's tough to generalize too much, but the polling station I went to this morning was the same one I went to in October, and the turnout was definitely higher. We're also hearing that throughout Iraq that [a similar] trend has been described by people who are at the various polling stations.
But perhaps most importantly, the Sunni areas -- in Baghdad, at least -- like the Dora neighborhood, they've reported large turnouts, and in the Sunni areas [elsewhere] in Iraq they've reported large turnouts. So it seems that we're going to see a big turnout. There was a 64 percent turnout for the constitutional referendum, but how much above that we'll see, we'll have to wait.
The voting station that I was at this morning -- the exact same time I was there in October when we saw sort of a trickle -- today we saw big crowds coming in and a constant vote.
QUESTION: How did Iraqis get to the polls?
RAMAN: Everyone has to walk. Some people had to walk about an hour to get to the polling stations because there are no cars allowed on the roads except for medical vehicles or other emergency services.
The average Iraqi just has to find a way, and some of them have complained that it is essentially too far, but they're finding a way. In [the northern city of] Kirkuk, one person said they walked an hour to get to the city, so they are coming out despite the difficulties.
QUESTION: What is security like, and how does it compare with past elections?
RAMAN: Security is similar to what we saw in October, which [was] nothing short of massive. The country is essentially under martial law. No one is allowed to drive on the roads; borders have been shut; you can't travel within the borders. The country is virtually shut down; the airport has been closed.
In doing so they've been able to mitigate against attacks, but they can't sustain this security apparatus forever. On Saturday, the five-day national holiday period ends so attacks might come back once they go back to normal.
QUESTION: Are voters seeing U.S. and other coalition troops?
RAMAN: U.S. troops are explicitly told to keep their distance. It's what we saw in October as well. They want the face of security to be Iraqi. In a true sense the Iraqis are taking the lead on this, but U.S. troops are close by. They may be a mile away, and they're ready to assist.
To give you an example of the security, at the polling station that I visited yesterday, I talked to Iraqi security forces who have been living at that polling station for two days -- living there in order to make sure no one came in beforehand and planted anything. And they will stay there for a few more nights to make sure the ballots are secure until the ballots are officially picked up.
At one station there were 30 Iraqi army soldiers and police officers.
QUESTION: Were there any problems getting the voting under way?
RAMAN: Not really. At 7 a.m. people were waiting outside, and the gates opened up. The issues [with voting] likely will come after, not before, because they have gone through this three times. So they know how the setup is, and a lot of things were set up for October that were just left in place for this election.
The issue will come as we get the ballots counted, get them brought to Baghdad. It's not as easy a ballot as a yes or no vote like the ballot was in October. It has hundreds of lists of candidates on it, and the counting is going to be an arduous process. It's not an electronic thing; it's a hand count so that will take awhile. There could be any number of parties that might file complaints or say that they want to formally check the results.
We're entering a lengthy process before we know who is leading the country.
QUESTION: What is it like for a voter at a polling place?
RAMAN: It's similar to voting in the United States, where you come in, you check in with the registrar, you're crossed off the list, you get your ballot, you go behind this sort of cardboard box creation, you mark your ballot, you fold it up, and they have a big plastic container.
And then they dip one of your fingers in ink.
Pretty much everyone has made up their mind about who they are going to vote for before they enter, and even though there are many names on it, there are only a handful of lists -- that are national lists -- that people have to look at, and then the others are more small ethnically specific lists. So they don't have to spend much time looking over it [at the polls] because they've already gone over who they are going to vote for.
From the perspective of the polling station it's hard not to see the amazing moments of a democracy that is just starting out, but then it is very easy as well to see how much these people are dependent upon this process working out.
Because for them, this isn't a democratic exercise, it's about life and death. It's about getting a government in that can change things.

Home Page

CNN.com gives you the latest stories and video from the around the world, with in-depth coverage of U.S. news, politics, entertainment, health, crime, tech and more.

Home Page

CNN.com gives you the latest stories and video from the around the world, with in-depth coverage of U.S. news, politics, entertainment, health, crime, tech and more.