Gohel: 'What is going on in Moussaoui's mind?'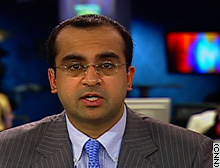 Sajjan Gohel
LONDON, England (CNN) -- Zacarias Moussaoui put himself in the middle of the September 11, 2001, plot on Monday, claiming that he planned to hijack a plane and fly it into the White House and that shoe bomber Richard Reid would have been his accomplice.
Sajjan Gohel, the director of international security for the Asia Pacific Foundation, discussed Moussaoui's testimony with CNN's Soledad O'Brien.
O'BRIEN: Do you think that Moussaoui has essentially given himself the death penalty?
GOHEL: Well, yes, this new latest revelation is -- a number of serious developments that have taken place in Zacarias Moussaoui's trial, and this justifies the prosecution's case that he had prior knowledge to the September 11 attacks, that perhaps if he provided that intelligence earlier that that plot could have been thwarted. And he has pretty much now given the prosecution the ammunition for his own death warrant.
O'BRIEN: And he's admitted lying and he's claimed some very close contacts. For example, talking about how his nickname for Mohamed Atta was "Big Time."
Do you think that the claims he made when he took the stand are, for the most part, true?
GOHEL: Well, I'm somewhat skeptical about this because Zacarias Moussaoui has made a number of allegations over the last few years. And what's interesting is that Khalid Shaikh Mohammed, the master planner of September the 11th, his deposition was read out yesterday in court. Now, he's claimed that Zacarias Moussaoui was just a peripheral member of al Qaeda, that he wasn't going to be a major player on September the 11th, that perhaps he was going to be used later on.
Now, Zacarias Moussaoui has tried to connect himself up with Richard Reid, the shoe bomber, alleging that they were going to be part of a fifth attack on September the 11th. Richard Reid was tied to another plot totally separate. It's not even related.
So, one wonders what is going on inside Moussaoui's mind? Is he warped? Is he trying to be clever?
Either way, the motions are taking place. And the feelings of the families of 9/11, the victims, are being trampled on. And that -- that is highly disrespectful.
O'BRIEN: Oh, it's just terrible for them. I mean, you saw them hanging on his every word with lots of, they felt in many cases, new information that was coming forward.
What do you make of this "Richard Reid was going to be my co-conspirator in the fifth plane that we were going to flying into the White House on 9/11?" What do you make of that claim?
GOHEL: Well, it's important to investigate this because Richard Reid was tossed by al Qaeda to bring down a transatlantic flight going from Paris to the United States on the 22nd of December 2001. He was also charged with his co-conspirator, Sajid Badat, a British-Pakistani, and they were tied to Nizar Trabelsi, who was behind a plot to blow up a NATO air base in Belgium.
They were both in Amsterdam on September the 12th, the day afterward. That plot took almost a year in the making to come into effect.
How could Richard Reid be part of 9/11 now? And Richard Reid himself hasn't given any information to that, nor has anybody else. This is just another new revelation. It seems Zacarias Moussaoui is enjoying the notoriety, he's enjoying the attention, and he's trying to exploit the situation even further.
O'BRIEN: On the stand it's reported that he spoke very calmly, in sort of moderate tones. Do you think he has come across as being a little nutty, or do you think he's coming across as credible? I mean, all that's going to play into what happens to him.
GOHEL: It's a very important question. It seems that even al Qaeda themselves did not trust him enough to carry out any operation.
He was a low-level figure. Perhaps would be used as some sort of cannon fodder in the future for maybe a suicide attack. But he is unhinged, Soledad.
I mean, he gave a written statement some time ago that he was going to be part of an al Qaeda plot to fly a plane into a Colorado prison to free an Islamic radical cleric. He comes out with a number of strange assertions. And certainly his defense will now try and portray him as not being mentally stable and perhaps not a credible witness. We'll have to wait and see.

Home Page

CNN.com gives you the latest stories and video from the around the world, with in-depth coverage of U.S. news, politics, entertainment, health, crime, tech and more.

Home Page

CNN.com gives you the latest stories and video from the around the world, with in-depth coverage of U.S. news, politics, entertainment, health, crime, tech and more.