Essence reporter: Alleged rape victim running scared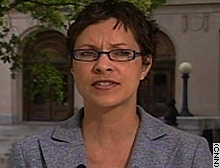 Kristal Brent Zook of Essence magazine says the alleged rape victim's family is concerned for her safety.
DURHAM, North Carolina (CNN) -- Kristal Brent Zook has probably spent more time with the family of the alleged rape victim in the Duke lacrosse case than any other reporter. The Essence magazine contributor and adjunct faculty member at Columbia University told CNN on Tuesday that the 27-year-old alleged victim's parents have seen little of her.
In an interview Wednesday with CNN's Betty Nguyen, Zook explained that the alleged victim, who was hired as an exotic dancer at a team party, has been staying at a variety of undisclosed locations since she accused three Duke lacrosse players of pulling her into a bathroom and raping.
NGUYEN: You spent more time with this family, yet this family has rarely spent much time at all with the accuser here. Is she just running scared?
ZOOK: She is, and I think understandably. The family has received death threats. They say that she has received death threats, anonymous phone calls. There were even some flyers, they say, that were strewn across the front yard of the family home a couple of weeks ago that had death threats on them. So it's understandable. No matter what happened that night ... she is going through a lot right now in the aftermath.
NGUYEN: So where is she going? I mean, is she just staying with person to person to person? Of course, she is the mother of two children. Are they with her, too?
ZOOK: They are with her, and she is caring for them. She is staying in undisclosed locations, where she's afraid to even tell her parents where she is. It may be one home. It may be a few different homes. She seems to be well as of today, as of last night. She is fine. But I can only imagine what state of mind she is in. Her family is very, very worried for her safety and her state of mind.
NGUYEN: I imagine. And we'll get to that in just a moment. But just to highlight this, doesn't she drive by her parents home and if she thinks that somebody else is there she'll just keep on going, or she'll pick up the phone and only yell, "Mom I'm OK" and then hang up? I mean, are these some of the things that she's been doing just to let her parents know she's OK?
ZOOK: Right, right, and I happened to be there [at the family home] at the time. I didn't know that she had driven by until after she was gone. But she obviously she didn't stop because she saw the media was there. So ... she is that fearful. I'm not quite sure why she hangs up the phone that quickly, but maybe she thinks someone will find her if she stays on the line too long.
NGUYEN: Let's get into her state of mind because in your article, you write, "Relatives even went so far as to say she might be in need of psychological attention. They said she called and told her mother that she has started screaming at the sight of white men in the street." Is she in need of psychological help?
ZOOK: Well, you know, they are only guessing at this point. But I think we should be careful about misinterpreting that. Most rape victims, assuming that something did happen that night, do need psychological attention, and it is just a normal part of the course of action. You know, they do need some sort of therapy: Thirty percent are severely depressed and about 10 percent actually attempt suicide after these kinds of traumatic events. So this isn't anything unusual that she must be going through. It's a normal response.
NGUYEN: So that we don't speculate, does she have a history of psychological problems?
ZOOK: I know that the defense is looking into that, and they are trying to find information. I think right now what we should go with is what we do know. We don't know much about that past that she has. I can say that she's a woman who has -- she has a painful past. She has not had an easy life and I think that this -- the events of [March 14] and the aftermath has only added to everything that she's been through in her past.
NGUYEN: With all of this fear and focus surrounding her, is there some concern that she might not cooperate with the prosecution here?
ZOOK: I think it is too early to say that. I don't have any indication that that's true. She has cooperated up to this point. The family is happy with the job that they are doing, as far as I can tell. They have nothing ... negative to say about the prosecution and the job they are doing. So I think it's speculation to say that she isn't cooperating or won't cooperate. That hasn't happened.
NGUYEN: Well, on the Essence Web site today, it mentioned the fact that she had a meeting with the famed civil rights attorney Willie Gary. Did that meeting take place and does her family and does she feel like she needs an attorney on her own to represent her in this case so that she can win this case?
ZOOK: Well, actually she has not had the meeting with the attorney, Willie Gary, at this point. It was a meeting between Mr. Gary and her mother, and so we need to be clear that he has not been hired by the accuser. He simply had a conversation with her mother and her mother did that because both her ... mother and father felt that she may need additional legal guidance. And I think any parent would probably think that way. There's a lot involved in this case. The other side has an army of defense attorneys.

Home Page

CNN.com gives you the latest stories and video from the around the world, with in-depth coverage of U.S. news, politics, entertainment, health, crime, tech and more.

Home Page

CNN.com gives you the latest stories and video from the around the world, with in-depth coverage of U.S. news, politics, entertainment, health, crime, tech and more.