Security expert: UAE has 'mixed record on terrorism'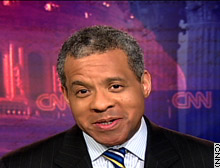 CNN security analyst Clark Kent Ervin
WASHINGTON (CNN) -- Some members of Congress have called a deal allowing a company controlled by the United Arab Emirates to take over management of six big American ports a dangerous move.
The Bush administration has said that it carefully weighed security concerns before approving the sale, which will become official March 2.
Former Homeland Security inspector general and CNN security analyst, Clark Kent Ervin, said Thursday there needs to be presidential and congressional approval whenever key assets are sold. CNN anchor Daryn Kagan spoke with Ervin.
KAGAN: You, as we can see by reading your editorial in The New York Times this morning, are no fan of this deal.
ERVIN: Yes, that's right. There is no question but that the UAE has, at best, a mixed record on terrorism. They have been an ally; they have been cooperative in certain respects, certainly.
But on the other hand, two of the 9/11 hijackers came from the UAE. UAE was one of only three countries in the world that recognized the Taliban before 9/11. It was a trans-shipment point for the nuclear smuggling network that ultimately got components to Iran and North Korea and Libya. So this should cause concern.
KAGAN: Supporters of this deal, Clark, point out that U.S. Customs will do the inspection. The Coast Guard is really in charge of the ports. So, really, what's the problem?
ERVIN: Well, it's really important to understand exactly what that means. That's right, the Customs Bureau is still going to do inspections, but the problem is that very few inspections are actually done. Only about 6 percent of cargo containers are physically inspected to determine whether they contain a weapon of mass destruction or some other threat item.
Furthermore, it's right that the Coast Guard is in charge of port security, but all that means is that the Coast Guard is responsible for setting standards and reviewing security plans. Whether those standards are met and whether those plans are implemented is ultimately left up to the port operator.
And in this instance, the port operator would not only be a foreign company, but a foreign government, because this company is owned by a government. And not a government like Britain, but the government of the United Arab Emirates.
KAGAN: The controversy has also served the purpose of shining a light on how this whole deal-making system takes place, with this thing called the Committee on Foreign Investment under the Treasury Department giving Congress very little say in how this all kind of ends up. Do you think that needs to change?
ERVIN: It certainly needs to change. ... the procedure as it is is very lax, and yet the procedure was not followed. Because this deal, if it goes forward, will result in a foreign power acquiring a key asset, an investigation was required to have been conducted and the president was to have been informed. That didn't happen in this instance.
But certainly going forward, wherever a key strategic asset in the age of terror would ultimately be controlled by a foreign company or a foreign government, it seems to me that the president needs to personally weigh in on this himself. He needs to make a decision, and then that decision needs to be reviewed by Congress. And Congress should have the opportunity to reverse it if it so chooses.
As I say in the op-ed today, if treaties and trade agreements are important enough to require a congressional sign-off, then surely, the control of the key strategic asset, likewise, should require congressional involvement and approval.
KAGAN: But do you think there will be a change in this deal or in how the system works?
ERVIN: Well, we're really in a political firestorm here. There's no question about it. And I think the politics are such that -- laying aside the substance, which I think argues for undoing this deal or not permitting it to go forward -- I think, frankly, the politics are such that it will be undone.

Home Page

CNN.com gives you the latest stories and video from the around the world, with in-depth coverage of U.S. news, politics, entertainment, health, crime, tech and more.

Home Page

CNN.com gives you the latest stories and video from the around the world, with in-depth coverage of U.S. news, politics, entertainment, health, crime, tech and more.