King: Passions, emotions cloud ports debate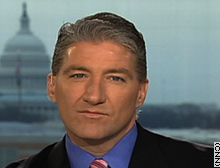 CNN's John King
WASHINGTON (CNN) -- President Bush and his usual allies, congressional Republicans, are locked in a passionate fight over whether a United Arab Emirates company should assume some operations at U.S. shipping ports.
A House committee voted 62-2 Wednesday night to block the deal to allow DP World to operate some U.S. ship terminals.
Forces are combining to exacerbate tensions as lawmakers face pre-election pressures and Bush's approval ratings plunge in the polls. (Watch top House Republicans challenge Bush -- 1:36)
CNN chief national correspondent John King discussed the situation Thursday with anchor Miles O'Brien.
O'BRIEN: A key U.S. House committee [has tossed] a wrench into the White House's plans for that port deal. It says, push the deal and there will be no money for Katrina, Iraq, Afghanistan. Billions of dollars are at stake here.
KING: This is a big deal -- the White House being challenged on what is the president's calling card issue, national security.
The president wants that money you mentioned for Afghanistan, Iraq, Katrina relief. It's the traditional emergency supplemental budget, essentially the money you need to fill in the new bills the government has. And the House Appropriations Committee says, Mr. President, if you want that money, you also have to sign a bill that says this ports deal ... will not go through.
Now the White House hopes it doesn't come to that, but is another example of Republicans now lining up publicly, gleefully, to challenge the Republican president.
O'BRIEN: The president said he will veto any bill that blocks this port deal. This may be one way to armor up a bill for -- to make it veto-proof by attaching it to all these other important projects.
KING: Well, they certainly hope at the White House, Miles, that it does not come to this. The House Appropriations Committee has voted [for] this policy. There's no doubt that it has the votes to pass the House. There's even no doubt that it has the votes, the support, to pass the Senate.
The White House is hoping that cooler heads prevail, if you will, before that. But follow the reporting of this over the last couple of weeks ... and you have a dynamic where every time the White House tries to come up with a compromise or an alternative, or the company tries to come up with a compromise or an alternative, people in the House say, "Maybe, we'll look at it," and then say no.
The passions in this debate are overwhelming what some say are the facts. And many say the facts support going forward with this deal. But I'll tell you, Miles, in politics, as you well know, sometimes the passions and the emotions can overwhelm any factual discussion. And that may be what we have here.
And there's a bigger picture, too. Again, Republicans are picking this fight with the president. It's not a fight they are going into reluctantly.
They are lining up and challenging their president. They think his political standing is low. They do not want to be beaten by the Democrats on the national security issue and on the economic issue of outsourcing. So it is a remarkable political fight.
O'BRIEN: Let's remember, the president's poll levels are very low. Everybody in the House of Representatives is up for re-election. And there is not very much support in the American public for this ports deal.
So there you have it. That's the equation right there. It's pretty simple when you put it -- lay it out there.
KING: It is simple, and yet it is so simple that that is what makes it so complicated. Can the president pull a rabbit out of a hat here? Can he broker some kind of compromise?
Can he actually back away from this and let someone else broker the compromise? Because it is clear every time the president gets involved in this, the White House gets involved in this, they are only exacerbating the tensions.
Remember, the president said he would veto any legislation to block this ports deal. That angered Republicans in Congress because many just at that moment were trying to bring about an alternative. And people got mad that the president was so defiant in threatening them.
Just yesterday in New Orleans, the president blamed Congress, again saying Congress has shortchanged the Gulf Coast when it comes to Katrina money. The president is picking a fight with them. They are picking a fight with him.
When it comes to the ports controversy, Miles, there's a new alternative put on the table by Sen. John Warner of Virginia. Some say if you look at it on paper it looks great, but again, the emotions in this debate are overwhelming.
There is clearly support in the House for saying no, no foreign company will run U.S. ports. That would set off a domino effect because many foreign companies do run U.S. ports. But the emotions in this debate right now are not on the president's side.

Home Page

CNN.com gives you the latest stories and video from the around the world, with in-depth coverage of U.S. news, politics, entertainment, health, crime, tech and more.

Home Page

CNN.com gives you the latest stories and video from the around the world, with in-depth coverage of U.S. news, politics, entertainment, health, crime, tech and more.