Ex-U.S. Iraq general: Rumsfeld should quit
Batiste is fourth retired general to call for resignation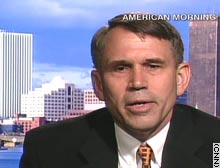 Retired Maj. Gen. John Batiste
(CNN) -- Retired Maj. Gen. John Batiste, who led the Army's 1st Infantry Division in Iraq in 2004 and 2005, is calling on Defense Secretary Donald Rumsfeld to resign, joining three other retired U.S. generals who've recently made similar public calls.
The White House on Wednesday reaffirmed its support for Rumsfeld. Spokesman Scott McClellan told reporters Rumsfeld "is doing a great job."
Batiste's public call to replace Rumsfeld follows similar announcements from retired Army Maj. Gen. Paul Eaton, retired Marine Corps Gen. Anthony Zinni -- a former chief of the U.S. Central Command -- and retired Marine Corps Lt. Gen. Gregory Newbold, who first announced his opinion in Time magazine. (Watch Batiste's blunt words for Rumsfeld -- 1:30)
CNN's Miles O'Brien spoke with Batiste on Wednesday about the embattled defense secretary.
O'BRIEN: I want to share a little bit of what Gen. Newbold had to say about Rumsfeld in the Time magazine article:
"The cost of flawed leadership continues to be paid in blood. We need fresh ideas and fresh faces, and that means as a first step, replacing Rumsfeld and many others unwilling to fundamentally change their approach." (Full story)
I'm curious what you make of those words; and I know you know Gen. Newbold, what do you make of what he said?
BATISTE: Miles, here's how I would respond to that. Four-part answer, I'll promise to be brief. Number one is we've got the best military in the world, hands down, period. All Americans should be very proud of their service men and women. They're doing incredible work all over the world.
Number two is whether we agree or not with the war in Iraq, we are where we are and we must succeed in this endeavor. Failure is, frankly, not an option. Success to me is setting the Iraqi people up for self-reliance with their form of representative government that takes into account tribal, ethnic and religious differences that have always defined Iraqi society. Iraqis, frankly, in my experience, do not understand democracy. Nor do they understand their responsibilities for a free society.
Number three: when my family and I returned from Germany after three years with the [Army's 1st Infantry Division], we were struck by the fact that there's a lack of sacrifice and commitment on the part of the American people -- the exception [is] those families with soldiers committed into this fight.
And certainly, too many of these families truly understand the meaning of sacrifice. Most Americans only confront this issue by deciding what color of magnet on the back end of their SUV.
I think that our executive and legislative branches of government have a responsibility to mobilize this country for war. They frankly have not done so. We're mortgaging our future, our children, $8 to $9 billion a month. And it seems to me it's time to start some form of rationing. The American people have done this before.
O'BRIEN: General -- but more to the point, though, as far as the specific call for Secretary Rumsfeld's resignation, what do you think about this?
BATISTE: Finally, I believe we need a fresh part in the Pentagon. We need a leader who understands team work, a leader who knows how to build teams, a leader that does it without intimidation. A leader that conforms and practices the letter and the law of the Goldwater-Nichols Act.
Conversely, I think we need senior military leaders who understand the principles of war and apply them ruthlessly, and when the time comes, they need to call it like it is.
O'BRIEN: So, you're suggesting a wholesale house cleaning?
BATISTE: I didn't say wholesale. I said new leadership in the Pentagon, a fresh start. You know, it speaks volumes that guys like me are speaking out from retirement about the leadership climate in the Department of Defense.
O'BRIEN: What is going on that is -- what is it about that climate that is leading to difficulties, leading to trouble, leading to -- as you put it -- perhaps unnecessary bloodshed?
BATISTE: I didn't say unnecessary bloodshed. But when decisions are made without taking into account sound military recommendations, sound military decision making, sound planning, then we're bound to make mistakes. When we violate the principles of war with mass and unity of command and unity of effort, we do that at our own peril.
O'BRIEN: So the secretary should step down?
BATISTE: In my opinion, yes.
O'BRIEN: Yesterday the chairman of the Joint Chiefs of Staff, Peter Pace, had this to say:
"We had then and have now every opportunity to speak our minds. And if we do not, shame on us because the opportunity is there."
O'BRIEN: Have you spoken your mind internally on this?
BATISTE: I think the world of Gen. Pace. I respect him enormously, and I respect his words.
O'BRIEN: But has that discussion gone on internally?
BATISTE: Sure. Absolutely.
O'BRIEN: Maj. Gen. John Batiste, thank you for your time.
BATISTE: Thank you.

Home Page

CNN.com gives you the latest stories and video from the around the world, with in-depth coverage of U.S. news, politics, entertainment, health, crime, tech and more.

Home Page

CNN.com gives you the latest stories and video from the around the world, with in-depth coverage of U.S. news, politics, entertainment, health, crime, tech and more.