Starr: Rumsfeld criticism 'extraordinary'
Pentagon abuzz over retired generals' calls for resignation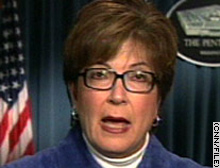 CNN Pentagon correspondent Barbara Starr
WASHINGTON (CNN) -- Responding to six retired generals' recent calls for his defense secretary to resign, President Bush said Friday that Donald Rumsfeld has his "full support and deepest appreciation."
CNN anchor Kyra Phillips spoke Friday with Pentagon correspondent Barbara Starr, asking her about the criticism from retired military leaders.
STARR: Well, it certainly is extraordinary, Kyra.
Just a few moments ago, President Bush [put] out a written statement of support for Secretary Rumsfeld from the White House, saying at the end of this statement that the secretary "has my full support and deepest appreciation."
A very strong statement of support from President Bush for ... clearly after a week of criticism ... his still-embattled secretary of defense, Don Rumsfeld.
This week, six retired generals [voiced] their view that Secretary Rumsfeld should step down. They articulate a variety of reasons -- some of them, of course, having to do with the war in Iraq, some of them having to do with their view that his management style is just simply too abrasive, that he rules by intimidation and does not listen to his generals.
The secretary gave an interview to the Arab television channel Al-Arabiya and spoke about this very matter: "I intend to serve the president at his pleasure. ..."
Now, Kyra, there is no question, of course, there are still literally hundreds of generals and admirals on active duty in the U.S. military in Iraq, Afghanistan, here in the Pentagon and around the world. And, by all accounts, there are many who continue to support the secretary and continue, of course, to support the Bush administration.
When you're on active duty, you are not allowed to publicly voice your dissent. But clearly, one of the growing questions at the end of this long week is whether there will be more retired generals who come out in public and state their views.
Here in the hallways of the Pentagon it pretty much remains the topic of discussion.
PHILLIPS: If six retired generals are coming forward and saying these things -- and if you look at the names, these are pretty well-respected generals for a number of reasons -- you tend to wonder, what are the generals on the ground saying? And could we reach a point where they may be asked to talk, forced to talk? ...
STARR: One of the things we are beginning to hear from many people in the military, both active duty and retired, is their concern about what they call the price to pay for all of this.
Retired generals, of course, have every right, as every other American citizen, to free speech, to state their views. But there is a feeling that the price to pay is some potential for mistrust between civilians and military leadership.
If Secretary Rumsfeld were to resign, and it were to be tied to this, would the next secretary of defense feel that he couldn't be as free-wheeling and as candid? Would he feel that retired generals are out there laying in wait for him?
A lot of questions about what the climate will be after this period of dissent. I think it is unlikely you would ever see an active-duty general or admiral in the United States military while on duty voice anything but complete support for the president, for U.S. policies and the secretary of defense.
If someone feels they cannot support it, the way it goes is this: you then really have a moral obligation to resign and leave military service -- you know, fall on your sword, so to speak.
No one has done that, yet. That would be a remarkable crossing of a certain line if we were in the weeks ahead to see an active-duty person in the United States military fall on that sword and resign their commission because they simply felt they could no longer follow President Bush, the administration or Secretary Rumsfeld.
Important to understand, the people we are hearing from are retired. They have already left military service.

Home Page

CNN.com gives you the latest stories and video from the around the world, with in-depth coverage of U.S. news, politics, entertainment, health, crime, tech and more.

Home Page

CNN.com gives you the latest stories and video from the around the world, with in-depth coverage of U.S. news, politics, entertainment, health, crime, tech and more.