McLaughlin: Goss had 'rocky start'
'Challenges were particularly difficult' during ex-CIA boss' tenure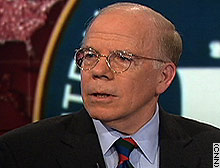 Former acting CIA Director John McLaughlin
Central Intelligence Agency Director Porter Goss has resigned, President Bush said Friday. No reason was given for Goss' resignation.
Shortly after the announcement, CNN anchor Tony Harris spoke with John McLaughlin, who was acting CIA director when Goss took over the post in 2004.
HARRIS: Are you surprised by this announcement?
MCLAUGHLIN: I am a little surprised in the sense that I don't think there was any indication that this was coming.
HARRIS: ... What do you think is behind this? We've heard everything from perhaps he was just a little disgruntled, a little disappointed that he didn't get the director of national intelligence job.
MCLAUGHLIN: ... I don't know what's behind it. What I would say is this: Porter Goss came in at a very difficult time in the agency's history.
Not only was the agency accused, I think unfairly in many cases, of various mistakes and failings at the time of his arrival but, in addition, he came in at a time when a whole new structure had been created to manage the intelligence community, and the CIA in the process, of course, had to step back from some of the leadership responsibilities that it had traditionally exercised.
So I think Porter Goss came in at a time when the challenges were particularly difficult, hard to overcome, and when the agency was struggling to regain its balance and the traditional elan than it has had over the years.
And I have no clue as to exactly why Porter Goss decided to step down at this moment. But sometimes a gargantuan, huge job like that takes its toll. ...
HARRIS: Well, I have to ask you, you were not only the interim director ... you also worked with him for, what is it, a month or so?
MCLAUGHLIN: About a month, yes. I was deputy director, appointed in the Clinton administration, and then I worked through the first Bush administration with George Tenet. And then when Porter Goss came in I was there for about a month or six weeks as a deputy before I left.
HARRIS: Well, John, here's what I'm getting at: Was there a sense, in those initial days and weeks and months -- or at least in the period that you were with him -- that he was coming in with a sense of an agenda that he wanted to put forward, that he wanted to execute in his time as director?
MCLAUGHLIN: Yes, I think so. And I want to be a little careful here in characterizing things, because I did have a privileged position at that point. And I'm also always careful in talking about people who have come into positions that I've either held or held in an acting capacity. I think everyone needs to have their due on that score.
But Porter Goss came in with a view that he wanted to strengthen the clandestine service, which is the part of the agency that collects secrets overseas, and strengthen other parts of the agency, but particularly the clandestine service. He came in at a difficult moment, and I think got off to a rocky start for a number of reasons. ...
As chairman of the House Intelligence Committee, his committee had published a number of studies and statements that were quite critical of the performance of CIA. And those of us who were there frequently disagreed with the characterization.
So he came in in a climate where a number of people who had worked hard on these problems would have given the agency higher marks or disagreed with the thrust of his initial thoughts as expressed in those studies. ... So that was part of it. ...
And he also, I think, had a charge ... to tighten the agency up at a time when people thought it was leaking. ...
I have always argued that it wasn't leaking to the extent that many people thought it was, but clearly, he had an agenda to tighten it up, which he has done.

Home Page

CNN.com gives you the latest stories and video from the around the world, with in-depth coverage of U.S. news, politics, entertainment, health, crime, tech and more.

Home Page

CNN.com gives you the latest stories and video from the around the world, with in-depth coverage of U.S. news, politics, entertainment, health, crime, tech and more.