Former CIA officer claims conspiracy outed her identity
Plame, husband file lawsuit against Cheney, Libby, Rove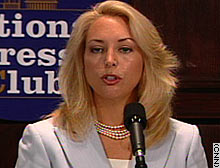 Valerie Plame said Friday that she and her husband filed the lawsuit "with heavy hearts."
WASHINGTON (CNN) -- Former CIA officer Valerie Plame on Friday said she and her husband filed their lawsuit against top Bush administration officials "with heavy hearts" but at the same time "with a renewed sense of purpose."
She and her husband Joe Wilson filed a sweeping federal civil lawsuit Thursday over what they charge was a conspiracy to intentionally expose Plame's classified CIA job to reporters in 2003 to punish Wilson for questioning the administration's rationale for invading Iraq.
Among those named in the suit, filed in U.S. District Court in Washington, were Vice President Dick Cheney; his former chief of staff, Lewis "Scooter" Libby; and White House political strategist Karl Rove.
Plame -- who said she had been "proud to have served my country" -- said she and her former colleagues trusted the government to protect them as they performed their work. (Watch Plame explain why they filed the lawsuit -- 2:14)
"A few reckless individuals betrayed" such a trust, she said.
"I would much rather be continuing my career as a public servant than be a plaintiff in a lawsuit, but I feel strongly and justice demands that those who acted so harmfully against our national security must answer for the shameful conduct in court."
Plame and Wilson delivered brief remarks at a press conference at the National Press Club. Their attorney, Christopher Wolf, answered questions from reporters.
"We are under no illusions how tough this fight will be. We believe the time will come to hold those that hold the official positions to exact personal revenge accountable and responsible for the actions," said Wilson.
The suit alleges that in May 2003 -- after Wilson began expressing doubts to reporters about administration claims that Iraq tried to buy uranium in Africa -- Cheney, Libby, Rove and other unnamed White House officials "embarked on an anonymous whispering campaign designed to discredit and injure the (Wilsons) and to deter other critics from publicly speaking out."
The conspiracy "was motivated by an invidiously discriminatory animus towards those who had publicly criticized the administration's stated justifications for going to war with Iraq," and culminated with the disclosure that Plame worked at the CIA, which destroyed her career with the agency, the lawsuit charges.
The suit, which seeks unspecified damages, alleges the administration officials violated the Wilsons' rights to freedom of speech, equal protection and privacy, deprived them of their civil rights and impaired their ability to seek employment.
Reacting to the suit, Rove spokesman Mark Corallo said the allegations "are absolutely and utterly without merit." Spokesmen for Cheney and Libby declined to comment.
The disclosure of Plame's work for the CIA is also subject of an ongoing federal criminal investigation.
The only person who has been indicted is Libby, who faces charges of perjury, obstruction of justice and lying to investigators about conversations he had with journalists about Plame. However, he has not been charged with deliberately disclosing Plame's identity as an intelligence agent, which is a federal crime.
Identity reveals in 2003 column
Plame's status as a CIA operative was first publicly disclosed on July 14, 2003, in a column by syndicated journalist Robert Novak, who at the time was also a CNN contributor.
The column concerned a trip Wilson, a former U.S. ambassador, took to Niger in 2002 to investigate whether Iraq had tried to buy yellowcake uranium -- which can be used to make nuclear weapons -- from the African nation. The administration had presented the Niger story as part of a rationale to invade Iraq.
Citing two senior administration sources, Novak reported that Plame was an CIA "operative on weapons of mass destruction" and that she had suggested sending her husband to Niger.
The disclosure came just two weeks after The New York Times published an article written by Wilson in which he said he didn't believe the yellowcake claims, which President Bush had referred to in his State of the Union address the previous January.
The White House later conceded that those claims could not be verified and should not have been included in the speech.
Novak: Leak unintentional
However, in an interview Wednesday with Fox News, Novak said he that he doesn't believe the senior Bush administration official who originally told him Plame worked at the CIA was leaking that information to discredit her husband.
Novak told Fox the information was a "nice nugget" that came out during a long interview with the senior official -- whose identity the columnist still refuses to reveal -- and was not leaked in an effort to manipulate him. He also said a CIA spokesman he contacted before publication never told him her status was classified.
The senior official disclosed the information after Novak asked why the CIA would have sent Wilson to Niger, which Novak said he found odd.
"He's not a CIA agent. He is not anybody who knows Niger that well. He served there a long time ago," Novak told Fox. "(The source) said his wife worked in the Office of Nuclear Proliferation at the CIA, and she suggested he go."
In their lawsuit, Wilson and Plame insist the information that she initiated his trip to Niger, which was being disseminated by Bush administration officials, was wrong. However, a Senate Intelligence Committee investigation concluded that she had suggested the trip.
Both Libby and Rove have conceded, through their lawyers, that they were sources for journalists doing reporting on stories about Wilson and Plame. But both men deny deliberately disclosing her status at the CIA, which at the time was classified.
In a column Wednesday, Novak revealed Rove was the second source who confirmed what he had learned about Plame from the other senior administration official.
The special prosecutor in the CIA leak investigation, Patrick Fitzgerald, has informed Rove that he has been cleared in the case and will not face any charges.

Home Page

CNN.com gives you the latest stories and video from the around the world, with in-depth coverage of U.S. news, politics, entertainment, health, crime, tech and more.

Home Page

CNN.com gives you the latest stories and video from the around the world, with in-depth coverage of U.S. news, politics, entertainment, health, crime, tech and more.