Staying on top of your game
Road warriors cite attitude, time management and some 'me' time
By Elizabeth Yuan
CNN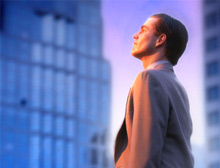 (CNN) -- You've been in hotels more than you've been at home. You've been commuting between San Francisco and New York lately. And you're wiped out. But there's that big meeting or gig to prepare for.
What to do to stay on top of your game?
CNN.com spoke with three road warriors -- CNN's senior political correspondent Candy Crowley; Patrick Solomon, a senior officer for the humanitarian organization CARE; and Ashok Notaney, a strategy consultant -- to learn their secrets.
'Get ready'
Crowley says that no matter how late she's out or how tired she is when she returns to her hotel room, she gets ready for the morning, because she's no "morning gal."
"If I have to wake up at 6 a.m., I set out everything I need. I sometimes put the toothpaste on the toothbrush. I put the bathmat on the floor. I never scatter my stuff around the room," she said. "I even open the bar of soap" for the shower, adding that it's hard to open on little sleep.
This way, "I can go into autopilot and not have to think" after waking up, she said.
Preparing the night before helps her avoid "fatal errors," like forgetting to look behind the bed for those tennis shoes.
"And never hang things on the back of the door," she adds.
Being on the campaign trail could mean being away for several weeks and landing in several states on a single day.
Crowley recommends "lots and lots of water," noise-cancellation headphones to drown out all the noise on the plane, and a "reward," which for her might be a couple of movies on DVD that she's thrown in the bag, or room service.
"Define moments where 'Calgon can take you away,' so you can build up your strategic 'nice' reserve," she advises. Travel with a multiplug outlet for all your devices, make sure your hotel room alarm clock is set accurately -- and avoid the wake-up service when traveling in groups like the press pool.
"You gotta pace yourself, know what's important for you to run to, what's not," Crowley said. Pack light to avoid baggage fatigue and try not to get too involved with a TV program when you should be asleep.
"Keep your head in the game," she said.
Take care of yourself
Solomon, the senior vice president for human resources at Atlanta-based CARE, said that preparation and schedule management are key once he arrives at his destination.
He recalled early in his job flying from Atlanta into Dhaka, Bangladesh, arriving there around 11 a.m. and arranging for a ride from his hotel to the local office at 2 p.m. And that was within a few days of having returned to Atlanta -- from Ecuador.
"I don't know what hit me," he said. "I just remember getting into the room and then hearing my phone ring. I was so tired. I was knocked out. The guy was waiting for me. I was just so overtaken by fatigue."
He got up, took a shower and "put on my game face and went in." But from that point on, he said, "I tried not to be so ambitious, to not ... go straight to the office. Maybe learn to get there a day earlier and get proper sleep."
Studying up on a country is also very helpful, he said. "You know what to expect and can focus on the job at hand," as opposed to spending time and stress navigating cultural norms and surprises.
Already this year, Solomon has traveled to East Timor, Afghanistan and Germany, with plans for Thailand and Kenya in the fall.
Breaking up long flights with a stop in between can help, as can vitamins, plenty of liquids and light exercises in flight. Colleagues recommend Naked Juice for nutrients and the prescription drug Ambien for catching some shut-eye to avoid jet lag. Solomon takes along his breakfast bars and, for gastrointestinal emergencies, Cipro.
Like Crowley, Solomon considers noise-cancellation headphones helpful as well as his iPod because he has trouble sleeping on planes. His BlackBerry allows him to stay connected to work, regardless of where he is and without the roaming charges that a cell phone would incur.
Most importantly, he advises, "You need some time off from the job to kick back and relax. If you can take off and spend a day seeing things ... and enjoy the country a little more, I think that's very helpful."
'Attitude is key'
Notaney has been flying 4,000 to 5,000 miles a week for the last 16 weeks. His current consulting assignment involves flying a red-eye from San Francisco to Cleveland on Sundays and returning on Wednesday nights.
Attitude is key, he said. Weather delays, long lines and missed taxis can make travelers irate. "You just have to say, 'You know what? Stuff happens. It's not the end of the world.' "
When CNN spoke to Notaney, he had just landed in San Francisco after a late flight.
Notaney also praises the headphones his wife got him and said he finds having a plan for the flight useful. "Am I going to read? Am I going to work for four hours?"
At the same time, he tries not to work the entire flight unless absolutely necessary.
"You can think of it as one of the few sanctuaries you have from e-mails and telephones," said Notaney, who loves to use the time to indulge in "Golf Digest."
He avoids drinking too much on planes, "picking fights" with airline staff and coffee.
"If I have to take a red-eye, I do everything I can to get into business class," he said. "Y-UP" fares -- which are considered full, non-restricted fares -- get you upgraded into business class and sometimes cost only $20 to $50 more than coach fare, he advised. "It's a no-brainer in that case." Flying on airlines where you've racked up miles and attained elite status can also help with those upgrades.
On trips, he tries to get his team to do things "that are interesting," like nice dinners and ball games, even go-carting. "Doing things like that makes the week different from other weeks. It's also team-building."
Notaney recommends working out an arrangement where long-haul assignments are not back-to-back or using creative scheduling to compensate for being away.
"I try to get a Friday where I can work at home ... so it doesn't become Monday through Thursday I'm away and Friday I'm at the office all day," he said.

Home Page

CNN.com gives you the latest stories and video from the around the world, with in-depth coverage of U.S. news, politics, entertainment, health, crime, tech and more.

Home Page

CNN.com gives you the latest stories and video from the around the world, with in-depth coverage of U.S. news, politics, entertainment, health, crime, tech and more.