The Quest for music
From blues king to old rockers in search of a smash hit
From Producer Neil Curry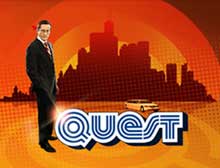 (CNN) -- Is musical talent something you're born with or something you acquire (like a skill or a rash)? And is it even important to succeed in the music business?
What's to stop our own Richard Quest from fulfilling a dream of seeing his CD on the shelves of high street record stores? Why can't he be up there with the likes of the Rolling Stones playing to audiences in excess of a million? Why doesn't ...? But let's not get ahead of ourselves.
It's a rocky road to rock royalty status. Most people start at the bottom, playing gigs in pubs and clubs, writing songs and sending demos to record labels in the hope that someone, somewhere will spot the hidden talent and sign them up as the next big thing. Jonathan Taylor, for example, is a hard-working music student who does just that -- he also happens to be Richard's nephew. Could it be that musical ability runs in the family? Richard signs up as Jonathan's roadie for his first taste of the music business.
Antonio "L.A." Reid represents the holy grail for someone like Jonathan. The head of Def Jam Records boasts an impressive artist roster, which includes rapper Kanye West and pop diva Mariah Carey. He has the power to hire and fire, and thus can make or break a musical career depending on whether he presses "play" or "eject" on the expensive CD player in his office. So how does an aspiring musician even get such an exalted music mogul to listen to the fruits of her labor? L.A. takes R.Q. into his confidence.
L.A. Reid, right, of Def Jam records with pop diva Mariah Carey and producer Harvey Weinstein.
A song with the credit "written by Diane Warren" is one way of guaranteeing to capture a record label's attention. Recognized as the pre-eminent songwriter of her age, she's written blockbuster hits for artists as diverse as Celine Dion, Hilary Duff, Tina Turner and rockers Aerosmith. Her love songs provide the soundtrack to weddings worldwide -- yet she tells Richard she's never been in love. Who better than her to give Richard a lesson in writing a smash hit?
From the songwriting queen, Richard travels to meet a true king: B.B. King, to be precise. It's a landmark year for the legendary blues man whose musical journey has taken him from sharecropping in Mississippi to the concert halls of the world. He recently celebrated his 80th birthday with his 14th Grammy Award and Richard accompanied him as he approached another musical milestone -- his 10,000th performance.
Richard meets 80-year-old blues legend B.B. King.
New York's famous Juilliard School of music is also celebrating a birthday. It marks its 100th anniversary with a star-studded concert of alumni, including greats from the worlds of jazz and classical music: trumpeter Wynton Marsalis, violinist Itzhak Perlman, America's top soprano Renee Fleming and remarkable 12-year-old pianist Peng Peng, who gives Richard a taste of the other scale of piano playing, compared to his own beginner's class. Another valuable music lesson for Mr. Quest.
At the opposite end of the world to New York is Sydney, host to the MTV Australia Music Awards, where international stars such as Snoop Dogg mix with local heroes like Bernard Fanning of Australia's rock band Powderfinger. Rappers and rockers mix on the red carpet, along with balladeer James Blunt, whose sad songs have proven there is a multi-million dollar market for misery. Quest is there to take in the showbiz side of the music industry.
When Richard was invited to join Mick Jagger and the Rolling Stones in China, he jumped at the chance.
The biggest show on Earth -- in musical terms at least -- is the Rolling Stones. The veteran bandwagon continues to roll around the world with its 60-something stars continuing to provide satisfaction for new groups of fans. Never before have they performed on mainland China, so when Mick, Keith, Ronnie and Charlie invited Richard to join them in Shanghai, R.Q. was already at the airport before the phone call had ended. Richard was to discover that China has its own rock God in the form of veteran singer Cui Jian.
A few days later, one star-struck Richard Quest arrived on the other side of the world to enter Diane Warren's studio and pursue his own musical destiny. She had granted him the rare privilege of recording one of her songs -- but only if he was good enough. Would pop's top songwriter pull the plug or could his CD really end up on L.A. Reid's desk, after all?

Home Page

CNN.com gives you the latest stories and video from the around the world, with in-depth coverage of U.S. news, politics, entertainment, health, crime, tech and more.

Home Page

CNN.com gives you the latest stories and video from the around the world, with in-depth coverage of U.S. news, politics, entertainment, health, crime, tech and more.