The Quest for champions
Will it be all tears, heartache and pain for CNN's sport-phobic?
From Producer Matt Percival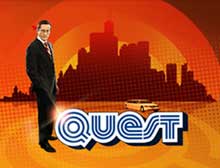 (CNN) -- Fighting off the competition takes hard graft, extraordinary talent and great sacrifice.
This month's episode of Quest explores what it takes to make it to the higher echelons of sport -- the talent, the drive, the commitment.
It is a Quest for champions, in which Richard ventures into a world that has so far passed him by. Neither the heart nor the soul of this man of the world has ever been stirred by the passion, drama and sheer magic of sport.
The curl on a perfect free-kick, the wonder of a sub-10 second 100 meters or the precision of the perfect putt -- these are all things that wash over him with utter indifference. That is, until now ...
Quest is about to meet some of the icons of world sport -- names like Thierry Henry, Robby Naish, Carl Lewis, Boris Becker, Carolina Kluft, Ian Thorpe and Mika Hakkinen.
In doing so, he will try to understand their raison d'etre, the secret of their success and their all-consuming desire to win.
Richard starts by rubbing shoulders with the stars at the Laureus World Sport Awards in Barcelona. Here, the best of the best are recognized for their contribution to their respective disciplines. Among the guests in attendance will be the likes of Spanish golfer Severiano Ballesteros, cyclist Miguel Indurain, tennis ace Roger Federer, former English decathlete Daley Thompson and cricket legend Ian Botham. What better introduction to the psyche of a champion?
Carl Lewis coaches Quest to see if he has it in him to be a champion.
Next up Richard travels to Australia to meet the man they call "Thorpedo," Ian Thorpe. Seen by many as the most gifted middle-distance swimmer of all time, Thorpe has so far bagged five Olympic gold medals. Yet, for all his success, at the tender age of 23, he acknowledges he has probably already peaked and must look ahead to a life outside the pool -- such is the fragility and short-lived success of an elite athlete.
To become a champion, you need to hone your skills as early as possible. British Olympic runner Kelly Holmes knows all too well the price of growing up in pursuit of success -- she endured more than her fair share of heartache and pain before she finally struck gold in the twilight of her career at the 2004 Olympics Games in Athens. We join her as she uses her experience to prepare aspiring young athletes for the 2012 Olympics in London -- just how can you spot the brightest talent of the future?
Science says elite athletes are all built differently, and as top sports psychologist Professor Ian Maynard it is often the strength of character that defines a true thoroughbred. In fact, for many, success actually stems from a battle within, the determination to better oneself.
Swedish heptathlete Carolina Kluft confesses that whoever she faces in the track and field arena, it is nothing compared to the fight she has with herself.
Richard and Arsenal footballer Thierry Henry
Arsenal footballer Thierry Henry is another. His own harshest critic, when he takes to the field this normally mild-mannered man becomes possessed by the will to win and the fear of failure.
On such a journey as this, there comes a point when even a sport-phobic has to throw away his sick note and get stuck in. So, with the promise of a trip to Hawaii, Quest seeks out the greatest wind surfer of all time for a personal lesson, Robby Naish. This king of the waves may not grab the headlines, but this is a champion whose dedication is a match for any other. He's become a one-man global industry, proof that there is a lot more to windsurfing than a bit of holiday fun.
In the end it is the most basic of sports that takes Richard to his limit -- running. With Olympic legend Carl Lewis acting as both trainer and time-keeper, his personal best is in sight! It's time he discovered if he has what it takes to be his own kind of champion.
-- For Quest show times click here.

Home Page

CNN.com gives you the latest stories and video from the around the world, with in-depth coverage of U.S. news, politics, entertainment, health, crime, tech and more.

Home Page

CNN.com gives you the latest stories and video from the around the world, with in-depth coverage of U.S. news, politics, entertainment, health, crime, tech and more.