Inside Iraq's West Wing
By Michael Holmes
CNN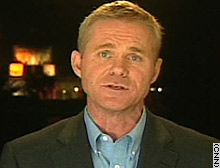 CNN correspondent Michael Holmes spent a day with Iraqi President Jalal Talabani.
BAGHDAD, Iraq (CNN) -- Jalal Talabani draws on a cigar and ponders the question.
The Iraqi president is sitting in his country's version of the Oval Office. A far more humble version, perhaps, but a potent seat of power nonetheless.
We're discussing the insurgency, and the opinions of many who say that political progress has, so far, done little to deter those who wish the new Iraq, and its occupiers, ill will.
He says a thriving political system will eventually suck the life out of much of the insurgency.
"Sunni participation in the (political) process will end all pretext to fight," he says, placing the cigar in an ashtray. "People started to understand what is going on is not a fight against Americans, it's a fight against the Iraqi people."
It was an extraordinary day with the Iraqi president. Rarely has such unfettered access been granted to a Western television team. We spent much of the day with Talabani, as he met with advisers, greeted ambassadors, discussed the security situation and held photo ops for the local media.
He says he is optimistic about his country's future, but, with a smile, he adds a rider:
"But, of course, nothing in Iraq is easy."
Talabani says he wants to stay on as president after final election results are announced. But there are conditions. Under the rules of the presidency, he would have some official power in the new government, but his office would be largely titular. Power, though, is not always defined by rules, and Talabani's true influence will only be seen over time.
"I cannot be a 'yes man', that is the deal," he says. "I must share in ruling the country - I don't want to be a puppet president.
"You know, what we call sharing power among the partners of the government."
Whether the Shiite majority or the Sunnis will tolerate a powerful presidency in the hands of Talabani, a Kurd, is another matter.
Talabani is a personable, even jovial, man. Many of his fellow Kurds call him "Uncle." He laughs easily, tells jokes, plays cards and oozes a quiet confidence.
He's had a lifetime at the sharp end of Iraq's often violent politics -- now he faces another big challenge.
As president, it will be his job to help bring Shiites and Sunnis together and fashion a unity government from groups rarely unified. Because he is a Kurd, a group aligned with neither the Shiites nor the Sunnis, he may be able to referee between them.
"The Kurdish people can play the role of mediation, of reconciliation, the role of bringing them together, of balancing," he says. "I think we will do our best, and I think we have this capacity."
As the final election results are pulled together -- we should know the results this week -- another key issue is how long it will take to form a new, workable government.
Talabani's optimism again emerges.
"I think weeks. I hope. I hope it will be weeks."
We discussed the issue of Kurdish independence, something always bubbling below the surface of efforts for consensus politics in Iraq.
This time the realist emerges.
"There is a difference between realities and desires," he says. "Wishful thinking is one thing, and what is going on the ground is something else."
Oil revenues in the rich Kurdish region would, he said, be shared between Kurds and the national government -- but first the Kurds must get their cut. How big a slice of the profit pie is something for later discussion, he says.
There are two main Kurdish groups, and in the past they've fought over regional issues. Not anymore, the president says.
"This is the best time of unity among the Kurds," he says. "Best time. You can say the highest level. Now we are united about everything."
Another thorny issue is that of the constitution. After Sunnis were assured before last month's election that altering the constitution would be up for discussion, they turned out in large numbers to vote.
Last week, I spoke with perhaps the country's most powerful politician, the senior Shiite figure, Abdul Aziz al Hakim. He told me constitutional change was not going to happen. Talabani seemed to agree.
"There will be a committee, the committee will discuss, but I think the majority -- within the Parliament, will refuse any kind of fundamental change."

Home Page

CNN.com gives you the latest stories and video from the around the world, with in-depth coverage of U.S. news, politics, entertainment, health, crime, tech and more.

Home Page

CNN.com gives you the latest stories and video from the around the world, with in-depth coverage of U.S. news, politics, entertainment, health, crime, tech and more.