Bin Laden message offers timing, location clues
By Octavia Nasr
CNN Senior Editor for Arab Affairs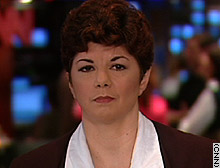 Octavia Nasr is CNN's senior editor for Arab affairs.
ATLANTA, Georgia (CNN) -- The latest recording by Osama bin Laden, which eulogizes terrorist Abu Musab al-Zarqawi, displays al Qaeda's public relations acumen, confidence and traditional Muslim identity.
The 19-minute, 32-second recording also underscores al Qaeda's technical sophistication, an effective weapon in its fight.
Analysts are studying the latest message, which indicates bin Laden is alive and capable of sending out messages in a timely and effective fashion. (Watch what's on the taped message -- 4:02)
They compare the recording with a recent videotape from Ayman al-Zawahiri, bin Laden's second in command. Al-Zawahiri also lamented the loss of al-Zarqawi, who was killed June 7 in a U.S. airstrike near Baquba, Iraq.
A CIA analysis has concluded the voice on the recording, released Thursday night on an al Qaeda Web site, is that of bin Laden, according to a CIA representative. (Full story)
Hiding locations
As-Sahab -- the al Qaeda production company that handles both men's messages -- is skillful at masking production locations.
The differences in the messages indicate bin Laden and al-Zawahiri are possibly in separate places, because the productions are different. That indicates there might be more than one production facility.
It is also thought that the differences are a ruse, that the two men could be together at the same location and producing their messages in the way that would lead people into thinking they are in separate locations.
Not as sophisticated
The bin Laden tape is not as technically sophisticated as a recent videotape issued by al-Zawahiri.
It was not accompanied by full translation in several languages and subtitles as al-Zawahiri's videos have been.
Last week's al-Zawahiri's message was translated into English, Pashtun and Farsi.
While transcripts of all languages are usually available with -- or right after -- the message posts, a translated transcript of the bin Laden message was not available.
The al-Zawahiri tapes are of very good quality video and have over-the-shoulder boxes, graphics and subtitles providing an word-by-word English translation of al-Zawahiri's message.
Bin Laden's latest tape is a basic split screen over audio with a simple title and no graphics or subtitles.
Both tapes are accompanied with the As-Sahab logo.
In bin Laden's tape, the title on top of the page reads, in Arabic, "eulogy of the martyr Sheikh Abu Musab al-Zarqawi (may God bless his soul)."
On the bottom of the screen two separate lines read, "Sheikh Osama bin Mohammed bin Laden (may God protect him) in eulogy of the martyr of the (Islamic) nation Abu Musab al-Zarqawi (may God bless his soul)."
Clues to when they're released
The al Qaeda production company has a way to communicate messages through known Web sites to announce when tapes will be released.
Last week, the al-Zawahiri video was announced about 24 hours before its release. And this last bin Laden message took about 29 hours to make it to the Internet since it was announced by As-Sahab.
Bin Laden eulogized al-Zarqawi in a traditionally Arabic manner -- exaggerated poetic praise of the departed, an old custom that is still practiced on occasion. (Full story)
In fact, professional eulogists are hired to do this for important, influential and wealthy people. Some recite poems while others sing in a weeping kind of way.
This was done even though bin Laden and al-Zarqawi disagreed over tactics, such as al-Zarqawi's attacks against Shiites and beheadings.
Bin Laden said his target in Iraq isn't the Shiite but "anyone who fights alongside the crusaders against the Muslims, regardless of their sect or tribal ancestry."
He even said al-Zarqawi had "clear orders" to that effect.
While bin Laden had the opportunity to identify the new leader of al Qaeda in Iraq, he did not do so. The U.S. military believes Egyptian-born Abu Ayyub al-Masri, a senior al Qaeda in Iraq operative, has taken over the terror network after al-Zarqawi was killed.
This could indicate the tape was made after al-Zarqawi was killed and before the replacement's name surfaced.

Home Page

CNN.com gives you the latest stories and video from the around the world, with in-depth coverage of U.S. news, politics, entertainment, health, crime, tech and more.

Home Page

CNN.com gives you the latest stories and video from the around the world, with in-depth coverage of U.S. news, politics, entertainment, health, crime, tech and more.