Cooper: Rocket strike leaves strange scene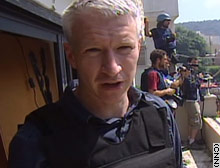 Anderson Cooper describes the scene of an attack on an apartment in Haifa, Israel.
HAIFA, Israel (CNN) -- At least 11 people were wounded Monday when a Hezbollah rocket hit a residential building in the northern Israeli city of Haifa.
CNN's Anderson Cooper arrived at the scene shortly after the strike and described the immediate aftermath to "American Morning" Anchor Miles O'Brien.
O'BRIEN: Let's get ... to Haifa, Israel, that third largest city in Israel, the port city, an important city, a city that thought it was out of range of Hezbollah rockets until all of this unfolded. And just a little while ago a rocket attack.
And Anderson Cooper is on the scene right now -- Anderson, tell us what you're seeing.
COOPER: Miles, it's hard to hear you, but I assume you're asking me what I'm seeing right now.
I can tell you another rocket now has hit a residential building in Haifa. We are literally about 20 feet away from the blast site. The building is still smoking. The police are all over this place. They have already removed two people from the building -- one woman walking; another woman was put on a stretcher.
They may -- they believe there may be others trapped inside the building. They are sending for more stretchers. It is a scene of full pandemonium, I would say. Security services quickly cordoning off this entire area. They're very used to this sort of thing. They have it down, the routine is down.
But, unfortunately right now, nothing is routine in the city of Haifa. Twenty rockets, missiles, hit yesterday in the Haifa area. Already this morning here in Haifa there have been a number of air raid sirens that have gone off.
We had actually seen a blast about 15 minutes ago that was ... when the air raid sirens again went off. Everyone took cover. We heard the explosions.
I'm now seeing flames -- flames, in the center of the building. It looks to be on the second floor. They're rising pretty quickly.
This is the first time we are actually seeing flames. And, again, they're saying there may be people inside this building. There are police and soldiers all around the ground floor, looking for people. But at this point it does not look like anyone else has come out of this building so far. Everyone is now sort of standing around.
There's no fire -- there's no firemen right now on the scene to deal with these flames. So at this point they just seem to be burning, if not out of control at this point, it looks like a fire maybe sort of 10 feet wide at this point on the second floor.
It -- it is a strange scene. It is very odd, Miles. At this point, again, one person taken out ambulatory. Another person, another woman, an old woman taken out on a stretcher. But we are waiting to see, again, what is significant. This is in a residential area.
Before the explosions, the rockets have hit -- when they have hit at all -- in more commercial areas. The one earlier this morning was on the roof of a court building. Yesterday, a train depot was hit in which eight people were killed.
But at this point it appears that we don't know any official word of fatalities or injuries, Miles, at this point.

Home Page

CNN.com gives you the latest stories and video from the around the world, with in-depth coverage of U.S. news, politics, entertainment, health, crime, tech and more.

Home Page

CNN.com gives you the latest stories and video from the around the world, with in-depth coverage of U.S. news, politics, entertainment, health, crime, tech and more.