»
Special Report | Video archive | E-mail us: Your stories | How to help civilians
Rice sees Mideast progress among the bombs
Secretary says U.S. addressing situations in Iraq, Iran, Cuba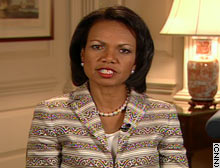 Condoleezza Rice paints an upbeat picture of events in the Middle East.
WASHINGTON (CNN) -- Secretary of State Condoleezza Rice said Thursday that she hopes a U.N. Security Council resolution will be reached "within days" that addresses the hostilities between Israel and the Lebanon-based Hezbollah militia.
"I think it will certainly be within days," she told CNN's Larry King in an interview to be broadcast Thursday night. She refused to elaborate when asked if the resolution was imminent.
Israeli Deputy Prime Minister Shimon Peres on Tuesday predicted an end to the violence "in matters of weeks, not months."
Rice also presented an upbeat assessment of the course of events in the Middle East since Iraqi President Saddam Hussein was deposed by a U.S.-led coalition more than three years ago. (Watch Condoleezza Rice explain cease-fire efforts -- 1:15)
"It's a better Middle East in which Saddam Hussein is not still repressing his people though, obviously, the Iraqi people have a difficult transition to peace and democracy," she said.
Rice noted that women in Kuwait now have the right to vote and credited her boss, President Bush, for the changes.
"I'll stack up this policy in the Middle East against any," she said. "I think we have made more progress under this president toward a Middle East that will be different and better than at any other time in recent memory."
The head of U.S. Central Command, however, told a Senate committee Thursday he has "rarely seen" the Middle East "so unsettled and so volatile."
Gen. John Abizaid warned that Iraq could deteriorate into a civil war if sectarian violence isn't stopped, but also said he is confident such a slide can be averted. (Full story)
Rice reiterated that it was Hezbollah that initiated the most recent outbreak of hostilities by abducting two Israeli soldiers July 12, and she appeared unrattled by Thursday's threat from Hezbollah leader Hassan Nasrallah to attack Tel Aviv.
"The Israelis also have their own capabilities to deal with these threats," she said. "The international community needs to say to Hezbollah that these kinds of threats are also not helpful at a time when the international community, the Lebanese people, the Israeli people all want an end to the hostility."
The secretary described Hezbollah's command-and-control network in southern Lebanon as "rather sophisticated," and that it is "very difficult to deal with" since it is located among civilian populations.
Despite calls from U.N. Secretary-General Kofi Annan and many nations, the United States has not publicly endorsed an immediate cessation of hostilities.
Rice said the United States has not opposed a cease-fire but has opposed any agreement that "falls apart practically the minute it's in place" and would then result in a return "to the status quo ante."
She said U.S. officials are working with their French counterparts to put in place "an enduring cease-fire and an enduring peace."
Diplomats at the United Nations are considering a draft resolution that calls for an immediate cease-fire and recognizes the need to address the conflict's "root causes," according to a copy of the draft resolution obtained by CNN.
But Hezbollah's press officer told CNN that a cease-fire will not stop the militant group from fighting Israeli soldiers "on our soil" -- land that Hezbollah defines as encompassing the disputed Shebaa Farms region, occupied by Israel.
Rice said observers should not read anything into the fact that President Bush has not spoken directly with Israeli Prime Minister Ehud Olmert about the Israeli bombing of Lebanon.
"There isn't any absence of contact there," she said. "I'm quite certain the Israelis have every access to us that they need."
She added, "When the president needs to speak to people, he speaks to them."
Rice returned to the United States from Israel on Monday after Lebanese leaders called off a meeting with her. That move followed an Israeli airstrike Sunday that killed dozens of civilians in Qana, Lebanon. Rice said Monday that a "comprehensive settlement" could come this week. (Full story)
Rice also addressed the "misconceptions we've not talked to Syria," noting that her predecessor, Colin Powell, held such talks "a couple of times," as did other U.S. officials. Rice replaced Powell after Bush won re-election in 2004.
"The problem is Syria hasn't been responsive," she said. "When we talk, we want to get a response. The time is for Syria to act."
And Rice left open the door for negotiations with Iran, which the United States says is pursuing nuclear weapons. Iran says its nuclear program is intended solely for peaceful purposes.
"If Iran is serious about finding a civil nuclear program that would not allow nuclear weapons, we are more than happy to participate in that process," she said. "The diplomatic track is still open."
Asked about the ferocity of the attacks U.S. forces are facing in Iraq, Rice said she believes they have come "from a few people who want to stop progress.
"Either they see no future in a democratic Iraq, or they see everything in zero-sum terms," she said.
She described Iraq's newly formed government as "the most legitimate government in the whole region" and cautioned against a cut in U.S. support.
The security of the United States and that of the Middle East, including Iraq, is "inextricably linked," she said.
About matters closer to U.S. shores, Rice said she is watching "very carefully" as events unfold in Cuba, where President Fidel Castro has temporarily ceded power to his brother Raul while he recuperates from intestinal surgery.
"The transition -- one way or another -- appears to be under way there, and transition will have to come," Rice said.
She said the United States is prepared to help Cubans transition to a democracy, declaring, "The time will come when we are no longer talking about the only state in the Western Hemisphere which doesn't have an elected leader." (Full story)

Home Page

CNN.com gives you the latest stories and video from the around the world, with in-depth coverage of U.S. news, politics, entertainment, health, crime, tech and more.

Home Page

CNN.com gives you the latest stories and video from the around the world, with in-depth coverage of U.S. news, politics, entertainment, health, crime, tech and more.