UNICEF official: War 'hitting kids the hardest'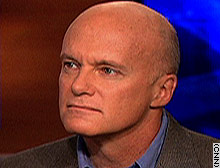 Dan Toole, UNICEF's director of the office for emergency programs
NEW YORK (CNN) -- Children make up nearly half of about 1 million Lebanese civilians displaced by the fighting in the Middle East, the United Nations says.
Returning from Lebanon recently, Dan Toole, director of the office for emergency programs for UNICEF, spoke Thursday with CNN's Rick Sanchez on "American Morning."
SANCHEZ: What did you see? I understand you went to several places where they're trying to -- I suppose shelter is the right word, for the children and the civilians -- but I'm not really sure they're getting much shelter though are they?
TOOLE: Yes, the situation's pretty desperate, Rick. I saw thousands of kids living in parks, living in schools, families, 30 to a classroom that was never meant to house people actually living there, very little water. People, neighbors, others bringing in the food, but the situation is hitting kids the hardest.
SANCHEZ: So they're like giant camps?
TOOLE: Camps, but in your city. I mean, imagine, you said that a million people are on the move. That's almost one-third of the population. That's like twice the state of California in the United States moving and staying with relatives in parks. It's just packed, and people really don't know what to do.
SANCHEZ: What's it like for the kids in particular? What did you see when you looked at them and tried to get their stories?
TOOLE: You see really desperate kids. I talked to one little girl named Yola, for example, and she had lost her grandmother; she didn't know where her grandmother was. Luckily, her brothers and sisters were there, but you know, she was relying on neighbors for food there.
There was water coming out of little plastic bottles. She had never had that before. She was scared. She was frightened.
SANCHEZ: It must be so difficult for them to try to figure out what's going on.
Let me ask you about this. This is a USA Today article, and what they seem to be saying in USA Today is that the Lebanese relief effort has hit a roadblock, and it's because they say aid groups say Israel won't protect the convoys. Did you find that to be true?
TOOLE: It's a very typical situation. So far, UNICEF has been participating in about seven convoys to the south. That's not very many. We guess that there's still about 20 percent of the population in the south stuck.
Yesterday, we delivered about 10,000 liters of bottled water. Normally, we provide like water mattresses that you fill with water and people get their own. This time we're delivering bottles because there isn't any clean water. Medicines are essential.
SANCHEZ: But is there any way in a war situation, and have you dealt with this in the past, where you could say to one side -- which in this [case] seems to be Israel that seems to be controlling that area, certainly in terms of the airstrikes -- can you give us some reprieve from the fighting? Can you create a corridor for us? Can you do something for us?
Have you had a conversation with them, and what's been the reaction?
TOOLE: We have. We've been pushing very hard for both sides to stop the fighting. The first priority is stop the fighting. Stop the missiles going into Israel. Stop the fighting into Lebanon. Then we can get in.
Even if it's 72 hours, to get in, provide assistance, get the elderly out, move kids so they can be with their family in safe places. Children are bearing the brunt. We've got to get to them quickly.
SANCHEZ: And what did they say when you made this proposal? Have you got any response from them?
TOOLE: They said yes, we can go in. That's how we got seven convoys in, seven so far, but we need individual access each time. We've got to say we've got a convoy today to Tyre, we've got a convoy tomorrow to Sidon, and we need clearance to get that through so we don't get shot.
SANCHEZ: If you could say to Israel or to [Israeli Prime Minister Ehud] Olmert right now, please, we need this. What would it be?
TOOLE: Stop the fighting. Give us 72 hours so we can get in water, medicine, get out the elderly, make sure kids are being taken care of. That's the most urgent.
SANCHEZ: When you talk to the people in Lebanon, and you talked to people, I imagine, they didn't come up to you and say I'm Hezbollah, right?
TOOLE: No.
SANCHEZ: But did you get a sense that people are angry or angrier now at what's going on?
TOOLE: Rick, I was surprised. When I talked to particularly women, they were more resigned. They were saying, "This is life, we'll get through this; we'll get back to our homes."
What was frightening, I think, were the young men, the young girls who were indeed very frustrated, very angry. They see their homes bombed. They've had to move out of their communities.
SANCHEZ: So are they angry now at Israel? We're hearing these reports that people are feeling more, people now seem to be feeling more positive about Hezbollah, as ironic as that may sound.
TOOLE: I think they're very angry at Israel. They've very angry at the United States, that they see as supporting Israel, and my fear [is] that's not just inside Lebanon.
I visited Syria. I visited Jordan. I visited Gaza as well, and that anger is spreading, and that's something that doesn't stop tomorrow.
SANCHEZ: And of course UNICEF is an organization that -- I think we have the Web site we can put up. UNICEF is an organization that receives donations, does it not?
TOOLE: Yes, and that's one of our biggest constraints right now; we don't yet have enough money. So far governments have been pretty slow. People are responding, people from Germany and the U.S., but we need more money, as does the World Food [Program], as does the Red Cross. They're all doing great work. They need support.

Home Page

CNN.com gives you the latest stories and video from the around the world, with in-depth coverage of U.S. news, politics, entertainment, health, crime, tech and more.

Home Page

CNN.com gives you the latest stories and video from the around the world, with in-depth coverage of U.S. news, politics, entertainment, health, crime, tech and more.