Rice: 'Arms cannot operate again' in south Lebanon
Hezbollah must return Israeli soldiers unconditionally, U.S. says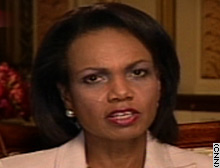 Condoleezza Rice says she expects Lebanon and Israel to support the U.N. resolution.
NEW YORK (CNN) -- As the U.N. Security Council was preparing to vote Friday on a draft resolution aimed at ending the fighting between Israel and Hezbollah, the U.S. and Israel voiced their support for the proposal.
U.S. Secretary of State Condoleezza Rice sat down with CNN's Wolf Blitzer before the vote, and she explained how Lebanon and Israel both support the resolution and what the resolution means for the future of the region.
BLITZER: We just heard the Israeli government spokesman, Ambassador Gideon Meir, saying that Prime Minister Ehud Olmert will recommend to his Cabinet on Sunday when they convene that Israel accept this U.N. Security Council resolution. Are you getting any official or unofficial word yet from the government of Lebanon?
RICE: We have heard from the government of Lebanon that they also believe that this is a resolution that can serve their interests. In fact, the interests of both the Israelis and the Lebanese now is to end the large-scale violence and to begin to lay a foundation for peace. (Text of resolution)
And I believe that you'll see both governments accept this. They have to go through a Cabinet meeting, as well. The Israelis have said they have to have a Cabinet meeting. So do the Lebanese. But I would expect that we're going to have acceptance of this resolution by both governments, once it's voted in the U.N., which should happen tonight.
BLITZER: Well, what about Hezbollah? Is there any indication that this group that you characterize as a terror group will go ahead and play ball, will cooperate?
RICE: Well, let's remember that the parties to this cessation of hostilities will be the Lebanese government and the government of Israel. Hezbollah, of course, has ministers in the Lebanese Cabinet, and we've been working with the government of Lebanon, and assuming that the government of Lebanon is making sure that all parties represented in its government will abide by the cease-fire.
But let's remember that we have a democratically elected government of Lebanon whose territory is at issue here, and the democratically elected government of Israel whose territory is at issue here. And when they accept this, we expect that there's going to be adherence to the cessation.
BLITZER: Will this new U.N. presence -- an expanded version of UNIFIL, the United Nations Interim Force in Lebanon, presumably a lot of French troops, other European troops come in -- will they have the authority to go out and aggressively disarm Hezbollah, take away their rockets and prevent Hezbollah from getting new rockets coming in from Syria?
RICE: Well, Wolf, it has not ever been the expectation that the disarmament of Hezbollah is going to be undertaken by a foreign force. The obligation to disarm Hezbollah under Taif and under Resolution 1559 is an obligation of the Lebanese government. They will receive whatever assistance they need.
But let's remember that this force has, first and foremost, an obligation not to allow a return to the status quo ante, which means that armed groups, arms, cannot operate again in the south of Lebanon. It means that the border area between Lebanon and Israel has to be secure.
And, in fact, at the request of the government of Lebanon, there will also be a need to make sure that arms cannot enter the country illegally, because one of the problems that has been there is that you've had arms entering illegally that are not going to the armed forces of Lebanon, but to unauthorized armed groups.
So this force has a big mandate, it has a robust mandate, it has a mandate that will allow it to defend itself and to defend that mandate. But it's never been the expectation that this force is going to disarm Hezbollah. That will have to be done by the Lebanese.
BLITZER: I can tell you, though, Madam Secretary -- and I know this because you've had plenty of conversations with Ehud Olmert, the prime minister of Israel, and Tzipi Livni, the foreign minister of Israel. It was, as you well know, their expectation that this U.N. force would operate under what's called Chapter 7 of the United Nations Charter, which would give them the opportunity to disarm Hezbollah. Instead, this force will operate under Chapter 6, which is not exactly what the Israelis were hoping for.
RICE: I think, Wolf, there is some confusion here. The question of what the force decides or is asked to do, and what chapter this resolution is under, those are two different issues. This force has always been intended to create security in the south, to secure the borders, to make sure that the arms embargo works, to accompany the Lebanese armed forces so that they can take control of their own territory.
And I would encourage people to read the mandate of this force. It is, first of all, under a resolution that says that Lebanon constitutes a threat to international peace and security. That is language right out of the robust elements of Chapter 7.
It is also the case that this force has a very firm mandate to defend itself, and to defend its mandate, in other words, to resist those who would try to keep this force from doing its job.
Chapter 7 is very often used when a government is not prepared to accept a force. Lebanon is prepared to accept this force, but this is an absolutely robust mandate. This, by the way, is what helped the Israeli government. They were concerned earlier about the mandate. After we talked about this enhanced mandate in the revised resolution, I think the government of Israel saw that it met their needs.
BLITZER: What about the two Israeli soldiers? Will Israel have to hand over Lebanese prisoners in custody here in Israel in exchange for winning the release of those two Israeli soldiers?
RICE: The return of the Israeli soldiers should be unconditional, and that has been stated in numerous documents. It's stated in this document. There is a sensitive issue about Lebanese prisoners. But I want to be very clear; there isn't a linkage here, and there's no prisoner exchange that is even envisioned in this resolution.
BLITZER: One final question involving the United States. Will the U.S. play any role, logistically supporting role, in this beefed-up U.N. presence? Will the U.S. send troops to Lebanon again?
RICE: I don't think, Wolf, that anybody believes that an American on-the-ground presence would be a stabilizing force under the circumstances in Lebanon. But I -- the president has said that we may be able to provide some enabling support, logistical support, planning support.
We'll be talking with the U.N. people about what might be needed, and I'm quite certain that the United States will try and support in whatever way we can and in whatever way is appropriate.

Home Page

CNN.com gives you the latest stories and video from the around the world, with in-depth coverage of U.S. news, politics, entertainment, health, crime, tech and more.

Home Page

CNN.com gives you the latest stories and video from the around the world, with in-depth coverage of U.S. news, politics, entertainment, health, crime, tech and more.