Adjust font size:




BERLIN, Germany -- Former Tour de France champion Jan Ullrich announced his retirement from competitive cycling on Monday.
The 33-year-old German, who won the sport's most prestigious race in 1997, said at a presentation in Hamburg that he will work as an adviser to the small Austrian Volksbank team.
"I will continue my involvement in cycling, but I'm ending my active career as a professional cyclist," Ullrich said. "I will continue as an adviser at the Volksbank team."
He added: "I couldn't live without cycling. It's my passion and my life."
Ullrich was withdrawn from the T-Mobile team just before last year's Tour de France, after being linked with a massive doping investigation in Spain.
He was suspended and then dropped by his team despite his insistence that he was not involved in doping.
Since then he has been without a place on a professional team, although he has not been charged with a doping offence.
He said on Monday: "Today I'm ending my career as a professional cyclist. I never once cheated as a cyclist.
"I still don't understand why I was not allowed to compete in the Tour last year."
He criticized the way he had been treated by cycling officials in Germany and Switzerland and by the German media.
"I feel like a serious criminal although I have nothing to reproach myself," he said.
Ullrich said he was still fit and had received offers from seven teams to race this season, but had decided to move on.
Ullrich has been under investigation for several months in Spain's "Operation Puerto" scandal, but has not been charged.
"I could have had a team immediately," Ullrich told a news conference, accompanied by his wife and mother. "I had offers also from Pro Tour teams."
The Spanish probe followed a raid by Spanish authorities last April on a Madrid clinic which allegedly provided performance enhancing drugs to 57 top riders.
The investigation led to Ullrich, a pre-race favorite, being expelled from last year's Tour de France -- a day he called the "hardest" in his career.
On July 20, he was dismissed by T-Mobile and has not raced since.
---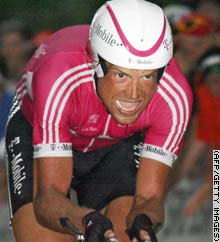 Ullrich will work as an advisor to the Austrian Volksbank team.
FACT BOX
Fact Box on Germany's former Tour de France winner Jan Ullrich, who announced his retirement on Monday:

Date of birth: December 2, 1973

Place of birth: Rostock (former East Germany)

Height: 1.83 m

Weight: 73 kg

Main results

One-day races
Olympic Games: 1st road race (2000), 2nd time trial (2000)

World championships: 1st time trial (1999 and 2001), 3rd time trial (1994)

German road race championships: 1st (1997, 2001)

German time trial championships: 1st (1995)

HEW-Cyclassics 1997, Luk-Buhl 1997, Tour of Berlin 1998, GP of
Nuremberg 1998, Coppa Agostoni 2000, Tour of Emilia 2001,
Dortmund Classic 2001, Tour of Cologne 2003, Coppa Sabatini 2004

Three-week races

Tour de France: 1st (1997), 2nd (1996, 1998, 2000, 2001, 2003), 3rd (2005), 4th (2004)
Stage wins: 7
Yellow jersey: 18 days

Tour of Spain: 1st (1999) plus two stage wins

Tour of Italy: time trial stage win (2006)

Other stage races

Tour of Switzerland (2004, 2006) plus 5 stage wins

Regio Tour 1996

Teams: Telekom (1994-2002), Team Coast (2003), Bianchi (2003), T-Mobile (2004-2006)