(CNN) -- Haile Gebrselassie talks to CNN about his childhood, his family, his country and what motivates him to keep on running.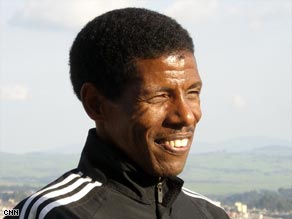 Haile Gebrselassie still trains twice a day, seven days a week.
CNN: What was your childhood like?
Haile Gebrselassie: I was the kind of child who worked hard every day with the cows and sheep -- I was a very aggressive boy. When they asked me to go somewhere I didn't like to walk, just run -- I liked to do things faster. I did things before everybody else, especially when I was young. I always wanted to be the best.
CNN: Who inspired you to be the best?
Haile Gebrselassie: After the 1980 Moscow Olympic games when Miruts Yifter won the 5,000 and 10,000 meters, I wanted to be like him, but of course I was only 7 years old and I had no chance until 1988. When my brother started running he asked me to join him -- that was at the end of 1987. I had the chance to compete in school and that was the moment I started athletics
CNN: Was it obvious that athletics was suited to your body?
Haile Gebrselassie: When I had no shoes I was comfortable -- I used to run barefoot. When I wore shoes it was difficult. To run in shoes was ok, but at the beginning of my career it was hard. In our countryside, you see those kids they are very comfortable with no shoes. It's better to have no shoes that not the right ones.
CNN: Was it hard to live in a hut?
Haile Gebrselassie: Yes, very hard -- before I used to live like I do now, it was not that difficult. We were fine. We were happy family. Of course if you asked me now to live that way -- impossible!
CNN: Tell us about your parents
Haile Gebrselassie: We were a big family -- There was 12 of us. I had five brothers and four sisters. When I try to explain about our life, it's much better to see what's happened right now -- especially when you are in the countryside. It's a little bit difficult, working hard, a traditional way of life -- the way you grow the crops -- we were struggling from the beginning until I became what I am now. Life is a kind of struggle. Life is a sort of fight.
My father didn't think running was sensible. He told me running is just wasting time. But of course running is fun and at the same time you can make something of your life. He refused when I asked him to run. He stopped me running around when I started at school. He told me to stop running, do my work and not be like the others. When I told him: "Let me be like them", he said: "Come on! stop it!" But I had an opportunity to join my brother, he starting running before I did.
CNN: When was the first big moment in you running career?
Haile Gebrselassie: My first big moment was in 1987 when I ran at school -- I won the 1500 meters -- and I was the youngest. I left the group very quickly, and everyone in the stadium was saying this poor boy, he's going to stop somewhere. He will kill himself. He's gonna burn himself out -- and the group of runners was behind me. Every lap, 20 meters 30 meters 50 meters. In the end it was around 100 meters between them and me. When I crossed the line, all the spectators ran to meet me, and they threw me up because they were surprised that I would win against the big boys. I had confidence after that.
CNN: Why did you cry after winning Olympic gold in Atlanta in 1996?
Haile Gebrselassie: My dream was to become Olympic champion. I started dreaming after 1980 Moscow Olympics. The dream came true 16 years later. Atlanta was a very special moment for me.
CNN: And at Sydney in 2000?
Haile Gebrselassie: Everyone was expecting me not to run because of my Achilles problem, and finally, of course, I ran the race and I had that wonderful moment -- especially because of the competition between me and Paul Tergat. A really special moment. Still when I watch that movie I am very scared! What's going on? I think: Do I win or not? Of course, I won that race but it was not easy. That is why it is a very special moment. When I got back to Addis it was unbelievable. Millions of people were waiting for us from the airport to downtown - half the population of Addis Ababa were outside.
CNN: Why do you think you're successful - Is it physical or mental?
Haile Gebrselassie: Hard work is one reason. I think my secret to being successful, is because of my background -- I don't want to go back to the lifestyle I had when I was young. But when you come from that kind of life, you are successful. I have become just like that because of my background, my childhood.
CNN: Do you owe your success to God?
Haile Gebrselassie: When you believe in something, you believe in yourself as well. I believe in God. I go to a church and pray, not just to pray to God, but at the same time to pray for yourself. Your body is always ready to do what you recommend what you ask it. That's why believing is very important. I am a religious person. I am an orthodox Christian. My family taught me how to pray.
CNN: What goes through your mind when you're running?
Haile Gebrselassie: Sometimes I think about family, business, childhood, countryside. Today I am here, when I train tomorrow, I will start to think about what happened today here.
CNN: And when you're trying to beat someone?
Haile Gebrselassie: To find a smart way to get past the athlete. To look, to listen to his breathing, to look at his feet, his legs. How is he? Is he tired? Or is he still strong? The difference between this kilometer and that kilometer? Of course sometimes you just think about your family and children.
CNN: When will it be time to stop?
Haile Gebrselassie: I want to tell you about retirement -- retirement is not said easily. If you say "I'm gonna retire in two years" you are already retired. That's why I have no plans to retire. Let it come by itself. I am sure I will stop running when I stop winning. When I lose the top position why should I still compete? Let me stop and do other things.
CNN: Ethiopia is very important to you, isn't it?
Haile Gebrselassie: I feel very positive about my country. I am investing a lot. The money I have from Europe, America, I am trying to invest here. In the future, if I have more money I will invest more. Ethiopia is a country that is moving very fast. I can see the difference already. Five or six years ago there was nothing -- no good roads, no infrastructure. Many things are happening right now. That's why I am thinking that in the next 10-20 years Ethiopia will become a good country. The one we are dreaming of. It will take some time. There are still a lot of things to do when you go to the countryside. We need to change especially the countryside, to have more infrastructure, to have more things for these people. The key is to educate their kids, to educate the people. If people have enough schoolling, no question, the country will change soon.
CNN: Is it uncomfortable for you to have money when people around you do not?
Haile Gebrselassie: That is why I am trying to share the money. If I am selfish, why am I bringing all my money to Ethiopia? I do not want to be selfish. Let me give a job for others. Let me do my part! By supporting of these people, I have the things that I have now.
It's not easy to have 400 people to work for my company. When I am talking about my country it means not taking only for myself. They earn their own salary. Anything that I invest is there for them. I'm the same man as I was 20 years ago, I do not want to change my character. I want to change the life of Ethiopian people and the life of my family. Of course I cannot do things for everybody but I try to do my part.
CNN: Would you like to go into politics?
Haile Gebrselassie: I'd love to do that, but politics is a hard thing. Let me say nothing about politics right now. It is better if it comes by itself. Still, I have plans to do something for these people. If the best way is politics, then why not? I am sure everybody will share my idea. If I can do something by going into politics, then why not? But right now I am quiet about politics because I am still doing sport, and besides that, business as well. Schooling is the most important thing for this country, and then other businesses like construction.
CNN: Do you think you're a hero?
Haile Gebrselassie: I am not a hero. I want to tell you that wherever I go out, I do not want to hide from the people. When you hide, they come to you. When you are far from them, they come to you. Maybe people can't say I'm doing good or bad -- I am just doing right things. I do not know which one is wrong.
CNN: What's it like to see Kenenisa Bekele suceed?
Haile Gebrselassie: I really feel something very special. One of my achievements is to have brought him in to athletics. He said he started running because of me. I didn't know I could create an athlete like him! It means I am doing a good job. At the age of 34, I am still doing athletics, because running is my life and a life for others -- like Kenenisa. Wonderful!
E-mail to a friend