What is the future for energy? Where will our power come from by 2020? Send us your thoughts and we'll print the best ones here.
..........................
From: Adam Flowers, Nashville, TN
Date: November 25, 2007
Your view: Hopefully we will come to our senses and demand renewable energy sources from our government, even if it means sacrificing many conveniences that we have deemed necessities. We will be well on our way to breaking our addiction to foreign oil and living more modest lifestyles that are fueled in large part by solar, wind or biomass energy. Realizing the foolishness of our consumer-driven lifestyles, we will drive smaller hybrid cars, live in modest homes and recycle as much as possible.
From: Ranga Nambakam, Munich, Germany
Date: November 24, 2007
Your view: On one hand, a country's wellbeing and progress economic status are measured in terms of the goods and services the people in these countries are able to enjoy, often the poor countries are compared with the rich countries. On the other hand, countries like India and China are accused of driving up the prices of oil and other commodities. As long as the people in the poor countries are made to feel unequal just because they do not adapt the Western lifestyle (huge houses, large cars) people in these countries will try to acquire these status symbols, which will cause the world's resources to be depleted faster and faster. Things can only get better when societies like the US are ready and willing to give up their wasteful and extravagant lifestyle. But successive US governments have vowed never to give up the American way of life, which, when imitated by the rest of the world, causes the losing game of plundering resources to continue.
From: Darlene Conner, Bainbridge, GA
Date: November 22, 2007
Your view: The answer is the sun. Its free and clean. It will make every home in the world self-sufficient with it own solar-power free energy and use that free energy to charge up electric cars. All it takes is to harness it with solar panels on the roof. You would have no more electric bills nor buy no more oil.
From: Dan Willmann, Columbus, GA
Date: November 21, 2007
Your view: It is interesting to read the comments of the masses. Most have ht the nail on the head when it comes to large scale production of energy, nuclear power. Sadly this maybe only good enough for the short term production of electricy. For those folks who say that hydrogen is a green fuel, fail to realize that a by product of burning hyrodgen is water vapor, and that folks is the number one green house gas. Pump enough water vapor into the atmosphere and you will get bigger and more powerful storms. What is truly needed is a way to produce energy withut the burning of anything. Solar will not get it, it just is not efficent enough. Windmills won't get it, they cannot produce enough energy to power much more than a small city. We need to think outside of the box, we need to become dreamers, and inventors. How about something that has not even been thought of? I challange everybody to try and comeup with something that will replace fossil fuels, and nuclear powerplants. Something that will produce abundant amounts of energy without burning it. Maybe we needs an Edison to show us the light.
From: j Ballard, amite, LA
Date: November 15, 2007
Your view: Lightning will be your next unlimited amount of electricity and it can be harnessed with ease.It's always lightening somewhere on earth and is just another form of photons of suns energy.Free energy for the united states forever is easy if you put hydro-electric plants on the Mississippi river it would light up all the homes for 300 miles on each side of the river then put up seven hundred miles of fence on east and west coast where when it rained on the fence ion displacement would create electricity and since it would always be rain-ing somewhere on the fence you would have an unlimited amount of electricity...answering this was so easy...why is it so hard for corporations who would lose billions a year to answer this for you. After all they know this already and spend millions a year to keep this from you. But just think of the possiblities for the use of the energy from oil and coal once the united States was free of the electric companies and electricity was free.We would be the envy of the world ....them with there free medicine and us with our free electricity for every man, woman and child in the United States talk about something to have a presidental campaigne about. Once in place we could really organize as a unified nation with people who would use there time to solve the problem of transportation.I don't really want to let the cat out of the bag but electricity can be exported wirelessly just like the internet.
From: Oluwatosin Niyi Abiri, Lagos, Nigeria
Date: November 13, 2007
Your view: The future of energy mainly depends on the future of Agriculture. Fossil fuel energy source has been the major cause of problems particularly global warming, and also considering the political tensions connected to crude oil trades among countries i.e. restricted existence of crude oil in certain regions. Continue dependence on fossil fuel is dangerous to human existence. Nuclear energy represents a good alternative to energy production to satisfy human needs, but it has its own restrictions or restricting factors too, i.e. process of distribution in developing countries due to poor transport infrastructure in these countries. Agriculture from all indications is the only harmless solution to energy supply and at the same time represents nature and its a component of renewable cycle. Improvement in agriculture also has a lot of positive side i.e. it will improve or increase the concept of energy independence and at the same time boost the economy of developing countries mainly African countries. Agriculture as a main source of future energy provides a rich source of alternative to crude oil particularly oil producing regions in Africa, considering the possible future reduction in Crude Oil demand.
From: Andrew Reed, Seattle, WA
Date: October 19, 2007
Your view: To say the least, the United States needs a wake up call. Our national reputation has suffered tremendously as a result of not only this administration but also via the lifestyles we live relative to other nations. The amount of waste we produce combined with the fact that some Americans mistrust or flat out reject the notion of global warming truly speaks to how egocentric we have become. It seems to me that with the developing energy crises, we've been given the opportunity to make the world a cleaner place, yet as Americans, we are unwilling to step up to the plate. It's time for us to start acting like the most powerful nation in the world and add "most responsible" to our resume.
From: Don Miller, Charleston, SC
Date: October 12, 2007
Your view: The use of nuclear energy will provide a saving grace for our country. We have plentiful supplies of uranium and we have the capability to make safe reactors. The yet to be announced "War on Foreign Oil Dependence" has yet to be named but it will happen. We (The United States) can competently handle this technology....give it a chance (again).
From: Shane, Sarasota, FL
Date: October 12, 2007
Your view: There will come a day when our descendants make it a crime to run an internal combustion engine or coal-fired power plant. They will be living in the wasteland that we left for them. They will look upon our era of freely pumping pollutants into the air much in the same way that we today view the middle ages, when sewage was dumped freely onto the city streets and allowed to contaminate the water supply. Today, in the 21st century, we allow this atmospheric "sewage" into our environment and ultimately into our lungs. When will we stop it?
From: Bill Johnston, Columbus, OH
Date: October 11, 2007
Your view: Our society or culture is self centered to the point that doing without is an option for everyone except ME.. I believe that effective use of Nuclear energy is the only hope for meeting our energy needs for the forseeable future, (50 years). Uses for Nuclear reactors have many forms, few of which are brought befor the public. electrical generating plants is the first and only focus of those who thrive on a doomsday sceanario. Hysteria is a poor perspective for understanding and solving problems. How did we make cooling towers the symbol of our nuclear fears? We have more fear of a nuclear power generating plant than we do of nuclear bombs in the hands of Iraniand despots or N Korean dictator who would starve his own people in his quest for power. Our Navy has been running on Nuclear energy for over 40 years. Nuclear fission and Fusion can be harnessed for peaceful purposes in many ways. Heat is energy, applications are unlimited. Heated Ocean water rising from seabeds can drive turbines, and will also convert seawater into hydrogen and oxygen in offshore elecrochemical reaction. Seeking government intervention to solve the problem only dirves people into opposing camps with the resulting polarization, hate anger and fear. Trusting our future to the minds of our super heroes and celebrities is not a reasonable approace to solving the energy problem, but it does feed the coffers of those who print their stories.
From: David Goldberg, Missoula, MT
Date: October 9, 2007
Your view: If you think about it, energy on this planet comes from only a few sources. There's gravity and the Earth's rotation, this causes geothermal energy and tidal energy. There's nuclear, which should be used more, but we won't feel safe until we know that there aren't any terrorists trying to blow up our reactors. Then, there's the mac-daddy of them all: solar. all the other energy sources are essentially solar: sunlight powers wind (wind power), the rain cycle (hydroelectric) , and powers plants (ethanol and coal and oil and all other fossil fuels). So why do we choose to continue using coal and oil when they produce dangerously increasing levels of CO2 and CO? We have the technology (or at least we will in a few years with the right gov't funding) to harness energy directly from sunlight, via photovoltaic cells or the equivalent. Sadly, the current situation with solar cells is that they cost too much and are only 5-20 % efficient. However, if we used a little b! it of our massive amounts of gov't money on developing new solar technology, it would be amazing. We can pump all this potential energy into the grid to power our homes and maybe our cars( electric cars are also the future). Heck, maybe we could even eliminate global warming by converting excess solar energy into electricity, but that'd be a stretch. If any of the future presidential candidates swear that they'll put money towards improving solar technology, they'll certainly have my vote.
From: Thomas Jefferson, Montecello, TX
Date: October 9, 2007
Your view: by 2020, if those of us haven't started a garden, learned to live simple, walk or ride a bike to get you to the stores, you will be in very deep trouble. oil is very unique. 1 gallon of gas equals 30 hours of man power. From a single barrel of oil thousands of products are created, lubricated and fueled. anything that is currently available doesn't come close to this. we have to look at the future as a place of multiple sources of power. cellulose ethanol for transportation fuel. Solar, wind, hydro, tidal and thermal for home electricity. Natural fertilizers for farming. (remember current modern fertilizer is made from natural gas) Nuclear won't be an option because like oil and coal, it is peaking as well. for those who refuse to change their life style to meet our rapidly approaching new future, they will either, starve to death, freeze to death, die from heat stroke, or, which there seems to be a never ending supply of, be stupid to death. Plant a garden, walk more, do more things at home, recycle, reduce, reuse. and for those of you who think that technology is going to save us, how do you expect to make the technology to save us if there is nothing to make it with? chew on that for a while.
From: Charles Allensworth, Austin, TX
Date: October 9, 2007
Your view: The world is at a turning point. The greatest of us scramble to deal with it, while the least of us pay for it, and the rest of us talk about it. The options of how are heavily argued though they are limited by economic and social restraints. The burning of fossil fuels is simply no longer a viable option. We've seen what it does and it would be suicide to continue. We'll never get rid of oil till we find something better than petrochemical polymers. Plastic is here to stay for a good long time.
As far as generating electricity, FUSION is in the works. It's so close we can taste it. The divine power of starlight is nearly within our grasp and it is with this newfound wonder we will be able to meet our needs and then some. All of this with only a fraction of the waste produced by modern FISION reactors. We are so close;
From: Ryan Mackey, Corvallis, OR
Date: October 8, 2007
Your view: The future lies in hydrogen. The storage, transportation, creation and economical use is what is needed. These problems are ones that can easily be solved by 2020. The most important issue with energy is in its creation. If we switch to all renewable methods such as solar, wind, hydro, and many new concepts such as harnessing waves, we can store the energy as hydrogen until it is needed. Our biggest road block is that we live in a capitalistic country and fossil fuels are the cheapest. Until we can legitimately and economically create power in other ways we will continue to use fossil fuels as long as they exists, which might be a reality in 2020.
From: Varun Paul, Berkeley, CA
Date: October 8, 2007
Your view: The future will be about Energy, Exploration and Infrastructure. For the next ten years, we will begin returning to the economic roots, the roots that made this country is global leader.
As we all know, our infrastructure is crumbling. From roads, ports, bridges to mass transit, expect to see an increase in municipal bonds, governmental grants and projects to repair and renew public infrastructure. Expect the modernization of the gas/electrical grids for energy, wireless systems for national WiFi, expanded, greener and smarter ports, airports, stations and bridges. Also, mass transit will skyrocket with new electric trains, green buses, etc.
Energy-We'll see the rise of nuclear power and we'll pass legislation that will allow power companies to reprocess spent fuel rods for nuclear energy. Expect more nuclear plants with greener emissions. Nuclear will give us the surplus energy we need to move to the desalinization of water (converting ocean water to drinking water) to quench our farms and cities....After this, we'll move to hydrogen power, the greenest and most plentiful energy source.
Exploration-After the infrastructure is taken care of and energy issues being constructed, we'll have the opportunity to take many more trips to the moon and beyond. While exploring what's cosmic, we'll also explore the microscopic; expect vaccines for HIV and some cancers.
However, it can't happen, unless we tackle the basics first. From energy and infrastructure comes exploration. However, the greatest thing that will need to happen, is an overhaul of our public education and health systems...Expect these to become nationalized further.
From: Dale Kelly, Lompoc, CA
Date: October 6, 2007
Your view: Unfortunately carbon based fuel will continue as our primary source of energy as long as riches can be gained and politicians bought by it's production. Unless we first deal with the current eco-political strangle hold impeding our progress, development of the many promising renewable energy alternatives will not occur at the speed required to effectively reduce carbon emissions.
From: DeeJay D, Windsor, CT
Date: October 5, 2007
Your view: Our trash will be burned in our incinerators to heat our houses and the methane from our septic systems will power our autos.
Instead of wasting away on our couches, our exercise bikes will power the television and the water pressure to our faucet will turn a turbine that also charges batteries when we get a cold drink after our work out.
Our homes and offices will be built mostly underground to take advantage of the earth's natural temperatures, reducing heating and cooling needs and free surface area for wind and solar power arrays.
Just walking around will activate a motion-activated electromagnet generator that will charge the batteries to our cell phones and PDA devices and our body temperature can create a charge of electricity to a dissimilar metal electrolysis device that also helps to charge our personal battery pack.
Even when we sleep our Co2 that we exhale can be used to power the alarm clock that will wake us up for the next day's activities.
In short, each person will create the energy that each person will consume and the more chili we consume,,, well you know...
From: Rich Jones, NY, NY
Date: October 5, 2007
Your view: The answer is simple - anything and everything. Government can't supply the answer (or get it right) certainly not in 13 yrs! Market forces (if left alone) will determine the most efficient way to supply energy. Nuclear, wind, hydro all work now. Run oil and gas prices high enough and clean coal/synfuel will work. Supply problems will increase which will lead to more distributed generation (individual generation for use) maybe even using biodiesel in a cogeneration (heat and electricity) application.
From: Claude Gauthier, Chapleau, Ontario, Canada
Date: October 5, 2007
Your view: Hopefully, biotechnology, hydrogen cells, biofuels, wind, sun, nuclear, hydro electricity are the way to go. by 2020.
I've been reading CNN online for years now, and lets face it, the knowledge is there, so many articles can be found online about this subject, it's unbeliveable!
The issues and challenges we face are not technological, but political and financial. The big corporations worldwide and the goverments are the purse holders, thus, they are the ones holding the strings towards progress.
It is obvious that having clean energy is definitively doable, but at the moment, feasibility comes from budgets, not good will.
But what's a budget's worth if we pollute our air, water and earth to the point where our planet won't sustain itself?
So, if somehow, we are able to stop this planet from being administered in the segregated way that it currently is, which means that when all world leaders finally see that everyone's action, impacts on everyone else regardless of the self-imposed political barriers, maybe things will get better, and measures can truly be taken to take the steps necessary to transit to cleaner energies and maybe, budgets aren't going to be so important.
When we start truly putting value on people, instead of money. When we start educating that what's important is quality of life, not size of wallets, well, that's progress for change and for a better life.
People must be reassured via a concrete social and political structure that a good life for one, has to be a good life for all.
The "me, myself and I" attitude that is currently the norm, just can't cut it anymore. We can't act that with money comes power and freedom. It just isn't right.
If this sounds communist, well, they do call groups of people 'communities" :)
Truth is, I'm not a communist, it's just that there has to be a middle ground to be found between capitalism and communism, that can be practical.
It is entirely doable, and in my honest opinion, the place to begin with is first with the human rights act, and then, reevalute the core values of a society.
Why? Simple, the rights of any ONE individual has, set in a such a way, that certain expectations, from birth to death, has to be met by society as a whole, for this individual to function properly.
And the core values of our society must be torn down and be put back up in such a way that it can sustain every individual's new human rights and what will also define society's expectation of an individual.
In my honest opinion, seperating religion from law will be the first thing to do.
All should practice whatever religion they wish, as long as it doesn't interfere with law.
When it comes to a human's right, things such as right to food, shelter, education, etc... everything that makes our life possible and even pleasurable must be reaxmined. Tolerance above all is the key here.
The tough part? conquering the instinctive nature of the "laws of the jungle" from which we come from as we make these decisions.
we don't need to compete with ourselves to exist and to thrive. Competition shouldn't cause misery. Competition should promote progress, but not failure.
So, once we've ironed out both an individual's right, and the rules of a society and the expectation an individual can take as rights vs the expectations society awaits from an individual
Once, we've got all things fairly set, in a humane way, then will really move towards progress.
And that means that with every countries on board, all priorities will change. The very fabric of the economic system will also be altered to meet these new challenges.
Instead of working on money and profit, things will be geared more towards people, productivity and efficiency. People won't be afraid to run out of food, or wonder where to live? How to live, we will truly take care of our own.
Thus, the moment we treat ourselves with respect, where as the human race we are all equal regardless of creed, credo, race, gender, etc...
We will then have the wisdom to turning this to our environment and give it equal respect. We will also, as a by-product, perhaps solved or at least greatly reduce many of our social shortcomings (less reasons for alcoholism, drug abuses, etc..) if one feels more safe in a society that nutures individuals, instead of expecting them to compete to live.
Well, this is a domino effect for sure, because then, all the decisions that used to be taken based on a purse string, will now be taken, because it's logical, efficient and human/environmental friendly and beneficial.
So, issues such as energy sources, etc..., are bound to be as clean as technology and progress has it, and all will truly benefit, humanity and Mother Earth and all it's living things.
Sounds like utopia? Sounds like a fairy tale? Sounds impossible?
Nope. All is possible, we just need the good will and planning to make it happen.
From: Jay French, Honolulu, HI
Date: October 5, 2007
Your view: I recently viewed a map produced by the University of Hawaii that shows that Waikiki will be underwater by the end of the century. The implications of this scenario, which many climatologists claim as inevitable, by far outweigh any national security concerns. There will be no beaches for tourists, which will result in no revenues for the economy. In less than 100 years, Hawai'i will cease to function as a viable state. In fact, this catastrophe does not require actual flooding, because at the first sign that sea levels are actually rising and there is nothing to stop that rise, no company or business will invest in the state. I can't believe this but I am actually thinking about having to move (I live near Waikiki) because I know my apartment will become instantaneously worthless (sometime in the next 30 years) as soon as it becomes clear to everyone that the sea level rise is irreversible. A mass exodus will begin and the demise of the state will become inevitable! . I believe that this scenario will play out all over the planet and the world that we live in will be radically altered.
From: Rachel Stewart, Atlanta, GA
Date: October 4, 2007
Your view: Honestly it should be energy taken from our waste products. Trash. Sewage. Etc. Americans permeate approximately 4-5 pounds of garbage per day on average. Using our trash as fuel/ energy solves two problems 1) what do with all that waste besides create landfills 2) alternate energy. Trash can become energy by burning it or by using the methane and gases that naturally emit from the landfills. We are already creating this anyway we might as well use it.
From: Ian Francis, Columbus, OH
Date: October 4, 2007
Your view: I do not think many changes will come about in the next 13 years. It is difficult to quickly turn the energy companies in another direction at all, and making a major course correction will prove all but impossible in that short amount of time. Ideally, the future will see the reduction in coal and oil power plants, and see an increase in nuclear power. I am an avid supporter of renewable energy sources, but until they become cost competitive with other forms of energy generation, their utilization will be limited. Nuclear power is currently the only energy source that provides large amounts of power with no pollution. If America focuses on reducing greenhouse gas emissions right now, we could see a major resurgence of nuclear power by 2020. Looking further into the future, renewables could see major growth by 2050, and fusion, if it ever proves feasible, might power our cities beyond that date.
From: Nick Allen, Luther, OK
Date: October 4, 2007
Your view: While I can't decry the natural human drive to innovate, most of the ideas are falling short and fail to recognize the real problem. Six-plus billion people cannot be supported by the Earth's renewable resources. Once our supplies of accumulated energy are exhausted, people are simply going to have to learn to live a more reasonable lifestyle. That means eating food that can be grown locally, traveling less, living in smaller houses and getting rid of the automobile. I sincerely doubt that Technological Man will survive the next century, although Man almost certainly will. It is Nature's way that humans live simply and not far past 50. Cold Fusion, Brain Wave Power and Orange Peel Diesel will not save this mess, any more than denial will.
From: Mark Darwin, Chapel Hill, NC
Date: October 4, 2007
Your view: America's energy future looks bleak. Domestic oil supplies are dwindling fast and global supplies will soon peak. M. King Hubbard predicted that global peak oil production would occur sometime between 1990 and 2000 and while this was wrong (due to previous oil shocks) it will only be delayed for a few years. Once peak oil has occurred, our way of life will have to change, as oil prices skyrocket and auto culture cannot continue. Alternative energy sources will become paramount, but in all likelihood it will be coal, which is dirtier and more polluting that oil. People are very reluctant to change and most deny that there is a problem. Unless Americans change our habits very quickly and drastically, little if any change is possible until it is already to late.
From: Dillon Schmitz, Coppell, TX
Date: October 4, 2007
Your view: Water is one of the most abundant sources in the world. Since most of the Earth's water is made of salt, we can use the unusable to create power. By the year 2020 if we can perfect hydroelectric power, it will become the most easy and cost efficient way of producing energy.
From: Richard Holtzclaw, Destrehan, LA
Date: October 4, 2007
Your view: Well lets see, if you would have ask in 1950 where would our power come from in 2007 - guess what, it would still be fossil fuels. So 13 years from now I'm guessing the same.
From: Bob McCown, Wichita, Kansas
Date: October 3, 2007
Your view: The problem is really too many humans. There are about 6 billion human beings on Earth now. Without energy intensive agriculture and transportation huge numbers of people would die in short term. ADM, the agricultural giant, said a few years ago that there is something like a 60 day supply of food in the whole world. A disruption of food delivery would kill millions. At the time Soviet Union failed they had great crops of wheat and potatoes, no diesel fuel to harvest or transport the crops. Global warming is starting, it's going on, it will continue for a hundred years or more (barring a super volcano explosion or large meteor strike), the seas will rise, climates will change. Big industry and big oil and big government will continue to extract their "pound(s) of flesh", unions will continue to demand lifetime benefits, lobbyists will continue to pander to congressmen who will continue to pander to voters until it crashes. In the long view, Homo sapiens will wither away as other species have and the biological world will recover as it has so many times in the past.
"This is the way the world ends, not with a bang, but with a whimper"
- T. S. Eliot.
From: Kevin Goodman, Stanford, CA
Date: October 3, 2007
Your view: I believe that the human race absolutely must, and hopefully will, eradicate the use of hydrocarbon based sources for fuel. Renewable energy is the most obvious source of energy for the future, with solar and wave being the most prominent of these simply because of their reliability in certain locales. I am especially hopeful of solar towers, basically greenhouses connected to a central chimney containing turbines, as being a real solution in sunny places. A book I highly recommend is "Winning the Oil Endgame." It is located at http://www.oilendgame.com/ , and is a free download. Please limit energy use as much as possible until we find the answers to this pressing problem.
From: Alex Cohen, Westport, CT
Date: October 3, 2007
Your view: One of the best ways we could combat global warming is through the use of renewable sources, as well as using energies that we can manipulate to work for our society. For example, it would be somewhat easy to use magnets for our cars. If you were to place two magnets, obviously they would have to be very strong, in the front and rear of an automobile, you could use a leveraging system to pull your car. The roads would need to have magnetic strips on them, but this is just a small option. If we could get rid of some of the waste, a.k.a. gasoline, we could easily save the world.
From: Anders Clausen, Madrid, Spain
Date: October 3, 2007
Your view: My immediate thoughts go to New Zealand who have some excellent alternative energies available, such as Hydro and Geothermal sources. Unfortunately not all countires are blessed with such resources and Western countries imposing CO2 quotas on Developing countries will do little or nothing. A complete revamp of our thinking towards energy has to take place.e.g how can we share the alternative energy we have and make it affortable to all. A carbon quota trading market is not an efficient way of off-setting CO2 emissions, its like pinching yourself somewhere else after you hurt yourself - we merely displace the CO2 - how the heck will that prevent global warming?
I have hope for the future though. Good initiatives are taking place and eventually we'll find a solution - we have the power, incentive and knowledge to accomplish this - hopefully we can manifest it into something soon.
From: Richard Rieber, Pasadena, CA
Date: October 2, 2007
Your view: I believe the next 20-30 years will see a diversification in energy sources. Biodiesel and ethanol blends (notably GM cars) are making headway in the automotive fuel market. Other energy sources for vehicles are also making technological breakthroughs, such as fuel cells and batteries with larger capacities and smaller masses for electric cars. In 20-30 years, the nation's gas stations will (or should) have a pump for unleaded, biodiesel, ethanol, hydrogen (hopefully), and a plug for the electric car. The prime reason these alternative fuels have not been implemented is the limitations in finding fuel. Similar to the situation in the early part of the 1900's where gas stations were few and far between until the government subsidized the development of gas stations. The oil companies, with large pocket books and numerous analysts should be able to see the downfall of the petroleum empire and begin to make efforts to keep hold of the transportation fuel market.
For example, an oil company could add to the current refinery and transportation system a method for refining waste cooking oil into biodiesel and offer that for sale at the pump in addition to traditional diesel fuel. Auto makers also need to get on the bandwagon and allow warranties to cover biodiesel blends.
The University of Colorado in Boulder has made excellent headway in the alternative fuel market. A team of freshmen engineering students built a reactor to convert the cooking oil from the dining halls into biodiesel which all of the on-campus buses are now using successfully with no problems thus far.
In 20-30 years, the consumer should have the ability to chose a car, then choose the type of fuel they want it to run on (similar to the automatic/manual transmission or diesel/unleaded debate) and be able to find that fuel nation wide.
Large profits can be made in this market; the oil companies just need to open their eyes.
From: Michael Cooley, Benicia, CA
Date: October 1, 2007
Your view: Look around you. How many people do you know who are willing to make major cuts in their carbon footprint? How about yourself? Sure, if someone holds a gun to my head, I'll do it, but beyond that I will try to make the best life I can, right now. If you want the truth about Global Warming, just wait. It is coming and will become a huge issue and there will be no denial. Zack Wheeler got it exactly right (Sept 11 comment). Unfortunately, the human race is doing just that. It is racing forward with such force that there will surely come a time of severe hardship. I don't say the human race will become extinct. Some will find a way to survive, but through the inevitable wars, many people and things will be lost. You're waiting for technology to save you? Your are a fool.
From: Nathan Haught, Lost Creek, WV
Date: September 28, 2007
Your view: Fusion power is the key to drastically reducing human impact on planet Earth. Fusion has the potential to give us almost limitless power with very little to any impact to the environment. If a country or a group of countries worked together on a crash program (like the US did for the "Manhatten Project") fusion power would not be a slow, 50 year gamble to develop. The technologies that would need to be created to allow fusion could bedeveloped in a much faster timeframe and benefit us all sooner than the current 2054 target date. This very issue may have as much importance as the "Manhatten Project", with the fight being for human way of life and survival.
From: Ron Bowes, Wheaton, IL
Date: September 28, 2007
Your view: I would like the "Windy City" of Chicago to harness that wind. I can think of no better, futuristic, artistic and functional scene than the skyscrapers of Chicago (with the windy backdrop of the wonderful Lake Michigan), are each topped on their elegant tops with streamlined windmills that power things. That is prime real estate that could supply a lot of power for the Chicagoland area. I also like the idea of outfitting desert areas with row after row of solar cells. OR a wind farm a few miles out IN Lake Michigan! Beautiful AND functional!
From: Gary Clendon, Albany, NY
Date: September 27, 2007
Your view: Global warming is one of the most serious issues we humans have ever faced. The consequences of a warmer world in terms of rising sea levels and potentially increased spread of disease would be very significant for all of humanity.
First, it is about overpopulation. We are overpopulated, especially if everyone in the world lived as we do in the U.S. (as many are trying to do). We need to aggressively work at controlling world population at less than the projected 9 billion in 30 years or so.
Second it is about consumption. The carbon levels in the atmosphere started rising in the 1960s when emissions were much lower than today. This is frightening! It indicates that carbon emissions need to be much less than current. Every where in the world: incandescant bulbs should be made illegal; the taxes on gasoline should increase $.25 per year every year from now on forever (giving people some time to adjust) with something similar on the use of natural gas and coal; very large taxes should be placed on large homes and energy inefficient homes; people need to be educated on ways to save energy;
Third, it is about technology. Tax credits should be given for research, development and use of energy saving devices; wind energy should get a permanent tax credit; solar should similarly be encouraged; tide energy should be pursued; the use of oil, gas, and coal should be discouraged through a carbon tax; nuclear should be (carefully) pursued.
We are potentially altering all life systems on the planet and we need strong world leadership to deal with these many issues.
From: John Calvao, Chester, VA
Date: September 27, 2007
Your view: Global warming, where should I start. If it wasn't for all those (and I chuckle when I write this) scientists getting all those millions of dollars in government grants to study this rediculis theory we would never have heard of the term "global warming". Everytime I hear one of these reports all I see is some lab rat praying that people believe his ideas about what might happen, or could happen. Just like the funny reports of more hurricanes now than in the past when anybody with an IQ over 25 knows it's because we didn't have satilites in the old days so we never knew about some stupid tropical storm that never hit land. Now of course we give it a name and track it's progress from nowhere to nowhere and count it in the statistics of the great forcasters? Get a life people and put your degrees to something worthwhile like curing cancer.
From: Matthew Staffier, Beverly, MA
Date: September 27, 2007
Your view: The future of energy will be driven by energy shortages precipitated by a conglomeration of resource depletion, global climate policies, distribution difficulties and perhaps terrorism. These shortages will lead to fluctuations in supply and create a level of insecurity that can only be addressed by a shift to secondary decentralized power systems both local and domestic. In the not so distant future the greatest manifestation of the difference between rich and poor will no longer be the items that use energy but the financial ability to power and run them. In the United States energy utilization will be the ultimate parameter that separates the haves from have nots.. The rich, ingenious and resourceful of our society being able to augment public supplies of energy with there own personal energy generating systems (wind, solar and biomass) or by having increased storage capacity of home heating oil or propane which will likely lead to significant hoarding. The answer to how we will power the future? is simply any way we can! The dollar which was once backed by the gold standard is now backed by an energy standard. The mousetrap designers of tomorrow will focus on finding energy and using and storing it more efficiently. Indicators of interest will be the cost of meat do to increase production of ethanol which will raise feed prices, the increase in numbers of reluctant car poolers and finally the direction of our winter thermostats which is going to be going in one direction DOWN..
From: Conor Donovan, Canada
Date: September 27, 2007
Your view: Well hopefullywe'll look to renewable resources such as solar, geothermal, tidal, or nuclear. It's a shame the world is run by oil companies. I read an article stating that if we could cost effectively harness .01% of the energy from the sun which reaches the earths surface(in the form of radiant heat etc.) we'd have enough power to supply our entire population with surplus. Solar panels are advancing everyday and companies are racing to find a cost effective way to attenuate the suns glow and produce kilowatts! I think there is also a future in geothermal energy, if we could ever tap it. We put a man on the moon I'm sure we could find a way to dig a really deep hole. Burning dirty coal and oil to make steam to turn a turbine to induce electricity is our main problem, if we could use the heat of our home planet to create the steam(the earth doesn't charge by the kilowatt hour)...well you know the rest. My point is, we need a new breed of hippy, a new breed of politician, and a new way of thinking as a whole(screw the big polluting corporations) all nations should join forces and resources and try to heal our ravaged earth. Not fight over the last remaining remnants of hydrocarbons the earth has left. Build geothermal generating stations! Put funding into solar panels! Use the tides and winds if it can be done without further damage to the enviroment(I'm not enlightened enough on the subject to estimate ecological side-effects) I'll end with this....DO SOMETHING! I'll join.
From: kshitij joshi, mumbai, India
Date: September 27, 2007
Your view: kudos to those who are keeping hope alive, a stable progressive vision of the future can be a very good beacon for evolution
From: N.T. Nair, Trivandrum
Date: September 25, 2007
Your view: I dream of a day when a gadget linked to the exercising machine will generate and store enough electricity for use in the home. Today we waste our energy against springs or the like, in these machines
From: Dwayne Fries, Columbus, OH
Date: September 24, 2007
Your view: I have been working on the problem of renewable energies since 1999, long before the gas prices got out of control. I have designed two unique features to a solar collector dish that make it far more economical and far more powerful. I was working on putting it into full production when I came up with another idea that was far more powerful. I have come up with a design of a new devise that is much like a microchip. It is very tiny and will draw in heat from the air to convert it into electricity, just like creating minature lightening bolts. I do not have the full design quite yet, but most of the design work is done. Within twenty years, I believe that there will be no need for batteries or plugging anything into a wall. Every kind of electronic devise or anything else that runs off of any type of power supply will simply use the energy that is already in the heat of the air to provide needed energy for all devises. Cell phones will simply work without needing recharging. Cars will run without gasoline. I am very close to having a full design laid out and will be able to start production of the devise within another 5 to 8 years, I am confident.
From: Rob Brice, Athens, GA
Date: September 24, 2007
Your view: Fusion power is the most likely candidate to meet global energy needs into the far future. The ITER project which has just begun construction in Cadarache, France is going to be a solid step in making commercial fusion power a reality.
From: D Wilcox, Atlanta, GA
Date: September 21, 2007
Your view: I am so tired of seeing these claims of climate change: "In the last ten years the ground has not frozen, in the last 5 years we have had no snow". We have little to no idea of how climate change works globally, we have no idea how it works locally. To base a scientific claim on records from the last ten years is foolish. The hottest year on record was 1934. The earth is continually moving through warmer and colder climates. We are currently in an interglacial period (coming out of an ice age) so yes the temperatures will rise. Eventually they will drop again. Climate is something that needs to be studied in geological time, not in presidential tenures. And who is to say this is the correct climate for this planet, in trying to fix it, we will do more harm. This is not to say we should not be good stewards of our planet, but it is not a man made catastrophic event. Global Warming/Climate change philanthropists are in it for one thing, the almighty dollar. Let's start listening to reason, not media hype.
From: Christina Wimberly, Rome, NY
Date: September 20, 2007
Your view: Honestly, I believe that in the year 2020, America and many more developed countries will be running on things as simple as salt water and paper! It sounds ludacris at the moment, however, now it is quite possible. I mean, I just read an article about the new nano battery that is as thin as a sheet of paper and can potentially serve for better purpose than the regular old double A....or any other type for that matter. Also, saltwater, some super smart guy actually figured out a way to combust it using radiowaves. True story and our future! It really is as simple as that.
From: Thomas M Lisi, Boston, MA
Date: September 20, 2007
Your view: Extinctions are a natural part of our planet's history. Today I read an article which shows a NW shipping Passage has opened through the North Pole. As children, our parents read us books about Santa Clause coming from the North Pole and Polar Bears and Penguins. It was ingrained in our minds that this is how the North Pole is supposed to be. It was fundamental- a given. Now, within a short period of history, the poles are melting at an exponential rate. To me, this is so hard to comprehend, going against those fundamental child memories and humanity's naivety that the earth can just continue to provide us an ever abundant carrying capacity. Gaia is responding. And I just can't believe what is occuring. Since conservation is not at the forefront of most human being's minds and consumption, quality of life, and material wealth accumulation (especially amongst America's 20 something "all about me generation") is, I believe, that the global warming consequences are inevitable. Our politicians are not dependable and corporations, well we know where most of their loyalty lies on a single bottom line symbol-$. Not until something catastrophic happens will humanity react to this crisis on the level that is required to counter carbon emmissions. This is how we operate as a species. Until then, people in touch with the gravity of the situation will individually do what they can to help slow the inevitable process. Gaia will endure though. Pessimistic yes. And realistic. Do what you can in your own way. Relish that fact that you live your life during one of the best times materially and creature comfort wise. But ironically the most environmentally detrimental to the health of our planet. Think of the story books for tomorrow's children.
From: luther elwonger, fort myers, FL
Date: September 20, 2007
Your view: i read and hear a lot about bio-fuels made from corn, algae, and even from trees. the problem lies in the fact that the Earth may be struck by natural disasters that could wipe out these natural resources, or our own population could grow to a point that these methods would be unable to support our need for food and fuel simutaneously. we need corn to eat, and we need trees to breath. instead, we should continue to invest our interests in solar, wind, and new battery and capacitor tech. with these alone, a single family home could produce enough energy for itself, plus enough energy to fuel a battery powered car. i have been paying close attention to many of the new advances in these techs, and have seen many that can be implemented into existing homes to make them "green".
From: frances durand, lincoln, NB
Date: September 20, 2007
Your view: MY REMARCK IS ABOUT TODAYS STORY ABOUT PAPER BATTERYS. IT IS A GOOD IDEA, BUT LIKE ALL OTHER GOOD INTENTIONS OF INVENTIONS THEY END UP BEING USED FOR EVIL. CAN YOU IMAGINE HOW FURURE TERROIST COULD USE A DEVICE LIKE THAT WITH PLASTIC EXPLOSIVES, IT WOULD BE DIFFICULT TO DETECT. I AM NOT A FOOL I LOVE LIVING IN THIS AGE OF EASE, ALL THE ASVANTAGES WITH LIVE WITH, I WOULD BE LOST WITHOUTH MY TV, CDS.COMPUTER ECT. BUT I WOULD HOPE THE ERRORS OF OUR PAST WOULD NOT BE REPEATED.
From: Christian Farmer, Knoxville, TN
Date: September 20, 2007
Your view: I think that the future of energy lies in nuclear power. Right now nuclear power is the safest and cleanest form of energy. There is beginning to be shorter gaps in the amount of energy produced by plants (coal, hydroelectric, nuclear...) and the amount of electricity needed by the public. The only answer I see to meet this need is with nuclear power.
From: Wyn Long, Westlake, OH
Date: September 20, 2007
Your view: Population, population, population...until and unless we are BOLD enough to face the fact that we are overpopulated and thereby using much more energy - nothing will change for the better. Larger families require larger vehicles which use more gasoline and pollute more. We need voluntary incentives for smaller families.
From: Kim Rolland, Widener, AR
Date: September 19, 2007
Your view: I agree with many of the views expressed here concerning our energy footprint by 2020. It is not likely to have changed substantially by then, nor will it change substantially (barring some incredible technological breakthrough) as long as relatively inexpensive sources of fossil fuels remain available. In my estimation, no amount of hand wringing or PBS documentaries or "uncomfortable truths" is going to speed the process.
Having said that, the price of fossil fuels will at some point reach critical mass and not because we've depleted the resource or mandated regulations, but because of natural and/or man-made disasters. (i.e. back to back to back hurricanes wiping out refineries, terrorists getting their hands on nukes destroying or holding ransom middle east supplies, etc.) When that time comes and the average family can no longer afford to drive their automobiles or heat and cool their homes, something extraordinary will happen. The survival instincts of our species will go into high gear and the best and brightest among us will do what they have always done in times of great need: create solutions out of necessity. Breakthroughs will occur, existing technologies will advance, and infrastructures of the whole planet will adapt to use them.
What will the new technology look like? It will be as far from our present ability to build as Jules Verne's "Nautilus" was in the 1870 classic "Twenty Thousand Leagues Under The Sea." In those days, such a submarine was a flight of fancy. Today, how awestruck Mr. Vern would be to venture aboard one of our nuclear submarines.
Like Mr. Verne, we will have to dream the future. How about this - a battery-like device no bigger then a briefcase capable of storing vast amounts of electricity. Enough perhaps to run an average home for a year or more. It is charged by the magnetic field of the earth itself. Now all we have to do is build it!
From: Sarah Taber, Vacaville, CA
Date: September 19, 2007
Your view: I'm glad we have a forum to discuss these issues, but, it's not enough. Wouldn't it be great if all stood up and decided to change the way we do things now instead of having to be forced later? As adults we have a responsibility to make life better for everyone. I do what I can to live a more world efficient life but, it's hard. it only works if we ALL stand up.
From: Jeremy Robbins, Jayess, MS
Date: September 19, 2007
Your view: I am more interested with the global warming issue than anything else in the world tight now. I wish everyone would wake up and smell the roses. I am going green and I am tring to get as many people I can to do the same. PLease make this a BIG ISSUE! For the chiildren! And for our own future! The earth is changing and it will never be the same. I wish we would all realize the damage we are alowing to hapen to our only home. STOP THE INSANITY!
From: Erich Zehl, Cochabamba, Bolivia
Date: September 19, 2007
Your view: As time passes by, we see ourselves more and more in the obligation to replace our current energy sources. I strongly believe that the future lies in developing solar energy technologies. The sun provides us continuously with huge amounts of it.
I simply do not understand why we invest so much in developing other energy sources such as bio-fuels. How much "corn" would be needed to replace all of our oil-based fuels? Is there enough land on the planet to grow that amount?
Let's not be short-sighted! Let's be rational and take rational actions towards a sustainable development. The well-being of every living organism on this planet depends on us.
From: Eli Selig, San Diego, CA
Date: September 19, 2007
Your view: The simple answer is Electricity will be our energy, the answer as to where it comes from is more complicated. I think that we will not get our energy form one monolithic source, but from many different sources. Hydrogen or ethenol for cars is great, but impracticle with todays tech in the quantities required. The better answer is to use whatever the prevelant resource is to generate electricity and then make all vehicles use that electricity to power them. In places like the midwest, wind is in good supply. Coastal areas might generate power by tidal energy. The southwest might focus on solar. Virtually every area of the country has some resource that can be turned into clean power, but it varies from place to place. Imagine we pull our cars into a gas station and a simple automated system pulls the battery or batteries from our cars and replaces them with fully charged replacements. The fees we pay go to recharge, recondition, and when necessary recycle ! those batteries. The power to charge them at the station could come from natural gas based fuel cells, solar panels on the roof of the station, or a wind farm down the road.
From: Jeffrey Bivens, Lake Elsinore
Date: September 19, 2007
Your view: Gravity is the most abundant source of energy that surrounds us. It is everywhere, it's potential is the basis of hydro electric power generation. It is 100% clean, nondestructive, non-depleting source of power generation. Although hydro-power is a nice conversion of gravitational energy, I am not saying that we should build more dams or hydro-power plants. What we need is a better understanding of gravity. We need to be able to tweak gravity to our advantage. Science has failed us in this regard up to now. Our physics is able to accurately calculate the force of gravity, but it is built on a mystical belief of how it does, what it does. We need to develop new, testable theories to explain how gravity works. Once we know how something works, American ingenuity takes over and the possibilities are endless.
From: Scott Turkington, Homer, AK
Date: September 18, 2007
Your view: I've read many peoples vision for the future and most see Ethanol or Biodiesel as the end all be all. Sure it burns cleaner coming out of your tail pipe, but do they have any idea how much energy it takes to refine ethanol or biodiesel to it's final stage? The amount of energy it takes, and chemicals used really make them far less attractive.
If I had to suggest what technology SHOULD be powering our homes and recharging our electric cars in the future I'd have to say geothermal. Unlike solar, or wind geothermal energy can be produced 24/7. Dig a hole deep enough and you hit temperatures more than adequate to slap a geothermal generator just about anywhere. Once we figure out how to power electric cars with capacitors rather than batteries that contain led and acids we'll have cheap reliable electricity to power just about all of our needs.
From: Ryan Bank, Laguna Niguel, CA
Date: September 18, 2007
Your view: The problem with most of the alternative fuels most people are passionate about is the same: where the energy ultimately comes from. Solar, ethanol, wind, and hydroelectric all are powered directly by the sun; plants photosynthesize the sun's energy into the ingredients for ethanol, wind is produced by the sun's heat, and the water that runs dams gets upstream when the sun evaporates it.
That might not sound like a problem straight away, until you realize that the total solar energy that hits the earth's surface isn't enough to meet our energy needs even if we did somehow bottle it all up.
As of right now, the only energy source that can satisfy all of our power needs is nuclear energy. We are many years away from fusion reactors, but our modern fission reactors are almost as good. Bogeyman incidents like 3 Mile Island or Chernobyl aren't inevitable in the future; on the contrary, with modern reactors, they are literally impossible. And rather than releasing billions of tons of waste into the atmosphere for everyone to breathe, nuclear power bottles its waste up in small truckload-sized containers that don't pollute the atmosphere. In fact, microscopic impurities in coal and gas release more radioactive uranium directly into the atmosphere than a planet full of nuclear reactors could produce at all!
If you want evidence that nuclear power is safe, more people die every year in coal and gas mining accidents that have died in the history of nuclear power plants on Earth. I didn't always support nuclear power, but the pros are overwhelming.
From: Tim Beeker, Pataskala, OH
Date: September 18, 2007
Your view: I've been watching and reading a lot about oil prices, alternative fuel (e.g. ethanol), and various other forms of powering our homes, cars, and businesses and there seems to be more choices coming out. Since most of our energy supply is based on fossil fuels, our cost for those energies can go up and up since the demand is going up and supply is going down. My hope for the future (the more nearer the future the better) is that alternative fuels and natural energy sources become more available to the public at an affordable price. The more choices one has to power their home, to fuel their car, the greater the potential for lower energy costs. The hope here would be that the demand for energy would be spread out among all of the various energy sources. This includes small local places that may only serve a city, town, or even a neighborhood. I think we are on a good start with ethanol. If there are other fuels that can be developed quickly using other organic sources, that would only diversify the energy demand even more. This way when you pull up to a gas station, you can choose from multiple energy sources. Or, when choosing how to power your home, you have multiple energy souces to choose from. Maybe there will even be a price war between these fuel sources to see how low they can go to beat out their competition. Wouldn't that be nice for all of us to have lower utility and gas prices?
From: Kerry Hill, London, ON, Canada
Date: September 18, 2007
Your view: Anyone who doubts the potential impact of global warming and that it is caused by human activgity should read "Heat: How to stop the plaqnet from burning" by Gearge Monbiot. Indeed, he should be a direct contributor to the CNN investigation. Energy security will be meaningless if we can't curb our appetites for carbon based fuel. The Kyoto target emission levels are much too high to achieve the necessary greenhouse gas reductions. BTW, China per capita level of GHG emissions will remain significantly lower than the U.S. for many years to come. Per capita emissions is more relevant measure, unless, of course, we in the West consider ourselves more deserving than the rest of the world.
From: Ron Brown, Midland, TX
Date: September 17, 2007
Your view: If Global Warming is really happening, why do only 7% of the UN scientists really think it is happening??? A little over 50% think it could be happening, but is it man made or can man even do anything about it?? Al Gore only wants your tax dollars, he and his partners want some way you will pay the UN a tax of some sort. Look back a few years ago and the same people were telling us we were going to freeze to death. The corn supply is being used up to make an additive for gasoline that when burned will omit worse fumes than what we use now. The gas with ethanol will get 20% worse gas mileage and will cost about $5.00 per gallon. Wake up people. Plus beef, pork, dairy products, are already costing us 40% more because of this scare that may or may not be existent. I want to drive the car of my choice, not to have the Government tell me what to drive.
From: Harry Hobson, Taipei, Taiwan
Date: September 17, 2007
Your view: People like Ms. Reznik and her organization are what gives the rest of us hope. So many times politicians and celebrities ask for money when they should be asking for ideas. This project demonstrates cost and effect, where many can't. It saves lives and the environment.
From: tony simonelli, lawrence, MA
Date: September 15, 2007
Your view: They have recently showed how water can burn hotter then the sun and can power a car. It would be a true testimit to how horrible human kind is if this fuel source is not made public. This is the stuff of science fiction turning science fact. Big oil will probably fight this discovery and i would not be suprised if the government does as well. They will say well it will cost jobs. THE HELL WITH JOBS! WE ARE TALKING ABOUT FREE RENEWABLE AND POLUTION FREE FUEL. I hope we embrace this new tecnology. It would be dispicable if it was not allowed all in the name of profit. If you want to verify this discovery please search on the web.
From: yefim k, queens, NY
Date: September 15, 2007
Your view: Im not sure about this, but if we use the wind, solar or any other source of energy, arent we still in some way depleting this planet of some kind of natural recource? If we are going to depend on those recources for survival of our comforts, chances are that those resources will be abused to such extent that eventurally we will prevent them from doing what they were ment to do in the first place... What Mother Nature creates, she creates for some specific reason, and if we stand in a way of that, we will eventually pay in a big way.
How about we, as people that live on this planet, that enjoy eveything that it ever gave us... start to give something back to it. (its a long term solution).
But if you want a short term solution, how about this... Build more gyms and tread mills, and connect them to some kind of energy harvesting technology. That will solve not just energy problems, but also some other problems that we as people are experiencing.... How many people would get off their couches to save some money?
Here is another solution... im preaty sure some other people must have thought of this, but may not have said anything due to a fear of being judged in a bad way... We are a source of energy (people and all living things). We use a lot of it, but we store a lot of it too. So when someone comes up with some kind of a machine or a method to extract energy from a dead body (as gross as it sounds).... it would change the world.
From: Josh Reeves, Roy, UT
Date: September 15, 2007
Your view: Global Warming and a Global Energy Crunch are both inevitable. Unfortunately, we are not going to do anything about it until its too late. When we all go nocturnal because the average daytime tempurature is 145 deg, we'll realize, "maybe this Global Warming thing is real". When we go to buy our $22.50 / gallon gas, we will start to think, "maybe I should dump the SUV"
From: Adrian Matlack, Rochester, NY
Date: September 14, 2007
Your view: A magic solution is unlikely, so there will be inevitable economic costs involved in switching to renewable energy sources. This can either happen before or after our energy sources collapse on us. Even though energy prices are rising I just don't think that it will be enough for the market to switch over on without help. It will take bold, decisive action by the governments of the world who recognize that a little damage to the economy now is better than a lot of damage later. Unfortunately, nobody was ever elected by hurting people's wallets. I'm not optimistic.
From: Donald Hopfe, Edmonds, WA
Date: September 14, 2007
Your view: I would like to make a comment on at least one of the earlier comments made. I agree that by the year 2020 our energy source will remain the same only because the energy leaders today do not want to see change really occur. The reason for this would mean that unless they have controll over how we power our vehicles and homes they will loose all of the income they have and their companies will go belly up. Instead of making efforts to keep the ideas suppressed they should be investing in those ideas. We would not be were we are technology wise if the imagination of those who created and invented what we have today were kept from free thinking. Yes! I think we will become stagnate on moving into the future if we continue to put down any new idea on energy and how we get around. I would just hope that we can move into the future with new technology which will ultimately save our planet.
From: nick barrett, fruitland park, FL
Date: September 14, 2007
Your view: i personally believe that ethenol is going to be our future fuel end energy source. it is renewable, it supports the ecomony(both nationaly and worldwide). it can be used with little modifications to the equipment that we already have, and it is almost completely pollutant free. this is at least going to relieve everybody's dependance on fossil fuels which WILL run out some day. and to everyone that thinks that we are going to colonize space, i have one thing to say... get a lfe, and just admit, we've really screwed up this world, but this is the only world we are ever going to know, quit trying to leave it and go into space, and instead, simply put some of that energy into cleaning Earth up.
From: Janis Ayers, McAllen, TX
Date: September 13, 2007
Your view: In reading about alternative energy sources along with many people's ideas of what would be an acceptable method for us to pursue in the year 2020, I am thinking this guy has one of the best observations. Of the options touted, I read about Tesla usage(his has to do with using existent pipes and mountain areas) , using Earth's magnetic field by constructing coils to tap into it(how big to be effective and where do you position these?), using ocean currents (no mention of possible genocide to species in the oceans), hydrogen (which has repeatedly been shown to not be feasible due to distribution or initial cost), sea water (radio frequency has been found to burn it-how this technology can be used on a commercial basis not yet proved), solar (which continues to be ineffective by most engineers who speak of it), wind (unfortunately we do not have a constant source of wind in most places), nuclear (think about 3 Mile Island and Chernobyl), lightning (who has designed lighting receptors or capacitors capable of handling the charge much less the step down transformers necessary to distribute it?), or geothermal (which is currently in use in Iceland, Greenland and several other countries (the only drawback to this being shifts in the Earth's crust via earthquakes or other anomalies would cause problems). Additional fantastical thoughts were to have solar collectors in space with dangling cables delivering electricity to Earth. This seems absurd because of line loss, threat to other collectors, planes, orbiting satellites (already busy up there), departing space ships and meteorological events not to mention they would likely burn like matches before dispersal on Earth. Solar radiation from the sun responsible for Aurora Borealis does indeed have a lot of energy but how do you go about collecting the power? How would you store and distribute it? Most all of the rivers on Earth are already dammed for electricity from that water and it is insufficient for our ever escalating demands. Garbage recycling seems to be a good option, as we certainly generate a lot of it as well as gray water usage on our yards with fertilizer treatments for all commercial and private housing. Taxing existing means of energy only provides politicians with more money to either absorb or redistribute in ways that do not help us.
All people need to take responsibility for their needs, raising some or all of their food, thinking of ways they can become energy independent with local resources available to them. Many people try to shift responsibility for life changing decisions to governments, politicians or other entrepreneurs instead of thinking for themselves. This will rapidly become more critical as population spirals up. Already whales once hunted to extinction are now starving due to over fishing. Imagine if we as land dwellers had to dodge harvesters from another race of beings lessening our chances of survival by inability to compete for resources. One person cannot effect a change but everyone in tandem looking for ways to change things without waiting for someone else to serve up all the answers will in itself bring about a more rapid change.
From: Brian Fultz, Burleson, TX
Date: September 13, 2007
Your view: I recently read an article that talked about growing crops in sky scrapers using solar power. Attach an ethanol plant to that sky scraper and you have a clean, renewable, and self sufficient energy source. Energy crisis solved.
From: michael ngun, klin, Somalia
Date: September 12, 2007
Your view: By 2020, most of our natural resources will be used up. Unless new oil or gas fields have been discoered. As long as human burn coal & fuel for electricity, bearing in mind that the demand for electricity is going to double or triple after 2020, the world will be inploding on itself. The irony is that human invented electricity & in the end it may be the cause of our extinction. Renewable energy look great but at the curent pace, a lot more effort will be needed to maintain the current situation (Not improve!). the only solution: to turn off power station & stop using cars. buying of carbon units is really a cosmetic show only.
From: Lawrence Dierlam, Huntertown, IN
Date: September 11, 2007
Your view: Personally I believe that we will begin to utilize solar paint once it is available to the public. If we all actually just painted the roofs of our homes with this material and had a battery backup, this might be a method to eliminate most of the energy we have to receive from the electric company. The thing about this material is it absorbs the energy in the infared spectrum, which wouldn't stop being absorbed simply because the sun isn't up. We still need to wait and see how this tech develops though.
From: james hotz, chatsworth, USA
Date: September 10, 2007
Your view: "Solent Green," if you haven't seen the movie lately, then go check it out. Because this is exactly where we are going. The concept I liked the best is when Edward G, Robinson checked in to leave the earth and he got to see what heaven looked like. It was the earth before man ruined it, with all his greed and polution. Even when Billy Graham describes heaven it looks like the earth, and when the astronaughts, saw the earth from the moon they knew this was heaven,right here. there is no place else to go, we are guests on Gods planet for a short time. So lets leave it the way we found it.
From: Seth Connell, Pullman, USA
Date: September 10, 2007
Your view: There are many options open to us as far as where we will be able to obtain energy by the time of 2020; it is up to us to research and develop these resources so that they will be readily available to the public.
I feel that by 2020, with the exception of the little amount of fossil fuels left, the rest of our power is realistically going to come from solar cells and wind-mill farms. There is already a big move in the industrial sector towards expanding the use of these types of power generationg and it has proven efficient enough to continue the expansion of these technologies.
Now, if I was to throw out a very inprobable alternative to solar, wind, fuel-cell, and nuclear power it would be this:
In the past few years there has been a breakthrough in two seperate fields of science. The first is the teleportation of light from point A to point B over the distance of a half meter. The second breakthrough is the perfect mirror developed at MIT. This mirror reflects 100% of the light it interacts with. My idea integrates both of these innovations into a device that could potentially create an endless power source.
Take the light transportation device, and coat the entire thing in the perfect mirror material. Place the transportation device inside of a large sphere, whose inside is also coverred in the perfect mirror material. Then place that sphere into a large pool of water. Once you transport the light into that sphere, it will continually bounce around creating heat, which will in turn heat up the sphere, creating steam to rise from the pool. This is, in effect, an endless supply of steam energy. Like I said, it is a very inprobable idea.
From: nicholas kosmas, houston, TX
Date: September 10, 2007
Your view: We are all humans living in a somewhat uncontrollable environment and both global warming, natural disasters, and terroism will always be a threat to society. Nothing can really be 100% prevented anymore. But as far as global warming, losing fossil fuels, and a look towards the furture are concerned, the solution is fairly blatent and and quite simple. ALTERNATIVE FUELS. We all know we have the resources and the capacity to produce significantly more than we are currently. We need to step forward and quit making the same mistakes we have in the past. not just alternative fuels , but building smat and seriously making an effort to conserve what we have left of the earth, and use it's natural resources to create usable natural resources without depleteing it any further. Sun, soil, wind, water those are 4 simple things that are always on our earth that are renewable and are Fantastic SOURCES of energy and fuel. Obviously all this information is prevalent and most people know about it, but it's a matter of what we're NOT doing about it that makes the difference. Use ocean water to convert into drinking water, use the sun and wind for energy, and the soil to grow the crops that we eat and the fuel that IS existent for our automobiles, bc we're going to need oil for other things. Like i said all this info the here and available, but do something drastic now before drastic measures are irefutable and next to impossible to recover from.
From: laurent kel, paris, France
Date: September 9, 2007
Your view: The future of energy and the only way, I think, to give the world sufficient ressources for the generations to come is the magnetic fusion energy. This is the energy which the sun uses to shine since billions of years. This will most probably be achieved through magnetic confinement of burning plasmas. This reaction of fusion does not produce any waste, only helium which is a neutral gas. The helium produced escapes from the Earth's atmosphere into space because terrestrial gravity is too weak to retain it. I am impatient to see at work the first project of reactor built in the south of France.
From: Robert King, Cary, NC
Date: September 9, 2007
Your view: In 2020? Our energy is going to come from the same burning of fossil fuels and every other idea will still remain on the fringe of acceptable use. I say this because our current energy needs are met as part of a business model, and there is no existing or future business plan that incorporates any real accepted use of an alternative energy source.
The only way things will change is if a business can find a way to create a real development plan allowing for wind, or solar, or any of the other myriad ideas. Frankly, it would be a smart idea to have energy companies install and own solar panels on people's houses--they would perform maintenance and replace components as necessary. In return, the companies could still profit as people would still pay for this kind of service. A distributed energy network like this would also be more resistant to the fears of terrorism, and during harsh weather damage.
In the end, no one has come up with a business plan to make it work, so in 2020 you'll see exactly what you see now, simply more expensive.
From: Roger Elliott, Amherst, NY
Date: September 9, 2007
Your view: The subject of energy is thought of in the wrong way. The solution to it is multi-faceted. First, a worldwide backup system for the generation of electricity should be on the minds of all of the world's brightest scientists and politicians, in case the world is ever struck by a solar storm of the wrong polarity. If the response to this idea is met with "it costs too much", ask them what money is going to fix or how much it will matter when the world is without power (no banks, internet, or technology we so desperately depend on). Secondly, solar and hydrogen fuels should be researched and implemented more widely, as they have no or very little byproducts. Oh, and STOP POLLUTING THE EARTH and pretending that we aren't destroying it, because once it's gone, it's gone - The last time I checked we weren't able to travel at light speed or greater, which is what is required to even LOOK for another suitable planet for humans to live on. Our ignorance knows no bounds! and it will bite us in our backsides eventually if we don't get a handle on our MAN MADE problems.
From: darius bustani, mumbai, India
Date: September 9, 2007
Your view: With the coming of fuel cells for automobiles there will be need of hydrogen in pressurized or liq. form.
At the moment the only form of pollution free energy is nuclear ( though the effect of radioactive mishaps is also there ).
What I propose is that you have a dedicated small nuclear power reactor , like you have for a submarine or aircraft carrier, only to generate hydrogen and oxygen from water. This reactor is to be stationed on a remote safe island , within an excavated hill, say in distant pacific ocean. Well elevated to be safe from future rise on sea level and tsunamis. Of course there should be ample source of good pure water. It should also be well protected from terrorist mischief ..
This way if there is any small mishap, like it happened in japan, it will not effect the population on mainland.
This reactor will run on a constant load continuously as there will not be any fluctuating external demands.
The gas is then liquefied on the island itself , using the same nuclear energy, and shipped to mainland port on special liquefied gas carrier ships. This will be like shipping of crude in refined state.
This way all the cities near the pacific coast like L.A , San Fransisco, etc. will have this fuel for their fuel cell cars.
You can also use the repaired/refurbished reactors of aging submarines and also from old soviet subs. This way the nuclear reactors will not be under any threat of being misused by some criminal elements as they lie unattended .
Hope this idea will click .
Thanks for letting me put fort my views.
From: Michael Durham, Edmonton, AB, Canada
Date: September 9, 2007
Your view: First and foremost..... there are just too many people on the planet. There are many forces at work in our biosphere. When an organism and it's activities expand unfettered for thousands of years, to a point where it affects the atmosphere, water and weather.... Either of two things will occur, sheer determination to reduce the population or mother nature doing it for us. Changing an indivdual's carbon foot print will do nothing if he or she is allowed to have five offspring. When those five offsprings do the same, you increase the carbon output exponentially. The future of responsible energy production is undenialble..... fusion. The technology is still in it's infancy, but if an absolutely "do or die" drive for it's developement were implemented, humans would enter a new era of living. It could become a new golden age of unlimited energy created with seawater being the fuel and with no radioactive waste associated with the fission process.
From: Marsha Greene, Boca Raton, FL
Date: September 9, 2007
Your view: Suspending high altitude windmills would be more challenging than necessary. It would make more sense to go the extra step and make space elevators. Similar principle, but the top platform is orbital in a geo-synchronous orbit. Just run any conductive material down the cables and viola. This would provide unlimited energy, and also vastly expand our ability to explore and colonize space.
Some more immediate and simple solutions would be these:
1. Tele-commuting: Change the law to state employers don't have to pay workman's compensation for any employee who works from home more than 36 hours a week. Working from home is not for everyone (many can't and others don't want to), but this simple change could reduce commuter traffic and business energy consumption by approximately 20-25%.
2. Simple solutions now: New construction should be mandated to use proven energy-efficient cost-effective technology. Office buildings and homes should have double pane glass, on-demand hot-water heaters, solar lighting, and solar energy collection. It doesn't matter if this doesn't make them 100% \X*!green'. By making these items \X*!standard' it becomes affordable for all. Evaporating carburetors were designed decades ago. They are many times over more efficient than our current carburetors, and burn a much cleaner form of gasoline. Part of the reason gas is so expensive is because we are using a mixture of different types of gas that burn at different temperatures. It would cost $20 a car to get a new carburetor, and the gas industries could easily switch to making a single high grade fuel with no additives. All cars would start getting over 50 mpg immediately, emit a small fraction of their current pollution, and the price of gas would drop to less than $1.00/gallon wit!
hout the need for multi-grade refineries and additives.
3. Hemp: A tough, multi-purpose, easy to grow renewable resource that has mass benefit to our energy and resource needs. Hemp is a much better alternative to corn for making bio-fuel, to timber for construction and paper, to cotton as a textile, to soybeans as a high-protein feed, and to corn and other plants for cooking oil. It has it all, and doesn't require fertilizer or pesticides because it is a naturally resistant weed that will grow just about anywhere that has a modicum of water.
4. Alternative energy power plants: Instead of spending so much energy to dig coal out of the ground and transport it to power plants, why not build power plants in spots where they can capture the energy of naturally burning coal fires? There are at least 17 major ones in the US alone, and that's a lot of energy that doesn't have to be mined and transported. Power plants in urban areas need to become methane based and run off the urban sewer and garbage systems. Humans produce more than enough methane to generate power for our communities. Add to that the amount that comes from our landfills, and the need for fossil fuels for electricity becomes obsolete.
5. Capacitance power-grid: Shift the paradigm for the energy grid. Instead of focusing simply on generation and transport of current, the vast amount of copper laid across the land should be being used to charge massive storage units (Someone else had mentioned using mountains as capacitors - Tesla showed us how a century ago). The current system is like the water system in New Orleans - old, unstable, and wasting almost as much as it transports. By making the grid a charged storage system that only releases energy when used, the waste is eliminated. It shouldn't be a question of generating power, but instead tapping the potential from anywhere.
From: Michael Monroe, Augusta, GA
Date: September 9, 2007
Your view: I think we should consider such sources as Nuclear for a viable power source......The advancements in technology should provide a much smoother process. Fossil fuels have got to go, the mentality of major oil companies really needs to change for the better of the future. The destruction of the planet is a highly pressing issue that really has no room for error at this point. You can't continue to make money from fossil fuels if you have no place to call home. The time for debate is pretty much over, it's time for change in that area.
From: Ben Hoerst, Cleves, OH
Date: September 7, 2007
Your view: There are loads of ideas spooling up on this site. If we don't find a solution soon, things are going to get bad, not just in America, but everywhere. The thing about us, we're lazy it seems like. It seems like no one in the government wants to take the initiative. If i had publicity, I would press this point until something was done. I'm 18 and I can't take our energy problems lightly, why aren't the people that hold office more caring than a high school senior? We are a sad sad country, we need to make some improvements before mother nature takes her toll on us.
From: Frans Peens, Pretoria, South Africa
Date: September 7, 2007
Your view: As developement (or sustain) is based on energy the only way forward (for all/any humans) is by generating enough thereof. Even protecting ourselfs require energy. To satify the energy requirements of the future is easy. Take a look at the universe(nature). If we can harness a sun we have a solution. The solution (imho) is to use nuclear energy, convert it to electrical/chemical energy & rocket the nuclear waste to the sun. Rockets/cars/ pumps/machines/etc. can use H2O2 as liquid propellant - created from water & electricity. That is the only we way we can stay clean and 'relatively' safe from ourselves.
From: Nando Breiter, Bioggio, Switzerland
Date: September 7, 2007
Your view: The best solution in my opinion is to combine highly efficient biofuel production with carbon sequestration in one process using pyrolysis technologies. Although biomass grows most efficiently in the tropics, employing such an approach decentralizes the production of liquid fuels, thereby increasing energy security. The raw material, biomass, is available in most places on earth. And using the right approach and with a little creativity, I am fairly certain we have the ability to completely replace fossil fuels in the next 15 - 20 years, and sequester a significant amount of the excess carbon we put in the atmosphere at the same time.
From: Juan Hurtado, Weston, FL
Date: September 7, 2007
Your view: I don't understand the reason for this question relating to energy sources. This question has been answered along time ago now! Tesla created infinite amounts of energy at his Colorado Springs lab. The only reason why it was dismantled was because J.P Morgan did not find this to his best interest since no profit will be made.
From: Zacher Carter, Kansas City, MO
Date: September 7, 2007
Your view: What I propose is not a solution - but a contingency. In short, if we are to encounter a detrimental energy shortage, we must utilize earth's negative living space. What do I mean?
Simple: Implement a cohesive, long-term place for life underwater. As above, and so below - means of transportation is our least concern. Through aerodynamics, basic physics, and sheer man (not horse) power, transport vehicles can be designed to adapt to a nautical environment. You may be wondering about food, shelter, communication, sun nourishment, and other physiological or geographical concerns, but these are the least of our worries.
Resources available now and forever can support this vague, yet very feesable idea. The energy, gas, or transportation problem (inevitable and impossible circumstance) in exchange for numerous feasable prosblems with quick solutions that will adapt to (although creating more) the scarcity of energy. Time on dryland will be a normal, daily activity. But we must utilize Earth's negative space if we are to adapt and evolve.
There are billions of species surviving without oil, or any such natural resources we so ignorantly consume and destroy. We're a high-maintence species, we've grown too dependent on our own "need" for comfort and convenience.
Why can't the most advanced species in the planet's history survive primitively as other mammals? We're blind. The hummers, tv's, Ipods, and hot pockets are veiled our eyes with ignorance. We must thrive on self-preservation, not self-gratification. Adapt, you mammals. Only the wild, savage within us all may adapt to the ever changing, forward march of consumerism and technological "necessities".
I'm no expert, I don't have a phD in bio-genetics or physics. I'm merely an observer of things, and I think it's due time we sharpen the Ockham's Razor. Thank you for your time.
From: Tom Diffenbach, Harrisburg, PA
Date: September 6, 2007
Your view: A full discussion of realistic alternative energy sources should include space-based solar power (SSP).
If we list the pros and cons of the options, SSP comes up with good pros and few cons. There are technological hurdles but not impossible ones. The bigger hurdle - which I'm trying to jump right now:) - is to get the political leadership and the public thinking about SSP.
For those who quickly cite technological issues, I'll just as quickly note that sixty years ago PCs and satellites weren't on our radar screens.
Unlike energy solutions such as ethanol which doesn't have such a good pro-con analysis and is somewhat driven by parochial political interests, SSP might well meet the needs of the fast-growing global economy.
From: Han Wen, San Jose, CA
Date: September 6, 2007
Your view: I think the most practical technology that we have today that could meet our insatiable desire for energy in the future is nuclear. It's not sexy; it's not PC, but it does work and France serves as a great example. A significant amount of the nuclear waste can be recycled as also demonstrated by France.
From: David Houston, TX
Date: September 6, 2007
Your view: I think I'm just going to buy a couple of horses.
From: chase hobson, ft,lauderdale, GA
Date: September 6, 2007
Your view: we all share in wonderful dream for tomorrow,but if we don't want to care for the planet and find a willingness to make a change in the path we choose ,,,I truley am afraid for tomorrow..There is no real person out there who really shares my feelings,my pain for the things that really matter to myself and affect our society as a whole.Do the math/// Who stuck his neck out to make the World listen but even for a day for the planet?We should demand the best in our elected officials values and integrity,Yes integrity ,,,,,,,,,May I suggests that you start knocking at the door for real anwers. Start looking to Al Gore.Please take a poll..,the question ?Who's values,hopes,dreams for our planet, our existance and the chance for all of us to co-exist in harmony do you relate to?
From: Craig Bowe, Freeport, Bahamas
Date: September 6, 2007
Your view: The future of energy will most certainly be in renewable sources as the world becomes more independent of torrid regions with constant instability. As the world begins to accept that living in commune with the Earth is the best long term solution to the energy problems of humanity then the current novelties like wind and solar will become more prevalent at the consumer level. All the while hydroelectric, geothermal, tidal power and plasma emergent technologies are to be utilised moreso on a larger scale. Hydrogen energy, which is the solution that is there for the autmotive industry currently is an excellent perpetual source on a larger scale and a source that produces more combustible energy per unit measurement than any fossil fuel source currently on the worldwide market. These technology just need an opportunity to market their potential and the fascination that humanity has with processing artifacts and dead material for fuel will give way to the promise of! a sustainable future with longer term sensible solutions rather than popular convenient ones with nothing more than an environmental shroud and political conflict.
From: Shaun tanger, Auburn, AL
Date: September 5, 2007
Your view: One special interest for another
Ethanol serves as nothing more than a boondoggle for special interest groups in the midwestern area. People don't realize corn already is used in so many products, do we really want to stretch that resource any thinner?
I know one group that does and thats the giant farm conglomerates that stand to make millions from such a change over.
One bad drought and we would have an inelastic good that cost a fortune and we'd have the double whammy of higher gas prices and higher food prices.
Would we use less oil? yes. Would we just replace one high powered interest group for another? yes. ......but hey at least big campaign contributors would have gotten a nice return on their investment.
From: kenneth w, tallahassee, FL
Date: September 5, 2007
Your view: I am pretty sure I haven't heard of this... but I don't believe it to be too far fetched... but would it be too much trouble to place very large turbine generators in key places in the ocean that would be turned by the ever strong oceanic currents? Unlike wind the oceans currents don't stop... and although they may not be speeding by at 150 mph those currents are entirely reliable since they have been pushing by for thousands of years. Seriously people are talking about super kite wind generators that pose threats to not only passing aircraft but whom ever they could possibly fall on as well... oh and would make a great terrorist target or what? However if there are large submersed generators almost identical to those found in every electric dam they would pose very little threat to public safety and would make a difficult target for anyone with bad intentions. Don't think that it would be logical to run electric wires on the sea floor for a couple hundred miles? We! ll quick history for ya... when the telegraph came out a wire ran from west Europe to eastern America.
From: Don Jennings, Slatington, PA
Date: September 5, 2007
Your view: It sounds like a good concept but the numbers they give, 600 such devices supplying the entire US demand for electricity? If each one produces 20 megawatts, then the total for 600 stations would be 12 Gigawatts, hardly a dent in the US consumption, which is more like Terawatts, so I think a more realistic # would be a half million of these units to supply the whole US.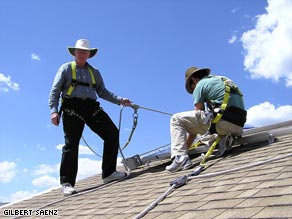 Gilbert Saenz: "I began learning about Solar installation in August 2006. A fellow student watches as I'm leaning over to set up the mounting of Solar Panels."
From: Richard Adlam, Hamilton, Bermuda
Date: September 5, 2007
Your view: I'd like to see a bunch of engineers sit down and make a serious attempt at harnessing the power of lightning.
Say a bunch of huge capacitors which charge up from either the build up of electrostatic electricity caused by storms, or from direct lightning strikes. The electricity would be bled off for use.
Another thought thats bugged me for years is the Earth's Magnetic Field. Find the strongest part of the field and have coils passed through it creating current. Presumably the field revolves with the Earth's rotation to some degree, so the coils would have to move in the opposite direction. The Space Shuttle once dangled a long wire 20 - 50 yards into the space around the Earth and hence into the Magnetic Field to see if it generated power...it did, but the wire broke apparently and I've not heard a thing more since. Its an alternative to the power generating solar panels. If a solar flare can cause the electric power grids on Earth to overload surely there's a way of catching that energy when the flares happen?
From: Glenn Doty, Elgin, SC
Date: September 5, 2007
Your view: Concerning the idea of high-altitude wind: This is similar to the hydrogen farce... not nearly as ludicrous, I'll grant you, but similar. There is no way this will ever be remotely competitive without massive government subsidies, but they just keep making promises and "projections" to ensure that the grants keep rolling in... and we'll still here about the "promise" of high-altitude wind in two decades.
This issue is conducting the electricity. The tether is going to have to be braided aluminum surrounding a carbon fiber core, and it's going to be ~5 miles long, and it's going to be THIN wire... It must be, or else the 4 miles of wire will weigh down the kite-like high altitude wind generator. So you have 5 miles of really thin aluminum braid to channel hundreds of kW's of electrical energy? You'd be lucky to see as much as 10% of that reach the ground (if the tether doesn't just burn up), which means the fraudulently optimistic 2-3 cents/kWh becomes 20 to 30 cents/kWh... Ground based wind works out to 3-5 cents/kWh, and solar should as well within 10 years... We're wasting our time playing Ben Franklin here.
From: Walter Knights, Lilburn, GA
Date: September 5, 2007
Your view: At 15000 ft storms with hail and tornados with class 5 winds of 150 mph would distroy these units.
From: Steve Crawford, Newark, DE
Date: September 5, 2007
Your view: This sounds really far fetched but that's probably what my great grandfather would have said about the TV, IPODs, or computers.
I am definitely in favor of wind power. I worry about the transmission / tether cable that would be needed. We really need to act and this is a step toward a cleaner future. I do think that the US should work more diligently to build wind farms and solar panel farms. The government should be willing to put panels on the roof of every suitable home and provide the homer with a discount on their electricity. Not everyone has the money tneeded to buy the solar panels. Let's get GREEN!
From: Nicholas Smith, La Grande, OR
Date: September 5, 2007
Your view: Just a fine aerial obstacle for a fully loaded 777 to crash into, killing everybody aboard.
From: Dave Leonard, London, ON, Canada
Date: September 5, 2007
Your view: Interesting idea, though what kind of research data has been collected taking into account the shift in wind patterns caused by such arrays? Assuming a far less catacalysmic version of the butterfly effect, would it not be reasonable to assume that drawing this amount of power out of the atmosphere would ultimately have an effect on the path and/or velocity of the certain wind patterns, no matter how slight?
From: Steven Ahrens, Fairmont, WV
Date: September 5, 2007
Your view: I have a design for a mountain top power generator that captures lightning and uses the mountain to store the energy like a giant capacitor. I believe that lightning can be harnessed as a future power source. We should learn from Tesla.
From: Jim Ketcham, Malibu, CA
Date: September 5, 2007
Your view: Helicopter turbines are an incredibly bad idea. They would be a far worse obstacle to aviation than a mountain or tower because they would not be stationary. To fly a turbine close to position when weather conditions are not favorable will consume massive amounts of power, if even it is possible at all. The idea if reeling in the turbines in bad weather is fraught with difficulties reminiscent of the Navy dirigible disasters of the 1930's. I would gladly take 10 to 1 odds against this idea coming to any substantial fruition.
From: Billmosb Mosby, Salt Lake City, UT
Date: September 5, 2007
Your view: After reading the article on airborne windmills, I have to say that when contemplating the use of natural energy sources of great potential, beware of our tendancy to redefine our energy needs as "how much you got?". In this case, one percent of the potential is said to be able to satisfy the earth's energy needs. Ok, but how about if everybody wants the same energy usage levels we enjoy? Then the demand goes up to more like 10 or 20 percent of the potential. Has anybody analyzed what taking that amount of energy out of natural winds might do to weather patterns, which is to say climate?
Or to take another case, solar energy. Solar energy systems are optimized to absorb all the sunlight that falls on them, as opposed to the earth, which reflects about 30 percent of it back into space. Meet the open-ended energy "demand" from this resource and watch direct global heating occur in the long run.
Not saying don't use natural energy sources, just recognize that nature is already using them for important things and plan accordingly.
From: Kenneth Flynn, Annapolis, MD
Date: September 5, 2007
Your view: At last! An energy system that generates electrical power that is within reasonable budget but also would potentially replace a whole generation of enviromentally polluting energy generating system/s. It's brilliant and immediately possible. DO IT!
From: LUTHER ELWONGER, FT. MYERS, FL
Date: September 4, 2007
Your view: I think the FEG is a good idea. theoretically, they could stay aloft indefinitely, only to come down for maintenance and repairs. Provided no aircraft collide with the massive structures, this could be a safe and cost effective way to supply ample energy with minimal environmental consequences.
From: aaron bauer, minneapolis, MN
Date: September 4, 2007
Your view: In response to your article about FEGs you state we need 43 FEG farms with each farm consisting of 600 FEGs to power the United States. It also says this technology can be operational in 4 years. That means we would need 25,800 operable FEGs at $2,260,000 a piece for a total of $58,304,000,000. My point...that's less then half of what congress approved for an Iraq funding bill and over half the country is against the war. Congress please start focusing our spending dollars to sources that will make the USA the first renewable energy efficient country on the planet! And lets spread this technology to growing countries so we can see their way of life improve. We need to make the world change their negative views of us and this should be one small piece to the entire puzzle.
From: Ed Freniere, Lancaster, MA
Date: September 4, 2007
Your view: Most of the government regulations concerning reduction of energy consumption and carbon emissions center around vehicle emissions. For a typical US household, that's only about 20% of consumption. The rest is mainly home heating/cooling, electricity for lighting and appliances, and air travel.
Technology exists today to dramatically reduce energy consumption for home heating and cooling, representing about 50% of home energy usage, by a factor of two to three: ground source heat pumps, also called geothermal heat pumps. The technology is very simple in concept: just like a conventional heat pump system, you have a refrigration unit that cools your house in summer, then runs "backward" in winter to heat your house. Unfortunately, a conventional heat pump must dissipate heat into hot summer air in the cooling season, and extract heat from cold winter air in the heating season - not very efficient. However, a few feet below ground is an enormous heat sink - the earth and its groundwater. A ground source heat pump uses the earth, at a constant, year-round 50 degrees F at my lattitude in the northeast, to greatly improve the efficiency of a heat pump system. To make this technology work, you must bury the cooling coils underground. This is the drawback of this system: !
about $10k additional cost of installation compared to conventional heat pump or fossil-fuel-burning furnace with electric air conditioning. This is obviously a negative incentive for home building contractors, who build on speculation at competitive cost.
Imagine if all new homes were required or encouraged to install ground source heat pumps? No, I don't own stock in any of the manufacturers of these systems, but perhaps I should. Anyway, the consumption/carbon footprint of a home heating system would be reduced by up to 2/3! This is more than can be saved by decreasing auto fuel consumption to zero! Imagine if there were an incentive for homeowners to retrofit these systems to their homes, an expensive proposition with payback of 10-15 years, still much less than the 50+ year, typical lifetime of these systems. Actually, there are little-known federal and state government programs to provide loans for energy-efficient construction and renovation.
You can take this idea further and install a photovoltaic solar panel on your roof and further reduce your carbon footprint. With a large enough panel area, you can reduce it to zero.
Obviously, big energy companies have little incentive to pursue or encourage this technology; for them, the money is in continuing to find new sources of traditional energy, not reduce or eliminate the need for it. Maybe it's time for our elected officials to take a broader view of home energy consumption.
From: JB, TX
Date: September 4, 2007
Your view: This is getting ridiculous. Do people really think these are viable energy alternatives? Don't you think a businessman would be all over the opportunity to make money on any alternative? Even the military is desperately seeking a new energy source...the "big bad" oil companies aren't hiding anything our own government wouldn't readily steal.
Solar - No power source at night. No reliable battery to store the power necessary to handle emergency power needs during disasters or power defense platforms for weeks at a time. Buying power from other countries that still have daylight is just stupid..this whole conversation is about energy independence and plans that involve partnerships are inherently NOT independence. The whole planet has been at war with one another since...well since humans arrived. Are you honestly naive enough to think that is going to stop during your lifetime?
Hydrogen - This is the dumbest part yet. Most hydrogen in the US comes from steam reforming natural gas. This process still generates CO2. The only source of hydrogen from water is electrolysis...this requires MASSIVE amounts of electriciy and we already have an energy crisis rising to meet us. As an engineer "clean nuclear power" has to be the dumbest most frightening suggestion we hear every day. Are they serious? Talk about leaving a massive problem for future generations to handle...forget CO2...the half-life on spent nuclear fuel will probably be a problem until the day the sun explodes.
Conservation - Energy is needed for production of goods, and people seem to think that industry is the sector that needs to conserve. Individuals are the conservation problems. When you see people protesting against major polluters, they are barking up the wrong tree.
The fact is there just ISN'T an alternative out there yet. We just aren't there and the "global warming" threat of rising oceans is very real. Fortunately, even if we stopped global warming, the ice caps will eventually melt significantly anyways, NATURALLY. Flood the low lying heavily populated regions and we will see nature handle the problems we have generated. The need for change is obvious, but if we aren't aiming for the right goals, we are just going to end up jumping from one boat to another while both are heading over a waterfall.
From: Walt Coleman, Tucson, AZ
Date: September 4, 2007
Your view: This is way overdue......remember slot cars when you were a kid. Put a groove down the middle of major highways power it from the wind generation and tie into the national power grid and bada bing......no more oil dependancy or oil wars.
From: David C, New Zealand
Date: September 4, 2007
Your view: G'day
[1] - efficiency
Perhaps what is most overlooked in this debate is the notion of *efficiency*.
I suspect that the most significant advance in the next 13 years will be in extracting more utility from each unit of energy we presently have access to.
Solar cells will become more efficient, and so will fossil-fuel engines. Ditto for all the other energy sources. Therefore it's not so much about *what* fuel we use, it's about *how efficiently* we use it.
[2] - backyard source
Here's a rule of human nature: The easier it is to use an energy source, the more we use it frivolously. Therefore items made in China are somehow cheaper than the same items made in our own back yard. This silliness has to stop, and surely will in the years ahead, as the labour forces in these developing countries demand wages comparable to our own. But why are we relying on international economic forces to dictate where we buy our shoes from?
[3] - dragging our heels
There's something odd about the fact that it took 70-80 years (to 1950) to create an auto industry based on fossil fuels but it is going to take very much longer than 70-80 years to progress to something better, even though 90 percent of all the scientists who have ever worked with cars are working with them today. D'ya get the feeling that people are just dragging their heels, waiting for a miracle cure to self-materialise so that the hard, expensive work needn't be done? I remember debates like this, about alternative fuel sources and the impending fuel crisis back in 1980!!! We should be 'there' by now!
From: ian jensen, calgary, Canada
Date: September 4, 2007
Your view: 100 million dollars to build these is peanuts compared to how much energy plants cost.What are we waiting for? Now try to get everyone to agree,that is the problem. Watch energy company's influence the politician's.
From: Anthony Chong, Curacao, NT
Date: September 3, 2007
Your view: There seems to be a lot of people with different views on the environment our earth is now showing us. There Are a lot of things to consider when thinking about going green or going anywhere. We have to be very careful what choices we make since they will take us and our earth in a certain direction. Taking care of the environment happens one person at a time, one step at the time. To think about how many jobs will cost us to just swich from one energy source to another one is a big thing already. But there will always be new ways to give everyone a job even if it's in a line of work that helps us save our earth. There are many directions our earth can go to depending on our choices. There are ways of exploring "greener" solutions which don't have to sacrifice other people's jobs. They will just have to change jobs, do something else and still help us help our earth.
Money isn't everything but in the society we've built so far it can do a lot and one of the things it can do is create opportunities to find new ways to "go greener" and it will defenetely help us take care of our earth.
We are an integral part of nature and often we speak as if nature is a separate entity. We are part of it all and cannot be excluded. So saying to "save a rainforest" or something like that doesn't mean to save a rainforest in itself... indirectly we're saying... "save ourselves". As far fetched as it might seem sometimes... it IS possible.
How many times don't we read, see and hear people say how anything is possible? Everybody who has reached somewhere in life has done this by hard work and had to go through some tough times before things got better. Ofcourse there will be people saying that they didn't have that and some truly havn't. But MOST people (and those are the ones I'm talking about) do work hard to reach somewhere. My point? Well... simple... that if we don't put ourselves in for some hard work, research, willingness to reach somewhere with our earth we'll end up somewhere we might not like.... only to say... If I had just.... If I had just.
Now we KNOW what to do, the how is in many things there, we just need some research to find out what the Best way is. "Everything is possible to a willing mind!"
So if there's anything you can and want to imagine... it's how to take care of yourself by taking care of your earth.
From: matthew shaub, sinking spring, PA
Date: September 3, 2007
Your view: oil will be of abundance for the next 70 years at lest we will just finally utilize it the way we should have 100 years ago
From: Larry Jacobson, las Vegas, NV
Date: September 3, 2007
Your view: The New Honda FSX is an all electric car that they expect us to purchase hydrogen at gas pumps to re-charge the battery with. if we were to plug the car in at night the oil companies would not continue to make profits from the electric car the way they do gas cars. We arre being squezed again by this false Hydrogen cell car, its a battery powered car. Seperating Hydrogen and Oxygen from water will be the future as these highly flammable gasses can be injected directly into turbines or combustion engines.
From: Larry Kealey, Sugar Land, TX
Date: September 3, 2007
Your view: There seems to be a lack of vision and reality here...at least in the comments I have read thus far. Lets be real, coal, oil and gas will still be the dominant sources for our energy in 2020. Solar, wind and wave technologies will continue to have limited applications and viability. Nuclear (fission) will also continue to be a major source of energy...however, much of our oil will be squeezed from tar sands. Electrical generation will continue to shift away from oil and toward coal and gas - gasoline/fuel oils will continue to be the dominant transportation fuels. However - a shift will be in process...it will just be getting into production...
Electrical power generation will come from nuclear fusion, rather than fission. In 2020, it will not be the dominant source for energy, but it will be a reality...and in 2020, everyone will know it is the future. Transporation energy will already be down the road toward hydrogen and fuel cell technologies. Solar, tidal & wind will serve in remote regions and special applications. Hydro will also be in use, but percentagewise, in decline because of limited availability and environmental issues.
These technologies and solutions are real and viable, but they take time, research and of course lots of money to develop. Taxing energy is not the answer. Keeping energy cheap and providing incentives to energy companies will drive change much more rapidly than taxation and government programs. Lets be real...
The developed world's appetite for energy is growing and the developing world's appetite is growing even faster (China, India...). And thats not gonna change. The undeveloped nations appetite has not even been wetted. Supporting this demand will vastly improve the lives of BILLIONS OF PEOPLE. It takes energy to develop the world, lots of cheap abundant energy. It was cheap, abundant energy that allowed the "developed" nations of the world to become "developed". Who are we to deny this to the developing and undeveloped nations of the world? To hold them back from the quality of life we enjoy in the west. Anyone who thinks we should spend money on burying CO2 instead of investing in building power plants in South Africa should go live in a grass hut with no electricity in South Africa...
By supporting the rapid growth in demand for energy of the next 50 years, we will allow the free market and energy companies to develop the next generation of technologies to provide energy. I am not saying that we should not invest in technologies to create cleaner, more efficient energy from current sources - or develop more efficient ways to use that energy - quite the contrary, those things will happen of their own accord, by the market.
The world has an insatiable appitite for energy. It is not going to get smaller - it is going to continue to grow exponentially. Current sources alone will not support that growth. If untaxed and unchecked, that growth will drive energy companies to new sources much more rapidly - nuclear fusion and fuel cell technolgies. The oil companies will be unable to meet demands...they themselves will search much harder and invest much more in developing new technologies...
To force the developing and undeveloped nations to introduce only "clean, renewable" energy sources is criminal. Support them with energy as we have enjoyed and they will become developed, education will follow, productivity, longevity, quality of life will improve dramatically.
Contrary to all the "Chicken Littles" in the world, the sky is not falling. There is a bright future for us all. Cheap, abundant energy is the key to it all. Support cheap energy and the marketplace will drive new technologies and sources - viable, clean, abundant, cheap sources...Smother it with taxes and political "targets" and try to regulate and mandate the pace of change with government intervention and it will still happen - but 50 years later...and in the meantime, Billions will continue to live in squallor and die after ignorant short lives...Give them energy - watch them grow and live good lives...and drive change for us all.
From: Reinaldo Vega, Berkeley, CA
Date: September 3, 2007
Your view: I find it interesting that we pick a nice round number like 2020 to set for our goal to fix our environmental problems. Why not tomorrow? That we're willing to put it off for another 13 years is reason enough for skepticism.
We underestimate how long it will actually take to fix the problem, because we don't fully understand how we as people would respond to a measure of success in this regard. What do you think will happen if people see the CO2 numbers, and the yearly global average temperature, start dropping? I suspect that our sense of environmental urgency will fade, and some fraction of us will end up reverting to less environmentally benign (but less expensive or more convenient) practices. This would dampen the effect of everybody else's efforts. So in that sense, I can perfectly well see people turning all this into an environmental stock market - when CO2 goes up, you conserve; when CO2 goes down, you spend.
So long as the fear of punishment isn't too great, people will do what they think they can get away with. The trick is getting people to realize how little they can get away with, and the best way to do that is, in a free market system, by the power of the purse. So, how soon we can fix (I prefer the term alleviate) "the environmental problem" will ultimately depend on how quickly the global market can adjust to, and embrace wholly, environmentally benign technologies, products, and services. It will also depend on how effective the education system is, and becomes, in producing a scientifically literate public. The latter is the more fundamental, and therefore the most important, and is not helped by religious zealotry trying to wedge their way into the science classroom, the result of which being a numbing of the minds of our children. So here's a thought; rather than read The Bible on Sunday morning, try reading a science book instead, because I seriously doubt that God will forgive or fix your environmental impact, no matter how much you pray for it. If you think greed is a "deadly" sin, how do you think God will react to you destroying The Earth?
That being said, my answer to the 2020 environmental question is "who knows." We seem to rely too heavily on waiting for politicians and corporations to fix the mess rather than do something ourselves and, in doing so, set an example for others. We also seem to sit around and hope that other people or powers will jump in at the last minute, despite the lack of supporting evidence. I used to own a car before I moved to CA, but now I don't have one, and I'm a car nut, so it was painful at first. Why the sacrifice? Because I don't need one where I am, and frankly, having not owned a car for over a year, I can't think of a single car that is good enough for me. The "efficient" ones aren't efficient enough, and the pretty ones are too thirsty. I'd rather take the money I'm not spending on car insurance, car payments, and gasoline and throw it into an interest bearing account, thank you very much. Maybe I'll invest it in oil...
As for the technologies we'd need to solve our environmental and energy problems, one thing is for sure - we need nuclear power. It doesn't use hydrocarbons and its power density is substantially greater than solar panels or wind turbines. I think it will make the biggest impact, if only we get smarter about using it. People have to get over their fears and misconceptions about nuclear power, because new nuclear technologies not only produce less harmful waste, but in some implementations can also re-use our current nuclear waste and make it even less radioactive. Now take all that waste, consolidate it in a secure underground facility, and for good measure, don't build any houses nearby. Oh wait...we already have that - Yucca Mountain. It's all there, folks! Use it!
From: Jon Rittle, State College, PA
Date: September 2, 2007
Your view: The future of energy is in the collection of solar rays to generate electricity. Many 'fad' solutions such as utilizing hydrogen gas to operate cars is not feasible because of the vast engineering problems associated with transporting and containing such an explosive and dangerous gas. Nuclear power is safe, promising and could easily sustain America for years, but the political and ethical discrepancies that have arisen from Three-mile Island and Chernobyl will also taint this option. Solar cells have the ability to improve 10-fold and reduce in price by the same amount. Too little funding has been spent on photovoltaic cells and other methoods of solar capture. Converting solar rays to electricity is innately carbon-neutral and does not pose the environmental impact that developing hydrologic power plants. We, as Americans need to ask for our government to fund this extremely promising energy source.
From: James Hatman, Clarksville, AR
Date: September 2, 2007
Your view: The reason we utilize the current energy resources is money. If you can make a lot of money in the present without a thought to the future, history has shown that the cycle repeats itself constantly. The majority of planning being done for the future is not on saving the planet or any green approach, but is on profits. There are solutions that will achieve both and profits must be addressed or it will never get off the ground.
I have spent 26 years in the Utility Industry. My job included looking at different power generation options and the success or more often the failures of different approaches and designs. The two largest success stories were a combination of Hydroelectric Generation and Nuclear Power Generation. Hydro however has reached its limit (there are no more streams to dam up). Nuclear has the draw back of too much up front money, but will pay extremely high dividends over the long haul. Coal is efficient but dirty. Fuel oil is both dirty and expensive. Natural gas is clean but very expensive. And wind and solar generation are so low in productivity that the up front and maintenance costs aren't worth the effort.
Solution, restructure the Nuclear Regulatory Commission by at least providing adequate staffing to allow the licensing and construction process to procede smoothly. Disband the International Nuclear Power Organization since it has become a political burecratic organzation that unduly hampers the operations of existing sites. Target construction for 50% electric generation and 50% for the production of Hydrogen to replace gasoline in our automobiles.
From: Wilson Koh, Brisbane, Australia
Date: September 2, 2007
Your view: I'm thinking of a space elevator style scenario here. Important project way up in the middle of the air? Of great importance to the country? Nearly unguarded? Hello terrorists!
From: J A, Kings Mountain, NC
Date: September 1, 2007
Your view: Nucular as GW would say is the only feasible option.
From: Rick Pedley, Kingston, ON, Canada
Date: September 1, 2007
Your view: 15,000 feet of tether, even if it's aluminum, is incredibly heavy. It will be interesting to see how they overcome that problem. Wind farms? How will they prevent collisions and entanglements between these devices? What will the effect on birds be (if anyone actually cares anymore)? Sounds like they will be vulnerable to sabotage; I can see someone flying a drone through a wind farm and wiping it out. My gut feeling is the cost will be higher than the predicted 2 cents. But even if it only -matched- what we currently pay for electricity, I suppose it might still be worthwhile in terms of being environmentally cleaner, and it may lessen our dependence on fossil fuels, which is always a Good Thing. I'd like to see a much lighter tether, how about diamond fiber? And transfer the electricity to the earth station by microwave.
From: SS Kahanek, Texas
Date: September 1, 2007
Your view: Just read this article and it sounds very good. I do have one issue though. If there is a crash of one of these vehicles among many "flying generators" that is supplying power to the whole nation, can you imagine how catastrophic that would be? A craft getting entangled with all the cables of all the other crafts? A massive power failure across the nation. Or will they just have enormous spacing that it will be impossible for a collision, even as a runaway, out of control craft that will not tangle into other power cables.
From: Carl Schmidt, Bloomington, MN, Canada
Date: September 1, 2007
Your view: One major issue, how do you get the energy produced back down to earth?
From: Paul Andrews, Fredericton, NB, Canada
Date: September 1, 2007
Your view: I have to laugh. 9 out of 10 of you write about how nothing will ever change because of "GREED & CORRUPTION of government........". But look who you voted in .... twice. Wow. Support your troops guys.
From: Jeff S, Cincinnati, OH
Date: August 31, 2007
Your view: The American culture is all about cars and convenience. Unless and until there is a way to make alternative energy sources convenient in addition to being economically viable, there will be no major push to incorporate this or other proposed alternative fuels into daily life. Additionally taxing existing fuels such as oil and coal are not the solution. Time after time that these taxes have been increased, the people who suffer most are the people who can afford it least. In our society the automobile is king. Until there is a widespread demand by consumers, automakers and their ancillary support industries will keep producing that which the American public wants. Great strides have been made in the last 10 years, however there is still a long way to go until the general public demands a fuel cell, or hydrogen station wherever gasoline is available. I agree with the general consensus that seems to indicate a combination of all types of energy will be the ultimate solution, however it's going to take much longer than 13 years. Look how long it has taken for our current standard to evolve. Since the car was invented it took around 70-80 years for it to evolve into the dominant form of transportation it has been since the 1950's or 60's. And this growth and acceptance was without consideration of environmental or economic impacts. Do you think by increasing the amount of variables to change the fabric of our culture that this timeframe would decrease to 2020? Only when the American public can unilaterally benefit and not be inconvenienced will an idea no matter how good be grasped and adopted (see personal computing and the Internet).
From: Phillip Fields, Mena, AR
Date: August 31, 2007
Your view: While I'm sure a lot of folks would like to see a big shift away from fossil fuels by 2020 I would say that is not likely. Energy is MARKET driven, and only INFLUENCED by technology. As oil prices increase and advances in technology makes alternative forms of energy more affordable a better mix of energy will be offered from multiple sources, but not to the exclusion of fossil fuels. If oil producers start to lose market share to alternative energy to the point that they start losing revenue then they will cut prices so they remain competitive.
By 2020 I'd say at best alternative energy might have 20% of the world market at best, and thats only if we have a significant shift in automobiles to more fuel conservation alternatives, which I think will happen because while big auto makers and big oil have been sleeping with eachother for a long time (economically at least) the fact is technology for alternative vehicles is about to reach the point where you can make an alternative vehicle cheaper than you can make the standard technology auto of the past, and whith an increasingly competitive auto market the auto makers will lead the first big shift away from oil, NOT because its environmentally friendly, but because they can increase their PROFITS by doing so.
By 2020 I'd say autos will be using a fraction of their current oil consumption, But fossil fuels in one form or another will always be with us.
From: Alan Waker, Smoaks, SC
Date: August 31, 2007
Your view: I'm not sure that the government will just stop using oil. Oil has a very larg impack in our ecomny and thats why they dont try as hard as they can to do something about it. I believe that we should have under tunnels in rivers and oceans and but generators in them. Water can also be usefull if it is used for its Hydragen (whitch is also an excelent choice). I believe that the future holds many suprises for us and most of them will be more helpfull that what we are using today.
From: James Stepp, Orlando, FL
Date: August 31, 2007
Your view: I don't think anything is going to be done and most of what we are seeing is nothing but window dressing. The reason I don't think anything will be done is that we have too many energy interests who have our political "leaders" in their pockets through our corrupt campaign contribution electoral process.
Until we get every special interest group and corporation out of our political process we will never have a government of, by and for the people. Right now we have a system of , by and for the highest bidder.
From: Zac Canders, Somerville, MA
Date: August 31, 2007
Your view: Without a doubt, we will still be using coal, and gas as our main forms of energy. While wind, solar, and tidal are great additions to the energy profile, there is no way that these sources alone can meet the entire countries energy needs.
From: GK, Iola, WI
Date: August 31, 2007
Your view: FUEL ECONOMY
Semi-trucks 80000 1bs 7 MPG
Cars 3000 lbs 30 MPG
FUEL CELLS
Students at UW-Madison designed a fuel cell that runs on ANY hydrcarbon. Expensive catalyst, develop a cheaper one
GEOTHERMAL
Word-wide and unlimited
SOLAR
Again, unlimited
TIDE POWER
Again, unlimited
HYDROGEN
Most of the world is water.
CAN'T
One of the worst four letter words in the English language.
From: Joe Hernon, Olathe, KS
Date: August 30, 2007
Your view: The future of energy needs to be about keeping it local. That is to say, geographic regions need to use the domestic renewable resources available to them. For most regions of the world, this would include the following resources: Active solar, passive solar, wind, hydro, nuclear, and fusion. And, for coastal regions, it would also include tidal. The only way to have true energy security, it to have all of your energy come from domestic supplies of renewable resources. Just imagine if every house in the USA was self sufficient by using the following: Passive solar H&AC, solar cell roofs, residential wind turbine, solar hot water, rain water collection, grey water usage, etc. Is this just a dream? No, it is not. We have had the technology and knowledge to do this for many decades, if not longer. However, before this can be accomplished; we must clean up the GREED & CORRUPTION in both government and business.
From: Alan J
Date: August 30, 2007
Your view: Let's have the govt's of N. America do something that they can do.... Impose a size of engines to a max of 2L. for automobiles.
From: Trevor Bender, Maple Valley, WA
Date: August 30, 2007
Your view: A great source of untapped energy is that which surrounds each of our waist lines! We have all heard about the growing trend towards obesity in America, well let's use that energy to get us to work, or to the market, or when we visit friends.
I have a commute of 25 miles each way, but I try to do this 2-3 times per week via bicycle. Yes it take me about a half hour longer than in the car, but I save on fuel expenses and wear and tear on the vehicle, and I receive the added benefit of a 1,000 plus calorie workout twice a day!
I am concious of the need for safety in my commute, and do everything I can to increase my visibility to cars and ride in a way that reduces my risk. Fortunately, I have the benefit of doing 80% of my commute on bicycle trails, which greatly increases safety and the enjoymnet of the ride.
My recommendation is that cities follow the examples of Seattle WA and Whistler BC and take deliberate actions to construct trails, bicycle lanes, and other combinations of public transportation and bicylce use. There are some cities in Africa that are built with the bicyle as the primary mode of transportation, where entire traffice lanes are restricted to bicycles only, and the residents are accustomed to ridding 40+ miles per day. We can do that here in North America too by simply following the maxim..."Build it and they will RIDE!"
From: Dan O'Brien, Mooresville, IN
Date: August 30, 2007
Your view: To get an idea of what we will be using for energy in 2020, we can look to past history as a guidance. At one time, the dominant energy source for the world was whale blubber. When this energy source became scarce and prices went up, alternate forms of energy then became cost effective and were implemented. In the case of replacing whale blubber, it was kerosene.
Currently, the main source of electrical energy is coal, and coal ore is projected to be plentiful for many years to come. Therefore, we will continue to use coal unless the cost of coal increases signficantly (due to taxes or fees as a result of clean air or global warming policies) or unless the cost of current alternate technologies comes down significantly.
The solar industry has been promising cost effective solar polar for so many years now that it is hard to believe anything they say, and wind power will always be a niche power source due to the limited number of sites available with sufficient wind speed. Nuclear power is not projected to drop in cost anytime soon, so its use depends on the level of subsidation given to it by the government from tax breaks and loan guarantees.
My best guess for 2020 is that coal will still be the cheapest fuel source, so not much will change between now and then. As for energy for transporation (i.e. oil/gas), the same type of economic reasoning will hold true. The industry will continue to use oil/gas until its cost exceeds that of alternative energies such as batteries (i.e. electricity) or perhaps fuel cells.
Even with gas at the current cost of $2-3 per gallon, no one has offered an alternate technology that will pay for itself. Hybrid cars are only cost effective now due to subsidation from tax breaks and the automotive mfg.'s who are selling hybrid vehicles at low margins.
My best guess based on industry reports is that oil/gas costs may in fact be at a high enough level by 2020 that alternate technologies will be cheaper. If that is the case, then we will be using these alternate te chnologies in 2020, but not a minute sooner.
From: Tom Pitch, Henderson, NV
Date: August 30, 2007
Your view: First, there is no energy crisis, nor is there any evidence of an energy crisis. The United States has vast amounts of coal, can purchase as much oil as is needed, and has increasing natural gas reserves. If by "crisis", we are talking about dependence on foreign oil or being "green" that is another topic. Foreign oil dependence can be reduced by opening up Alaska's Arctic National Wildlife Refuge to Oil Exploration, continuing development of shale oil in Texas, and by building more nuclear power plants. If we want to be "green", skip the oil and build fleets of nuclear power plants. We have a couple thousand years worth of uranium, during which time we will develop new technologies for producing energy. We can talk about wind farms, solar panels, and hydro-electric plants all we want to, but in reality they are each very inefficient economically, and at producing energy, especially when compared to nuclear. The energy of the future is nuclear, no matter how much we debate the currently available options.
From: Kumar Cheruparambil, Warrington, PA
Date: August 30, 2007
Your view: Power use is mainly comprised of use in transportation and use in domestic & industrial power. Instead of waiting for scientists to make a remarkable invention by 2020 or breakthrough, conservation today will serve as inventory for tomorrow. We as citizens of the world need to do something from today:
1. Control of Population
2. Increase mass transportation from point to point and make the rates affordable. Frequency must also be increased.
3. Increase of high efficiency energy star equipment for home & industrial use. This can be done only if the price on this equipment is brought down. Everyone cannot afford it.
4. The prices on electric & hybrid cars need to be brought down. People are discouraged in buying such cars as there is less/no return in investment ($$). Tax break is a farce.
5. However, tax breaks can be served as an incentive when the public uses car pooling, works from home or works within 5 miles of work.
6. Go old school i.e., move from napkins and tissue paper culture to handkerchiefs. This will reduce deforestation which indirectly affects the energy crisis in a favorable way.
From: Gabriel Settle, Bellevue, NE
Date: August 30, 2007
Your view: I admire any person who is willing to stand up to those who so worship the almighty dollar that they are willing to sacrifice the very planet we live on. I believe that the technology and science already exists to repair the damage that we have caused to the environment, or at least reverse the process, but NOTHING will actually happen until those in power are willing to sacrifice a few bucks for a better future for ALL of us.
From: David Wigtil, Germantown, MD
Date: August 30, 2007
Your view: George Santayana has already pronounced our fate: "Those who do not learn from history are doomed to repeat it." Ancient Mediterranean folks extinguished the European lion and grazed their lands down to the rocks, Pleistocene extinctions in huge swaths across the globe coincide directly with initial human arrivals, and all the forests of Easter Island were wiped clean. Has any modern society reduced its material cravings? Has any nation begun burning less fuel or using less electricity? Mind you, not "slower growth in demand," but true reductions. No. And almonst none show actual decreases in population (and only very small countries). Sorry. Agreed: no political will. Terribly gloomy prospects.
From: Joe Phillips, Robbinsville, NC
Date: August 30, 2007
Your view: As long as the government we elect to represent us is a bought-and-owned subsidiary of the pharmaceutical and energy(oil) industry, energy in our country during the year 2020 will look much the same as it does today, only with higher prices. As long as our current reserves of energy hold out, big oil will continue to rape the American public, with the blessing of our government. It is ironic that big oil will be the group that will eventually deliver to us alternative forms of energy, but only when existing sources are truly almost depleated, and it is economically advantageous for them. In the end, it is always about money, and the American public will, as usual, be the ones to pay.
From: Aalliyah Bashir, Milwaukee, WI
Date: August 30, 2007
Your view: It's good to know that we're thinking about our future and what's to come. In the same sense, Katrina , 9/11, and other recent disasters should have been a wake up call for us. These tragedies have shown me just how unprepared we are as a nation to handle devastation. I think this is what we should be focusing now. Especially since these tragic events seem to be happening one after the other. I myself have been fortunate enough not to have experienced this. I have, however, been a victim of a blackout. And I will tell you that I was totally unprepared. So maybe these politicians should be educating us on what to do to prepare for a state of emergency rather than instigating them.
From: Andrew Conner, San Antonio, TX
Date: August 29, 2007
Your view: We should have generators powered by the tides and underwater currents of the ocean.
From: Mark Leenders, Edmonton, AB, Canada
Date: August 29, 2007
Your view: It does not matter what I think compared to the Great Man, but I agree with Stephen Hawking that we need to get off this rock and spread ourselves, and Earthly life along with us, through space. Therefore I cannot praise enough the US and other space programs, and the nations that have the foresight to fund them, in helping us acheive this lofty goal.
As for those of us left on Earth, and I as an older person will almost certainly be one, I want to pose a scientific question: What happens when the Arctic Ocean is ice free and can evaporate more moisture into the air, and the current trend toward excess rainfall comes to the cold and currently dry lands of northern Canada and Siberia? In those cold places, the excess precipitation will surely fall as snow, and ironically all that is needed to begin an ice age is a few years of more snow falling in the winter than melts in the summer. Ancient climate graphs almost always show very steep temperature drops after a period of warming similar to our current one.
From: Dave Knaack, Omaha, NE
Date: August 29, 2007
Your view: This problem of 'energy security' is much worse than you have been led to believe. When you hear the term used in the popular news it is generally in the context of protecting our country from enemies who would damage our oil supplies or infrastructure. However, I believe that that meaning of 'energy security' is not what our leaders are primarily concerned about, and rightly so. They are well aware that oil production is set to peak within the next decade (or thereabout, estimates vary), and they understand how critical this issue is. If you do not, search for 'peak oil' and read with an open mind.
Unfortunately, our leadership seems to have embarked on a path of conquest to secure our access to limited oil supplies rather than settings upon a path of conservation, efficiency and technology and lifestyle changes. The latter path is the only one leading to a future of sustainability, health, happiness and prosperity.
It is up to us to ensure that the US and the world switch to low-energy, high efficiency practices. Pass the word at every chance, and take a good, hard look at your lifestyle to see where you are wasting resources. It is not enough to wait for someone to put up a wind turbine in your area. You must act now to identify your own personal consumption habits and change them for the better. Live by example.
From: Ron Hessinger, Danville, VA
Date: August 29, 2007
Your view: We will still be under the power of oil and coal lobbyists. In order to make drastic energy changes our government must be transformed. Energy must be clean and will only come from fusion.
From: LISA MCMILLAN, OTTAWA, ON, Canada
Date: August 29, 2007
Your view: Whatever happened to horses? I've always wondered why the automobile was considered such a great improvement over the horse. Horses are beautiful and don't require gasoline. What's more - why do automakers design cars that can travel at 120 mph when most people never need to travel that fast? Lower speeds use less gasoline and cause fewer accidents. Why don't automakers design a car that has a maximum speed of 60 mph?
From: Jason Rushmeyer, Phoenix, AZ
Date: August 29, 2007
Your view: I once heard on the television that, 'the stone age didn't end because humans ran out of stones...'
That is exactly the case here. We might think that the big companies run things but the fact is that with the internet and instant communication if something works the word gets out. In terms of energy, I don't feel that there is or will be a silver bullet to any of the world's energy needs. I see regions using there unique resources to deal with their energy needs. For instance, the SW with solar. There is a solar energy tower in Seville, Spain that will soon have the capacity with its solar program to supply 600,000 people with energy. The coastal areas with wind. Already being used in the Netherlands and being tested in other ares of the US. And various other regional applications of geothermal, hydro, and so on. Yes, it takes infrastructure and time but it will happen. It scares to me hear the nay sayers nit pick at such wonders with various minimal enviromental, and asthetic concerns about some of these technologies. I feel that it is that kind of thinking that!
infects others to close their mind to reality instead of looking ahead. As far as cars go. Humans will start voting with there dollars and soon enough start to adjust their living to use less gas. Wether to be proactive about green house gas emmissions or because their pocket book. Recent times have shown the opposite, with rising gass prices and rising demand, but even Americans have their breaking point. Especially when healthcare is going to basically double in the next 5 years if nothing is done about it.
Visionaries are all around us. Many programs on the television show us poeple who have developed countless energy saving, producing and reducing meathods and technologies. Capturing wind in the "windy city" to produce electricity for buildings. Seems simple to me. Also, using hydrologic activity near rivers to utilize that enegry, and even such devices that take a little energy and increase it using physics. These are all things that are here. Just because they haven't been put on the shelf at Wal-Mart doesn't mean they are too good to be true. Like it says in the topic question for this "Just Imagine" feedback, 2020 is not far away. It's time to re-evaluate what we want as humans against what we have.
I don't see the future having an energy problem, I see it having a power problem. People have the power to change things. And that power resides in the want to change. Pushing your community leaders, govenors, congress or whoever to try pilot programs to show people that these things work. Buy solar for your house, get a tankless water heater, change out your light bulbs, all of that isn't just things to do, they are changes in thinking.
We as Americans, as humans, need to change our way of thinking. That will change everything.
From: Chris Harrington, Overland Park, KS
Date: August 29, 2007
Your view: Nasa had plans to have a human on the planet of Mars by 1981. If you went into a technological feild in college, by the time you would be a junior. Your freshman first semester is arleady outdated. Any routine job, a postman, mcdonalds worker, bartender, nurses etc. Will all be replaced by robot androids. Why? Cause they're better. Programed to know more than us. Ever wonder why the earth is nearly 3/4's water. I believe that the Energy in our waves, will produce our Light in the world. We'll live on water, in water. Diseases will fade, medicines will make PROFOUND advances. We will be a lazy, divided between rich and poor world. Virtual reality will be, But last- We'll discover this world has no end- God left questions for EVERYONE to never be answered
From: Bill Heitzler, Silver Spring, MD
Date: August 29, 2007
Your view: We can already see the future happening right now. We are slowly weening ourselves off gasoline with hybrid cars. In the future everything will be run on electricity. The big push now is developing smaller, lighter weight batteries. Electricity in the future won't come for natural gas or coal. Part will come from the now growing markets of wind energy, solar energy, and hydroelectric energy. The remaining demand will be supplied by nuclear power.
From: Robb Newman, Oxford, England
Date: August 29, 2007
Your view: Gerard Knies is long on vision, but short on science. African solar farms will never be big enough or efficient enough to supply Europe with significant amounts of power. Efficiency calculations so simple that a high school physics student could do them will tell you all you need to know about the feasibility of solar power. Solar intensity (~100 W/m/m) is simply too diffuse to be usable as a large scale power source. It's great for individual houses in remote locations, because installing a local solar collector is actually more efficient than building all the infrastructure to connect to a centralized grid, but solar will never be a panacea for (nor even a significant contributor to) the grid itself.
From: Richard Lougher, Atlanta, GA
Date: August 29, 2007
Your view: 2020... this is only 12+ years away. No virgin technology can be developed and implemented in that time. So clearly, we will still be using fossil fuels. We may be on our way to something new, but we will be far from an "America Wide" new energy program. Contrary to popular belief, we cannot change the world, so we will be mainly working on the home front.
However, here is a note. As long as executives of major auto manufacturers are permitted to affiliate with the oil industry, MPG will never improve on a rapid scale. When the Telephone and Natural Gas industries became so prolific within their respective industries, the US Government stepped in and forced them to divest themselves in to smaller non-affiliated companies. Why are we not doing this to the automakers?
Currently, automakers are driven by three main factors. Purchase Price, Appearance and MPG. Well if MPG is directly related to corporate and personal stock holdings, why would they improve MPG?
Another note. Solar is too expensive per kW, Batteries only shift pollution from one source to another, Hybrid cars are the wrong execution of the right idea, and nothing can compare to the current use of internal combustion. It took us 100 years to get where we are with internal combustion and it was widely accepted. If we are 50 years out on widely accepted "new" energy that puts us 150 years out to be on the ball with something new. Forcing high MPG period, is the only way to reduce fossil fuel consumption. And with reduced demand is reduced price and reduced power of Third World countries over US markets.
From: Joey Douglas, Austin, TX
Date: August 28, 2007
Your view: Simple...if America makes the right decision, then we will still be predominantly using oil and gasoline. America only needs to back it's very own technological innovations, such as the Starrotor engine to accomplish energy independence and prosperity. The starrorotor engine is a rotary engine that will allow most vehicles to deliver 100 miles-per-gallon. Unfortunately, the United States government has not quite acknowledged this innovation, neither has Ford or GM.
From: Daniel Coscarella, Kingston, NY
Date: August 28, 2007
Your view: When i think about the future of energy, our current fears are what i beleive will drive the result. When looking for energy we are looking for renewable sustainable sources. I say its easy. Teh decomposition of garbage creates methane, and also the organic materials could be used as a fuel. Truly a renewable resource, that would also limit the ammount of negative impact garbage has on our enviroment.
Also the Sun and water are going to fule things as well. As we relize the potentials of our most accesable power sources(our waste, our water, and the suns rays) we will become more efficient, cleaner, and sustainable.
Fear Ethanol, and fight lobbying... Then we might get somewhere...
From: Barry Hughes, wayzata, MN
Date: August 28, 2007
Your view: Peak-oil may have already come and gone. With no new reserve capacity on the scale of the middle east fields left we are in real trouble. We won't "run out", but only the very wealthy and governments will be able to afford it. Most populations will return to cole as a primary source of fuel during the hard times that this crisis will bring. After cole, who knows?
From: Louis Rupp, Oak Ridge, TN
Date: August 28, 2007
Your view: The magnitude of the energy situation is staggering. The electrical grid alone is over a thousand gigawatts of power. Meanwhile, people are wasting time looking for scapegoats. It's not just the SUV lumbering down the highway. It's also the mobile home with the window AC units, Al Gore's 2,000/month heating and cooling bill and every other home with single pane glass. (Please don't yell at me, I'm replacing several of mine this month.) Our entire way of life depends on power.
That's the problem in a nutshell. I hear people complain about why certain solutions won't solve the problem. No single solution can solve the problem. It's too big. It will not be nuclear, wind or solar. It will have to be all of the above. We can't argue bio diesel or ethanol, it will require both.
Let the price of fuel go up using taxes if necessary. That will force people to add insulation to their homes and buy more efficient vehicles and appliances. However, the taxes should only go to subsidize alternative energy production to encourage an industry in its infancy. If a lunatic oil tycoon wants to build a 2 gigawatt wind farm, give him a tax break for it. Encourage him to build another when he's finished. And when some twit says "Not in my backyard!" Cut off his electricity and tell him to get used to living in the dark. (OK, maybe that's a little extreme but I was on a role and I just didn't have the heart to delete it.)
Can we solve the problem? Yes
Will it be easy? No
Will the transition be painful? Probably
The sooner we start, and the better our understanding of the task at hand, the less pain we will have to endure.
The more time we waste looking for scapegoats or denying there is a problem, the more it's going to hurt.
It's sort of like the difference between setting a broken leg vs amputating it. Either way, there will be no anesthesia.
From: Shannon Madden, Mount Hope, ON, Canada
Date: August 28, 2007
Your view: I think that Gerhard Knies is on the right track. We should all be looking at our current lifestyle and find ways to live in harmony wth nature. I would like to see our world go back to a more simple way of living using some of the great things from today and yesterday. Solar energy and wind power are right there for us to harness. Why not use the tools that Mother Earth is offering us? We need to disengage ourselves from the "power grid" as we know it and start making our homes self sufficient or powered with only solar and wind combinations and limit our power usage. I would love to live in a house or community completely removed off of the power grid. It would be a great learning experience. It is also the career of the very near future.
From: Philipp Kunze, Palo Alto, CA
Date: August 27, 2007
Your view: Great article. However, it is missing the fact that the competitiveness of solar power is always an interplay of sun hours / solar radiation AND electricity rates. In fact German electricity rates are double those in Spain, so contrary to everybodies belief, Germany and Spain will become cost competitive in solar at the same time. Only Italy and CA will fare better. My real belief is that right now is the time to set the stage for an industry and that is not even a question of competitiveness, but of conviction. If you are convinced that the way forward is renewable energy than you have to make sure that industry grows and follows the path of the wind industry regarding cost reduction. And that is certainly what the Germans have done...
From: Matt Reznicek, Houston, TX
Date: August 27, 2007
Your view: By 2020 we will still be using coal and fossil fuels for our energy needs. Nothing else at this point is cost effective, and it still wont be by then.
From: Bobby Bothmann, Good Thunder, MN
Date: August 26, 2007
Your view: I'm getting a 2kW solar panel system at the end of Sept. and couldn't be more excited. I hope that it may also inspire others in the area to make the move to renewable energy sources. The more the government can facilitate this process, the better off we'll all be, and we we could even shut down a few nuclear power plants.
From: Craig Anderson, Toronto, ON, Canada
Date: August 26, 2007
Your view: It will be very troublesome to fly a plane without fuel. Battery technolegy although used for cars more and more is still experencing problems. I don't think its readily adaptable to flight. Hydrogen is too expensive but could possibly be adapted for flight. Unfortunately nuclear is the only real large scale alternative at the moment and I don't like the risks involved. ergo earthquate in Japan recently. Geothermal, solar etc must be advanced and legislation should be enacted right away to made hybrid car by all car companies - just for starters.
From: Gilbert Saenz
Date: August 26, 2007
Your view: This is another stellar example of CNN highlighting those who realize the importance of renewable energy and the urgent need for sustainable development! Thank you for covering Mr. Knies' work and dedication to our future. I admire all those who envision a better way and act upon it; just to name a few: Amory and L. Hunter Lovins, founders of the Rocky Mountain Institue and co-authors of Natural Capitalism, and David Orr, Professor of Environmental Studies at Oberlin College. I've been so inspired by their work and publications that I recently transitioned as an Attorney practicing law in Texas, and former U.S. Navy JAG, to my current hands-on position as a Solar Technician in California. In the past four months, I've participated in the installation and servicing of dozens of photovoltaic systems around the SF Bay area. It's an exciting time for solar, and there is much room for improvement in every facet of the industry -- implementation, product ion, manufacturing, support, R&D, and financing. Keep up the good sustainable coverage!!
From: Dave Freshwater, Durban, South Africa
Date: August 25, 2007
Your view: The earth is being constantly bombarded by solar radiation via the solar wind and the occasional coronal mass ejections. This radiation gets trapped by the earth's magnetic field and later enters the upper atmosphere over the polar regions where it causes the aurora. This radiation (as far as I understand) consists mainly of electrons, and electrons are electricity. The amount of energy entering the polar regions varies constantly from a few GIGAWATTS to over 200 gigawatts of power. If only there was a way to trap this power and bring it down to earth. This would certainly solve some of our energy needs.
From: Joe Fabris, Highland, IN
Date: August 25, 2007
Your view: Most of my driving - about 95% - is done within a 100 mile radius of my home. An electric car appeals tremendously to me as I believe that good quality electric cars can be built for under $30k that will give 250 miles per charge and cost about 1-3 CENTS per mile to operate. If 90% of our population switched to electric vehicles, I believe crude oil usage would plummet. If we put our resources, aka-tax money - into developing electricity through wind, electric-generating solar cells and nuclear power plants, our cars would run forever AND a new cutting edge industry would develop providing needed jobs.
From: Judge Winchester, Perth, Australia
Date: August 25, 2007
Your view: If I was to say that Australia could source 50% of its electricity from the deserts via Concentrated Solar Power, would I be correct?
From: T Morgera, Sr., chelsea, MA
Date: August 24, 2007
Your view: Two thoughts... One: A global solar network would be fantastic. As the sun rises on one side of the planet, it provides enough solar produced energy for itself. All excess energy produced would be sent to the night side. There are enough unused areas of the planet where massive solar farms could do this.
Two; Use static electricity to generate enough voltage to pwr stable/clean generators. If you go out to any free-standing tower (radio, tv, cell, pwr, etc) and put a meter between the tower and it's grounding point, its gets well above 600 volts. Why can't we use that for something? Thank you.
From: Nathaniel Flowers, RSM, CA
Date: August 24, 2007
Your view: I don't think the energy crisis in the U.S. will be solved by 2020. I think we lack the political will. But, I think by 2050, all of our energy will come from alternative sources. Meanwhile, elsewhere in the world, less bent by corporate power, the energy crisis has already been solved, and the climate crisis is on its way to solution.
From: matthew morrissey, branson, MO
Date: August 24, 2007
Your view: I FEEL VERY STRONGLY THAT OUR ENERGY NEEDS IN THE FUTURE WILL BE ABSOLVED BY THE RE-DISCOVERY OF THE VAST SEA OF ETHERIC ENERGY THAT SURROUNDS US AND CAN BE OBTAINED EVEN IN THE VOID OF SPACE. MAGNETICS WILL HELP US UNDERSTAND HOW TO EXTRACT THIS ENERGY. PERPETUALLY....
From: Bruno Angelin, Oregon House, CA
Date: August 24, 2007
Your view: Put a tax of 5 cents on gas. Cover the freeways with solar panel using that money. Add windmills where convenient. Develop a technology to recharge car and trucks while they are driving.
From: Kevin Tennant, Greentown, PA
Date: August 24, 2007
Your view: Here's my two cents on a simple way to reduce our independance on oil. Corporations should permit their employees to work from their homes. Most companies have spent large amount of money installing the technology to support "virtual offices". Imagine the amount of gasoline that would not be purchased if today's workers spent 80% of their time working from their home office. I know this approach is not for everyone, but there is a significant part of the workforce that can operate this way.
E-mail to a friend