By Mairi Mackay
For CNN





(CNN) -- In the past, homes of the future were all about sliding doors and friendly servitor robots but today's predictions link technology with sustainability as much as with convenience.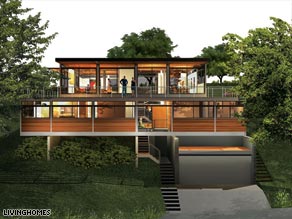 Rendering of how the Wired LivingHome will look when it is completed.
The latest house -- billed as a blueprint of how people could be living in the near future -- is the result of collaboration between Tech magazine, Wired, green developer LivingHomes and acclaimed modernist architect Ray Kappe. The $4m Wired LivingHome is situated in Crestwood Hills, a protected enclave of architecturally significant modernist homes in Los Angeles.
It is fully automated and merges high design with state of the art appliances, computer gadgetry and even a high-tech domestic solar energy system to power them.
Wired is in charge of all things technical in the house and the team is very determined there should be no wacky futuristic prototypes in the house -- everything inside is the best and most advanced of what you can buy today.
Maya Draisin, Director of Special Projects at Wired magazine said: "We are hoping to show the most innovative technologies and products currently available that are both hi-tech and low impact. It is a demonstration of the way things are moving forward."
Green Technology

Some of the most exciting technologies in the LivingHome are the ones you don't see -- and they are all about sustainability and energy-saving. "People tend to think of living in a 'Wired' way as having a bunch of gadgets, which is a piece of it for sure, but...technology is also a part of how things are built both sustainably and smartly. We believe technology is driving many of the things that make green living possible," Draisin told CNN.
A major prediction illustrated in LivingHome is that houses will become adaptive. Technologies like automatic thermal blinds, motorized windows and vent systems will activate across the exterior of the house in response to temperature, angle of the sun and wind to keep internal conditions stable and conserve energy. Wired writer, Bob Parks explained: "Your house exterior will be like an expensive Gore-Tex hiking jacket -- if you feel a bit too hot or cold here or there, just open a flap or zip up a vent."
Automated sprinkler systems are hardly cutting edge but the lawns outside WiredHome will be studded with hi-tech sensors which measure when it last rained, adjust the sprinkler systems to stop the grass from drying out and avoid wasting water. In the kitchen, smart appliances supplied by Bosch use sophisticated computer chips to save water and energy. Sensors in the washing machine and dishwasher measure the dirtiness of water so washing cycles end when plates and clothes are clean. The tumble dryer is smart enough to switch off when clothes are dry rather than continue to the end of a pre-programmed time.
Even with all this energy saving, the LivingHome needs power and it exploits the latest renewable energy technologies which can create lots of energy in a domestic setting. A 4-kilowatt SunPower Corporation solar power system helps the house be 36 per cent more efficient than a comparable conventional home. The house also has lofty ambitions to make its human occupants a bit smarter. Loaded onto a home computer, the Lucid home energy dashboard shows real-time energy use so inhabitants can see the results of their activities and modify their behaviour to be more energy efficient.
Home automation
Wired collaborated with home automation experts Control4 to put the owner in complete control. Lighting, security, climate control and entertainment can all be controlled via a cutting-edge central server which is as easy to use and maintain as a DVR player. At the touch of a button -- either at home or over the web -- a sequence of events can be programmed to happen. At bedtime, the owner can program the house to turn all the lights off, switch the security on and set the motorised shutters to open at 6am as a wakeup call. But the first thing anyone arriving at the house will see is the Panasonic Iris Scanner. Better identity authentication boosts home security but it also functions as part of the wider home automation scheme, meaning no more fumbling at the front door for keys.
Entertainment/Work/Play
As we move into the future, screens will proliferate in our lives. The LivingHome rides this trend, putting screens into almost every room in the house. To stave off boredom while the kettle boils, the kitchen has a 17-inch LCD screen and DVD/CD player, as well as the innovative HP Touchsmart PC with a 10-inch flat screen, wireless keyboard and mouse if you fancy surfing for a few recipes. The HP Touchsmart makes an appearance in several other rooms, notably in the office where it can be used with the Ebeam, an interactive whiteboard that will record all your scrawls onto your computer as well as broadcasting them to another location. It is currently being used by US teachers teaching Mexican children English remotely. "It's an example of how a wired worker who probably works with people all over the world could collaborate in real time," said Draisin.
Among the myriad gadgets packed into the house, it will showcase the Moxi digital media recorder which allows high-definition DVR in multiple rooms. It is the first of the next generation of DVR players and camcorders which will improve the quality of content on sites like YouTube and also of home movies and photos. "Each individual person will become more and more high-end in their creative development, which I think is really exciting," said Draisin.
A geek's dream, the house's Games Room will be fitted out with the coolest gaming accessories on the market. The accessories are currently not confirmed, but Wired is exploring the possible use of gaming consoles powered by a stationary bike so they do not draw energy off the house's main energy source. Simplicity is also key with all gadgets controlled by one-touch screen remote control.
The Future
As cutting-edge technology moves into the mainstream and becomes cheaper, and companies like LivingHomes strive to bring down the cost of hi-tech high-design homes, the hope is that more and more people will live in houses like this one. It is likely that environmental issues will continue to move up the agenda, which will create added impetus for people to adopt sustainable technologies that are already on the market and new ones we don't know about yet. Maya Draisin is looking forward to it: "The future will be adaptive in a way we're just starting to emulate here with this house. To me that is the most exciting thing."
....................................
Will all homes become fully automated and intelligent in the future? Share your views and read others' thoughts in the Just Imagine forum.
E-mail to a friend