By Mairi Mackay for CNN





LONDON, England (CNN) -- White contrails crisscrossing the sky over every major metropolis are a constant visual reminder of the fundamental role of airplanes in modern life.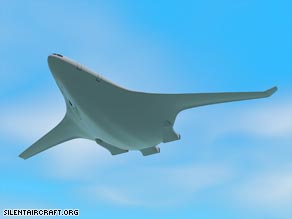 A CG rendition of the Silent Aircraft Initiative's blended wing SAX-40 concept aircraft
A world without air travel is inconceivable, but what might it be like in the future? Is the jumbo's jumbo, the Airbus A380, a taste of bigger craft to come? And with energy sources in question, will we even be flying?
Passenger travel is growing at a rate of three percent each year, with air-freight growing even faster. Current projections estimate the number of people traveling by air -- both in the US and abroad -- will double or even triple by 2030.
Meanwhile, fuel prices are hitting record highs, with analysts increasingly expecting oil to break the $100-a-barrel mark, while airplanes are branded as global warming enemy number one because of their habit of depositing CO2 emissions high in the atmosphere.
A legion of aeronautical researchers and designers around the world are seeking to keep up with future demand for air travel while reducing its environmental impact and increase its efficiency. But is it possible?
Dr Juan Alonso, head of NASA's Fundamental Aeronautics program certainly thinks so.
Current research points to a dramatic re-design of airplanes which will not only accommodate higher volumes of air travel but will also be more environmentally friendly than today's craft.
"We have to come up with solutions in the aerospace world. A large part of these solutions come from introducing aircraft with new technologies," explained Dr Alonso.
One of the major drivers in aircraft research is improving craft efficiency. It is conceivable that in craft of the future, fuel burn - which directly affects energy use and environmental impact - could be reduced by anything up to fifty percent.
One way to do this is to change the shape of aircraft.
"Currently we use the tube and wing paradigm," explained Dr Alonso. "We've optimized the heck out of that concept. The Airbus [A380] is almost as good as it can get."
Don't Miss
There is still much debate going on in aeronautical circles, with Boeing, the European Research Program and NASA all searching for the optimum aircraft shape.
"Laminar flow," where the turbulence of airflow over a craft's surface is reduced, is one possibility being explored. Laminar planes borrow the huge wingspan of gliders, which maximize laminar flow, with hi-tech smart materials supporting the wings.
Researchers are also looking at using very advanced computers to constantly monitor the load on aircraft wings and change their shape for maximum efficiency in the air. Taking inspiration from nature, these craft mimic the movement of bird and insect wings by morphing dramatically mid-flight.
But currently, the blended wing body looks like one of the best contenders for the future. Research is being conducted by NASA, Massachusetts Institute of Technology and Boeing into the radically changed airframe, which is similar in shape to a manta ray.
Blended wing body concept
The SAX 40 aircraft prototype -- a blended wing body aircraft -- is the fruit of the Silent Aircraft Initiative, a three-year multi-million dollar collaborative project between Massachusetts Institute of Technology (MIT) and Cambridge University, England.
As the name implies, the main thrust of the project was to find ways to make planes quieter. But the team found that the same technological changes that make craft quieter also make them more fuel-efficient.
"[This aircraft] provides a lot of opportunity to reduce noise and emissions which is linked to fuel burn. It has the potential to change the game for noise and fuel burn," Zoltan Spakovszky, H. N. Slater Associate Professor of Aeronautics and Astronautics at MIT and lead researcher in the Silent Aircraft Initiative told CNN.
The blended wing aircraft spreads out the fuselage generating lift compared with the current airplane paradigm -- tube and wing -- in which lift is entirely generated by the wings. This immediately boosts fuel-efficiency.
The SAX 40 embeds the engine in the airframe allowing it to shield noise radiated forward from the engine fans. This is a big step forward particularly at takeoff and landing, where the 'little hurricanes' of air created by the jet engines account for most of the huge roar. Embedded engines also reduce aircraft drag, and consequently fuel-burn, making the craft much more efficient.
But conjuring this plane from theory will be challenging. New flexible materials are needed to accommodate the changed architecture of the fuselage, while embedding engines in the fuselage also has many design implications, not least maintenance access.
"It's a question of can we overcome some [of the] technological risks," Professor Spakovszky explained.
But researchers' predictions may be persuasive enough to entice big business. The SAX 40 is projected to fly 149 passenger-miles per gallon of fuel compared to 120 miles for the best current aircraft of its range and size -- an equivalent fuel efficiency to a Toyota Prius Hybrid car carrying two passengers -- while cutting noise outside the airport perimeter from around 88 decibels to 63.
"People around airports worry about noise, but global warming is a much bigger problem," Professor Spakovszky told CNN. "If you trade the noise reduction for fuel-burn you have a very efficient airframe."
Spakovszky is now heading up a new three-year, NASA and Boeing-sponsored project to push blended wing concepts forward and increase fuel efficiency.
Lower speeds and altitudes to cut fuel by half
In common with both Alonso at NASA and Spakovszky at MIT, Ilan Kroo, Professor of Aeronautics and Astronautics at Stanford University believes environmental constraints will be the most critical aspects of future air travel.
"To enable air travel at all we may see a very different kind of airplane and very different kind of operation," he told CNN.
Kroo believes the way we fly planes may change. Currently all commercial airliners cruise at speeds of around Mach 0.85 (85 percent of the speed of sound). Kroo believes in the future planes may slow down, say from Mach 0.85 to Mach 0.75.
He also believes planes could fly at lower altitudes because of concerns that contrails affect the atmosphere. Other environmental impacts would also be reduced. Nitrogen oxide emissions, unburned hydrocarbons and water vapor all have an impact strongly related to how long they stay in the atmosphere: lower altitudes help reduce this.
"It's uncertain, but people are actively planning flight paths at lower speeds and altitudes. The sky in the future may not be filled with white lines," Kroo said.
This would mean very efficient airplanes flying at slightly slower speeds -- a small change in convenience but a profound reduction in environmental impact. A reduction in fuel burn of 50 percent is not out of the question, according to Kroo.
Supersonic flight -- for a select few...
At the other end of the spectrum, efficient supersonic travel could see travel times cut in half by 2030, affecting global commerce dramatically. Research is being conducted into flying at twice the speed of sound but in a manner very different from the world's only other dalliance with supersonic flight -- Concorde.
There are active programs in Europe, Japan and the US looking into noise reduction technologies for supersonic flight. Supersonic craft of the future will also have a similar environmental impact as subsonic craft.
Supersonic craft of the future are most likely to be small, seating eight to ten passengers, and initially used for business travel.
Air travel: a future revolution?
But whether it's manta ray-shaped planes, slower and lower flight paths or a new breed of supersonic air craft, air travel of the future is set to transform.
"Improvements in performance, in noise and emissions are required," said NASA's Dr Alonso. "They are not incremental changes. We will need to come up with radical concepts. I would qualify it as a revolution."
.........................................
Does increased air travel have a role in our future? Should we fly less to combat global warming? Share your views and read others' thoughts in the Just Imagine forum.
E-mail to a friend