By David Challenger
CNN





Editor's note: CNN.com's David Challenger journeyed along a stretch of the Silk Road that is inside China. This is the second of a five-part travelogue recounting that journey.
(CNN) -- After more Chinese tea that served as breakfast, I visited a guesthouse-cum-travel agent across the road to enquire about a train ticket to Xian.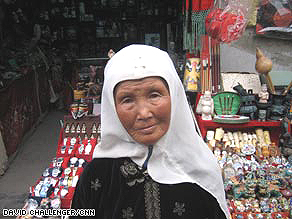 A Muslim woman sits in front of her shop in the Muslim Quarter of Xian.
The agent informed me all the trains were booked out. He suggested the bus, which sounded a better bet. It was only six hours, compared to 11 for the loco, with the ticket costing 180 RMB ($23.50).
I warily asked if the bus was new, air-conditioned, clean and non-smoking. He nodded enthusiastically, grinning his goofy smile.
"Of course, it's very new," he said. "Newest bus in all of China."
Two hours later I was on an old, hot, dirty, smoky bus heading toward Xian. Despite its drawbacks, the bus was making excellent time.
Along the busy two-lane freeway, the bus would sometimes stop to pick up passengers, though there were no designated bus stops to speak of. One guy disembarked in the middle of nowhere, and headed off with his battered suitcase through fields of corn, not a house in sight.
Along the journey we added an "a" -- and at some point about midway, entered the province of Shaanxi, the "cradle of Chinese civilization."
Then, major aggravation; we hit a huge two-hour traffic jam, and must have only traveled about 20 kilometers (12.5 miles) or so during the holdup. Just when things were at the peak of deadly dull, we crept past four domesticated pigs lying dead, side-by-side, on the separating strip of the highway.
They must have fallen off the back of a livestock truck.
Don't Miss
A small dog, about half the pigs' size, attempted to drag one off into some scrub, while in between taking small nibbles at one of the creature's underbelly. It was making little progress, but despite the slow going, it was the happiest dog I'd ever seen.
Finally, after more than eight hours, we hit the outskirts of Xian -- capital of Shaanxi and the eastern gateway to China's ancient Silk Road.
Serving as China's capital during at least 10 dynasties -- including the Qin (221BC-206 B.C.), Han (206 B.C.-220 A.D.), and Tang (618 A.D.-907 A.D.) -- Xian ("Western Peace") is nothing short of a living, breathing museum.
The center of Xian -- the oldest part -- retains its original grid pattern, constructed during the Tang dynasty, though the magnificent 14-meter high by 14-kilometer (46 feet by 8.7 miles) long wall that encircles the city was largely extended during the Ming Dynasty (1368 A.D.-1644 A.D.).
Once inside the walls, the bus driver negotiated the narrow streets with skill, and dropped us at the station. Within 40 minutes I was booked into my hotel, which was in close proximity to some of the city's best attractions, and just around the corner from the city's dead center -- the imposing Bell Tower.
I headed out and walked the streets for hours, taking in the atmosphere and trying to envision what the city must have been like when, in the 7th century, it was the world's most populous metropolis.
Eventually, I looped back past my hotel and under the Drum Tower, and made my way into what must be one of Xian's most intriguing sections -- the Muslim Quarter. It's here that many of Xian's sizeable Muslim minority reside, many of whom are direct descendants of Silk Road travelers.
Bustling, small streets are crammed with shops that sell everything from jade ashtrays to Mao watches, while enticing smells waft out from restaurants and side-street barbecues.
As dusk arrived, the color and atmosphere of the quarter intensified -- restaurateurs wearing white skullcaps yelled out their menus to passersby, while old women with crinkly, lined faces and toothless grins beckoned walkers over to their ornately arranged carts in the hope they'd buy some dried fruit or exotic nuts.
I indulged in both, eating some delicious cumin-marinated lamb kebabs, and buying a bag of almonds and dried apricots, all for under 30 RMB ($2.60).
On the way back to my digs, I again passed the Drum and Bell Towers, both beautifully lit up in a wash of lights and colors.

View some of Xian's best highlights and read about their history in our photo gallery »
I stopped at my hotel foyer and enquired about a train ticket to Dunhuang in Gansu province -- the next stop on my itinerary -- as I knew tickets could sometimes be hard to obtain. But the hotel manager was a godsend, and after a few phone calls she'd managed to secure me a 1st class sleeper for 330 RMB ($43). She then outdid herself by helping me to organize the following day's excursion to the famed Terracotta Warriors, about 30 km (19 miles) from Xian.
The 160 RMB ($21) cost of the ticket included an English-speaking guide/driver, and additional stops at the Banpo Neolithic Village and the tomb of Qin Shi Huang.

Before retiring, I was hoping to catch some world news, but was frustrated to find yet again there were no English channels on my TV. I wondered whether this would change as the countdown to the Beijing Olympics approached.
E-mail to a friend