By Marnie Hunter
CNN

(CNN) -- Shuffling through airport security in your socks or sitting in traffic may seem like a breeze compared with the stresses of settling in under the same roof with family.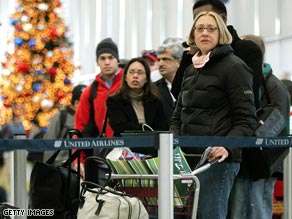 You got through the airport gauntlet and you're home for the holidays. Now you have to face your family.
Tensions often run high during the holidays, but there are polite and effective ways to manage those tricky interactions.
Be assertive
Your mother expects you home for Thanksgiving and your in-laws are demanding an audience with their grandchildren. You can't please everyone, so decide how you're going to spend the holidays and stick to that plan.
"Sometimes it's really about being assertive and saying, 'you know what, Tom and I are going to spend Christmas with Tom's parents and Thanksgiving with my parents, and that's what we're going to do,' " said Lizzie Post, author of "How Do You Work This Life Thing?" and the great-great-granddaughter of etiquette expert Emily Post.
Talk about your arrangements before the visit and make the necessary preparations. You might feel that your energetic kids will drive the rest of the extended family crazy. Discuss it with them and be honest about your preferences.
Don't Miss
"Don't put it off on them by saying, 'I know the kids would bother you.' Your host will decide whether the kids will bother her or not," Post said.
You might decide to stay in a hotel. If that's the best option for you, make clear that the decision isn't based on not wanting to spend time with the family, said Dr. Nadine Kaslow, a professor in the Psychiatry and Behavioral Sciences Department at Emory University School of Medicine.
"Sometimes you think people will be offended, and they're actually relieved," Kaslow added.
Be realistic, but optimistic
Don't go into the visit assuming you'll need a stiff drink to survive. If you think that way, you will, Post said.
"Go in with the attitude, 'I'm going to spend four days, a week, a weekend with my family, and I'm really excited about it."
Think positively, but don't get carried away and expect everything to be perfect.
"Be realistic about what may or may not happen," Kaslow said.
Tangled family issues aren't going to disappear for the holidays, so you want to be prepared to defuse them delicately.
Short visits are better in cases where you expect to be in close quarters with someone who nags or criticizes you. You can ignore the criticism or try to positively counteract it.
"Sometimes the best thing to do is to turn around and praise the person who is critical," Kaslow said.
If you're having a hard time, plan to call a friend or go out for a walk with someone you feel comfortable with.
And if a situation is really making you uncomfortable, talk to the parties involved about how it makes you feel.
"You can stand up for yourself, and there's a right way to do it," Post said.
"You don't accuse the other person and start name-calling ... but instead you address the problem. Use all that wonderful 'when you ... I feel' kind of language we teach children."
Let things go
Remember that you're a guest. You're automatically relinquishing some control.
Try to find time for relaxation and your personal routine when there are openings in the schedule.
When your host asks, "Is there anything you'd really like to do while you're here?," speak up and make your wishes known, Post said.
Be considerate of your host and contribute to the festivities, she advised.
"Remember that going to stay with your family is not just taking a vacation where Mom and Dad get to be your maid and butler for the week," Post said.
And always, always bring a host or hostess gift.
E-mail to a friend

All About Family Travel