Story Highlights
• Democracy and universal suffrage are key for Hong Kong, Clarke says
• Hong Kong needs to toot its own horn and embrace its uniqueness, Feign says
• HK's vision lies with those who were children during the Handover, Wong says
• Xu Xi: Despite power shift to Mandarin, HK's identity is separate from China's
By Elizabeth Yuan
CNN
Adjust font size:




HONG KONG, China (CNN) -- A photographer, a cartoonist, a painter and a writer: Four artists whose works are tied to Hong Kong, recently reflected with CNN.com on the city, the 10th anniversary of its handover to China and the future of their region:
David Clarke, photographer
Things got simpler after the Handover, because only then could people begin to see a long-term future, said Clarke, a Briton who has been a Hong Kong resident for more than 20 years. "I wasn't sure if I'd have a right of abode." Now he's buying an apartment and can consider Hong Kong as a place to retire.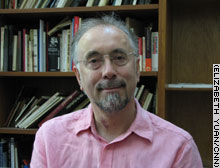 David Clarke seeks to capture fragments of Hong Kong when he takes pictures.
The great uncertainty that preceded the Handover accompanied a very certain date: July 1, 1997. Unlike other historical events like the Berlin Wall, the Handover was something everyone knew was going to happen -- years in advance, Clarke pointed out.
"Knowing the exact date with the idea that things are being lost reflected a premature retrospective mood, said Clarke, an art professor at the University of Hong Kong. "Many of our fears were extreme."
Following the 1989 Tiananmen Square massacre, avant-garde mainland artists went underground, Clarke said. By contrast, Hong Kong's art scene allowed open dialogue, he said.
Hong Kong needs to attain democracy and universal suffrage, Clarke said. "The Hong Kong government wanted Hong Kong to be Asia's world city. But you can't be like London or New York unless you change the fundamental problem (concerning universal suffrage)."
Between December 31, 1994, to January 1, 2000, with the Handover falling exactly halfway, Clarke took black-and-white photos of Hong Kong every day to record its transition from a British colony into a Chinese Special Administrative Region. What emerged was a photo-diary, "Reclaimed Land: Hong Kong in Transition."
Clarke switched to a digital camera and color photography for his follow-up project, "Hong Kong x 24 x 365: A Year in the Life of a City," as seen from October 5, 2004, until October 4, 2005, an arbitrarily chosen period of time.
A photograph, like wine, gains value over time, said Clarke. It has "a perfect memory, he said. "It doesn't forget what happened."
Larry Feign: Searching for direction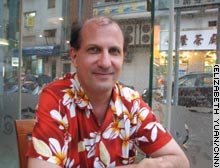 Larry Feign's "Lily Wong" comic strip reflected the light side of Hong Kong life and the political anxieties on people's minds.
Today's concerns are very different from those in 1997, said U.S.-born Larry Feign, who explores the "Hong Kong way of doing things" in "HongKongitis," a book of essays about daily life in "Asia's World City." Back then, democracy, autonomy, rule of law -- the top-level politics -- were the chief concerns, he said.
"Now what worries me is a foundering, lack of definition, a lack of direction," said Feign of his home of 20 years. "If we don't emphasize its strengths, it will lose itself."
Just as Hong Kong's identity as a manufacturing center shifted to service and finance as industrial jobs moved to China, finance could face the same fate, Feign said. "That's where complacency is," he said, "the thinking that Hong Kong is a place where finance has to go in order to do business with China.
"Everyone always thought Hong Kong would influence China," Feign said. "What really surprises me and a lot of people I know is that Hong Kong has become so dependent on China than the other way around," Feign said, comparing Hong Kong to a male angler that attaches to the larger female and atrophies. "Kowtowing to China -- it's the antithesis of what this place is about."
Years ago, Feign used his "Lily Wong" comic strip to pick on the Chinese leadership; in 1995, he was "downsized" soon after preparing a strip on the sale of body organs taken from executed Chinese prisoners.
Hong Kong needs to do a better job of tooting its own horn, he added, pointing to its branding as a perfect example. "Paris is not the 'West European City of Light.' Why should Hong Kong only be 'Asia's world city'? It sounds apologetic. The only thing that's clever is the PR agency that got millions of dollars."
Rather than capitalizing on its uniqueness as a former colony that was handed over without war, a historical anomaly with a "one country, two systems" rule, Hong Kong embraced Mickey Mouse, Feign said.
"Let's make it another Chinese city, with a Disneyland," he said, calling it the "most disappointing thing since the handover."
Wucius Wong: Finding his roots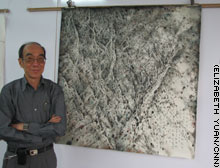 Wucius Wong rarely uses Hong Kong as his subject, but his landscape ink paintings incorporate influences of East and West.
It was in his 70s that artist Wucius Wong finally found his roots. In a major retrospective by the Hong Kong Museum of Art that spanned five decades of his work, the final part -- 1996-2006 -- aptly summed up his pursuit: "Looking for Roots, Building a Dream."
Although Wong was born in the mainland province of Guangdong before World War II, he grew up in British-ruled Hong Kong, where he gained very little knowledge of China. Events that took place in China, such as the Cultural Revolution, belonged to Chinese history, and Hong Kong lay outside of it, he said. "I don't think I had a grasp of what my roots were," he said.
"Most people in Hong Kong don't have strong roots here," he added. "They don't know China other than through words and images," he said.
As an artist, he saw himself as a "half-empty" receptacle capable of receiving Western influences. And in his hunger to learn, he studied art in the United States, where he'd live for 17 years until 1996. "For a long time, I have found myself wandering between East and West and not knowing where my roots are," he said. The result has been a lifetime effort of blending the Chinese tradition of landscape ink painting with Western forms.
Hong Kong artists need to participate in more exchanges and exhibitions with mainland artists, in order to avoid being left on the margins as Chinese art grows in popularity, Wong said.
Wong returned to Hong Kong a year before the Handover to witness it and to begin looking for his roots. The identity crisis that Hong Kongers have grappled with is almost over, he said. The key lies with those who were children during the Handover, who don't remember British rule, Wong said. "They will become the pillars of Hong Kong society and will have a different vision."
Ten years after the Handover, Wong feels he is now settled in Hong Kong. The series of paintings he's working on now bear the title, "Spreading the Roots."
Xu Xi: Hong Kong's separate identity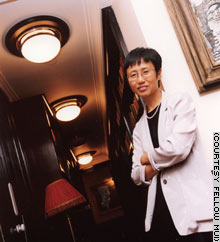 Xu Xi feels a responsibility as a writer not to desert Hong Kong and always situates her novels from its vantage point.
Hong Kong is inescapable in Xu Xi's writings, such as "History's Fiction," a collection of fictional stories set from the 1960s through the '90s, and "The Unwalled City," which ends after midnight on July 1, 1997.
She grew up in Tsim Sha Tsui on the Kowloon side, where the harbor was what she recalled seeing in the morning, and a car park was her front yard. As an Indonesian-Chinese child, she felt a bit on the outside. Although she went to the United States for university studies, she always returned to Hong Kong and today divides her time between New York, New Zealand, and Hong Kong where her 87-year-old mother lives.
For three years, Xu Xi compiled an anthology of Hong Kong writing in the English language after finding it was not taught.
Out-of-print works, difficulty in finding a publisher and a lack of interest posed major hurdles. "Never want to do it again in my life," she recalled of the work involved. "But I thought I should do it. If I don't, writers die, and writing disappears. And I am one of them. It's a way of recording."
The result of the effort was "City Voices," co-edited with Mike Ingham. Her latest effort, "Fifty/Fifty," is a compilation of Hong Kong essays and alludes to another significant year for Hong Kong -- 2047, the year Hong Kong's semiautonomy ends, and the city reverts to full Chinese rule.
In recent years, the "power" language has shifted, she said, first from English to Cantonese, and now to Mandarin. A Hong Kong Chinese person who cannot speak Mandarin could very well meet a Westerner who'd speak fluent Mandarin, she said.
At the end of "Unwalled City," one character insists on staying up to see the city's first dawn under Chinese rule and declares Hong Kong "the unwalled city." At the same time, while the "Great Wall" that had separated Hong Kong and China is gone, "we're like barbarians. Mongols at bay," the character said.
The sentiment captures Hong Kong's identity as being separate from China, an identity Xu Xi still considers true: "China as it is -- and has been -- is not us, and we shouldn't lose sight of it."
---