By Elizabeth Yuan
CNN





HONG KONG, China (CNN) -- The clouds on Sunday threatened to rain cats and dogs, as it has been in recent days -- a perfect echo of the weather exactly 10 years ago when Hong Kong became China's after 156 years of British rule.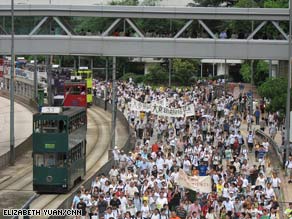 Trolley cars and pro-democracy demonstrators were seen side by side not too far from Pacific Place in Hong Kong.
The organizers of the "People's March for Universal Suffrage" in Hong Kong was revving up the crowd that was amassing in Victoria Park with rally chants and songs, including a Cantonese version of "Do You Hear the People Sing" from "Les Miserables."
"One person one vote," said William Kwok, who prefers to join this July 1 "party" instead of the one commemorating the territory's Handover.
"They might think this is a model for mainland China," David Chan said, explaining the need to protest instead of staying at home. Hong Kong is the "one place on earth where Chinese can express themselves freely," he said, pointing to the 1989 government crackdown on the student-led pro-democracy demonstrations in Beijing's Tiananmen Square.
Chan was carrying a flag for Radio Television Hong Kong, the public broadcaster whose existence is in question. A government report has proposed the creation of a "new" public broadcaster, to be named the Hong Kong Public Broadcasting Corporation, to satisfy the "need for public service broadcasting." The fear is that the new entity would be a government mouthpiece. The report said it "should be independent in its editorial and programming decisions."
"They don't need to cut down a big tree and plant another one," said Chiwa Lo, an RTHK producer, who was carrying a banner in support of the 79-year-old broadcaster that was established under British rule.
Nearby, marchers were hoisting a banner reading "We Miss Ching Cheong," in reference to the Hong Kong-based correspondent of Singapore's Straits Times newspaper who is now serving five years in prison on conviction for spying. A Hong Kong Journalists Association petition with more than 10,500 names has appealed for his release, according to Reporters Without Borders.
One marcher acknowledged that the demonstration wasn't going to run into the person who mattered most -- Chinese President Hu Jintao, who had by the start of the suffrage march already left Hong Kong, after having driven over the Hong Kong-mainland boundary to open Shenzhen Bay Port.
"If you don't see anyone criticizing you, no one's criticizing you," said Ryan Murphy, a Hong Kong resident, who hails from the U.S. state of Minnesota.
In an interview with Anjali Rao on CNN's "Talk Asia" in March, Hong Kong's Chief Executive Donald Tsang said if he won re-election, he would put out a consultation paper this summer concerning universal suffrage. After a three-month consultancy period, Tsang said he would present the proposal to Beijing. "I'm not talking about intermediary steps," he said. "I'm talking about consultation to reach the final destination of universal suffrage and [the proposal] will all be delivered within this year 2007."
Tsang won and was sworn in Sunday.
In between the flags for democracy and RTHK were collection boxes and banners for human rights groups, Tiananmen mothers, labor groups, teachers unions, and social groups like those championing for the poor.
Organizers say the march, which lasted more than four hours on a 30 degrees Celsius (86 degrees Fahrenheit) day, had 58,000 people. Hong Kong police could not give CNN an exact estimate. By comparison, the July 1 march in 2003 drew half a million people, protesting among other issues a controversial national security law.
And who are the leaders of Hong Kong's democracy movement?
"The Hong Kong people," said Jackie Hung, convener of the Civil Human Rights Front, an alliance of more than 40 nongovernmental groups, which organized the march. "Hong Kong people are the leaders of the democratic movement."

As marchers ended their 4-kilometer (2.5 mile) demonstration on top of Government Hill, they planted flags -- some saying "One Person One Vote!," others saying "6-4" in Chinese characters, a reference to Tiananmen -- into the fence in front of the Central Government offices.
As march organizers rallied the crowd with a song about universal suffrage and then "Do You Hear the People Sing," a sanitation worker tore down the flags from the fence and stuffed them into a garbage bag.
E-mail to a friend