YANGON, Myanmar (CNN) -- The United Nations Human Rights Council is pushing for a fact-finding mission to Myanmar as video smuggled out of the secretive country shows unarmed protesters being beaten by the military regime's security forces.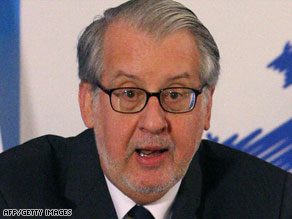 U.N. envoy Paulo Sergio Pinheiro said the council was in a strong position to convince Myanmar's government.
U.N. envoy Paulo Sergio Pinheiro told CNN International the council "will be in a very strong position to convince the (Myanmar) government ... to receive me" after passing a resolution on Tuesday condemning the violent repression of pro-democracy protests.
The mission would follow a visit by U.N. envoy Ibrahim Gambari who sought to quell the tensions by meeting with junta leaders and pro-democracy leaders, including detained Nobel laureate Aung San Suu Kyi.
Gambari left Myanmar Tuesday and is expected to brief the U.N. Security Council on his mission later this week.
Pinheiro said his trip would be "somewhat different" than Gambari's visit because it would involve "more fact-finding than a dialogue with the authorities."
Over the weekend, as many as 1,000 people were arrested in Yangon and the streets are controlled by police and soldiers who are checking everyone for cameras and cell phones, witnesses told CNN.
But some video of the protests has made it out of the tightly-controlled country, and seem to contradict the statement by Myanmar's foreign minister U Nyan Win, who said the country's security personnel have "exercised utmost restraint" in dealing with massive demonstrations.
In the video, one man raises his hands above his head, and is beaten with sticks by Myanmar security personnel.
The images show crowds of protesters over the weekend loudly chanting and marching peacefully through the city of Yangon. As Myanmar military descends on the protest, the crowds quickly disperse.
The chants of the demonstrators are replaced by loud orders from the military. Several of the protesters are bloodied, one slumped inside an alleyway as his friend tries to tend to him while staying out of sight.
A pile of sandals remains in the street, evidence of the stampede that followed the military crackdown.
Demonstrators who weren't fast enough are searched and loaded onto trucks by men who are not wearing uniforms, apparently plain-clothes intelligence officers operating in their midst.
The official death toll from Myanmar's leadership is at 10, but there are reports that hundreds were killed in the wake of the demonstrations, which were led by Myanmar's Buddhist monks.
Pinheiro said the death toll would be among many facts he would investigate if he is allowed into Myanmar.
"Of course I think that the numbers furnished by the regime are completely unreliable," he said Wednesday. "I am receiving appalling news about hundreds of detentions and monasteries that have been military-occupied, a lot of people that are in hospitals."
In a phone interview with CNN's Anderson Cooper late Wednesday, Shari Villarosa, Charge d'Affaires of the U.S. Embassy in Yangon, said embassy staff has visited a number of monasteries in the former capital over the past few days and the situation is worrisome.
"It's disturbing because we've found many that have been vacated," she said. "We've found others that have military barricades around them. We've seen a few that seem to be open again, but with a significantly reduced number of monks."
According to Villarosa, it's believed that thousands of people have been detained by the military government.
"We continue to really see reports that during the middle of the night the authorities are going around and making more arrests," she said. "So it's like 2 in the morning and people are getting knocks on the door and they are taking people away."
Pinheiro said he addressed these issues with Myanmar's government on Tuesday and said the country is under increased pressure to allow a human rights probe because of the "real commitment by many friends of the country" including China and India.
He said Myanmar should "have to pay a big price" if it blocks the human rights mission, but noted that the only real punishment that the council can issue against Myanmar would be "moral sanctions" by exposing the country's lack of compliance with international human rights standards.
"I think that the Human Rights Council will decide what kind of price the government has to pay if the government will not allow my presence," he said.
E-mail to a friend

CNN's United Nations Correspondent Richard Roth contributed to this report.
All About Myanmar • Aung San Suu Kyi • Ibrahim Gambari