SEOUL, South Korea (CNN) -- Jeon Do-yeon won the Best Actress prize at this year's Cannes Film Festival for her performance in the South Korean film "Secret Sunshine." Celebrated in her native South Korea for her roles in melodramatic soap operas and independent films, Jeon is the first Asian to win this prestigious prize. South Korea's most famous actress joins Talk Asia to discuss her rise into renown and takes a stroll around the cultural neighborhood of Daehango in Seoul with host Anjali Rao.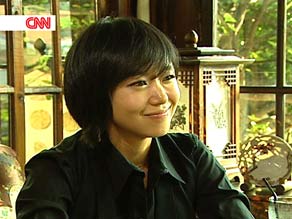 South Korean actress Jeon Do-yeon
BLOCK A
R: Let's start with the Best Actress prize, which you won this year at the Cannes Film Festival. What's it like being the first Korean ever to win such a prestigious award?
J: First of all, I wasn't really able to think about the significance of myself being the first Korean or the first Asian to win such a significant prize. However, now, thinking about it, I do think it's more important that more female, more actresses, regardless of whether they're Western or Asian actresses, that they win prizes at this prestigious film festival. And thinking about it now, I do feel quite proud about it and also feel like I have to put on a better performance now.
R: How important are international events such as Cannes in determining an actor's career, do you think?
J: Regardless of whether I realize the impact or the importance of it or not, I feel I see the significance of the award reflected in things such as being selected as one of the 50 most influential females, such as in Variety. But I do definitely believe that for an actress, awards such as this do widen the variety of movies that I can chose from.
R: What do you think your win at Cannes means for the South Korean film industry in general?
J: Personally, I do wish that it has a great impact on the Korean film industry, because I didn't have much experience with international film festivals. I personally heard that the film festivals are usually centered around directors. By me winning this prize as a Korean and female actress, I heard that this becomes one of the turning points that film festivals, the focus of them, shifts also towards actors and actresses.
R: You won for your role in "Secret Sunshine." Did you ever anticipate its success?
J: To tell you the truth, the director of the film, Lee Chang-dong, is not greatly loved by the public, and his films are not mainstream. But I did feel that while I was starring in the film, we did joke around, saying that this is probably going to be one of the most popular films among all of Lee Chang-dong's films. And I'm very glad that by winning this prize, it did receive a lot of interest from the public, and as an actress I feel very proud and honored about it.
R: Still though, you weren't entirely convinced, were you, that your role in "Secret Sunshine" was right for you. What were your doubts about it?
J: I usually decide whether I'm going to star in a film or not based on how much I understand the scenario, not necessarily how much I understand the character of the film. In this case, it also depends on whether I'm emotionally drawn towards the story itself. In the case of "Secret Sunshine," because it was something that I had never experienced before, I doubted myself and the story, whether a person can actually experience those kinds of emotions. So it was difficult for me to decide, despite the fact that I had been interested for a very long time to work with director Lee Chang-dong. The difficult thing for me was because I didn't trust entirely in the story itself. I doubted whether as an actress I could actually convey the story to the public or not.
R: I guess it must have all been worth it in the end, I guess, once you've been to Cannes. But most accounts say you went through hell filming this. Is that true?
J: Of course I have to say working on the site wasn't easy. I would probably have to say it was one of the most difficult shoots of my life. And I believe the memories would probably go with me forever. It was difficult because it was very rough for me to fully understand the character and also to understand the situation in which the character was in. In those kinds of cases, usually actors or actresses would have to rely on the director, but the director of this film didn't really give me straightforward answers, so that was very difficult for me, and I was actually resentful towards him. I sometimes was disappointed in myself, because I felt like I could not come up with the emotions that the character was actually going through in the story. And whether I realized it at that time or not, looking back on it now, I do believe that those kinds of struggles made me grow more as an actress.
R: You've also just been named as one of the 50 most influential women by Variety magazine -- which is quite a feat in itself -- and on that list there are only four actresses among them: Angelina Jolie and also Helen Mirren. What's it like for you to see your name alongside these huge stars?
J: After I heard about that, I received a lot of phone calls from people congratulating me, and I got to think about what kind of impact I may have possibly had. But I actually thought, to put it quite simply, I just thought, wow, Angelina Jolie. And I wondered if she had seen my photo, if she had heard about me. And so that was pretty much it, I just felt good about it.
BLOCK B
R: So starting at the beginning, you entered the film industry totally by accident. Tell us how that came about?
J: Personally, when I first started out on television, I thought that was the only world that existed out there. But thinking about it now after experiencing the film industry, I think soap operas are rushed. There's no time for the actors and actresses to think about what they're doing or the characters while filming soap operas. In my case, when I was starring in a soap opera, I also filmed mini-series, it's a different form of soap. For this case, the actors, actresses always have to be on their feet, they're always busy, there's not enough time to think about things. So for people who like to really think over the characters, it's really quite tough. In the case of films, there's a lot of time for preparation, and a lot of communication channels with the directors. So that's the greatest difference with soap operas. But the merit of doing soap operas is that your work gets shown at faster speed and easily reachable to the audience.
R: So as you were saying, your first feature film was "The Contact," which propelled you to instant stardom. What are your recollections of your big-screen debut?
J: Looking back on it now, I think that it was a very difficult experience for me as an actress, It was my first film. The other actor was already a very well-established star in the industry, and the director didn't really fully trust my capabilities as an actress. He continuously had doubts about me. It was a very difficult situation. But because I was still young and naïve, and I didn't like to think about things too much or over-think things, I think I just tried to be as positive as possible, and I was able to do so, and I'm very grateful that I was that way at that time. I just laughed and smiled through all the situations at that time.
R: So melodramas in which you starred, such as "The Contact" and also "A Promise," got you dubbed the Queen of Tears. What do you make of that label?
J: I guess it was good. I felt good about it because, whether it's a melodrama or not, it means that it was well received by the public. And in whatever form, whether I be called the Queen of Tears or whatever it was, it felt good to be in the center of things. People usually like to title or label people such as the Queen of Tears or Korea's best actress or whatever it may be, but I think what's more important than any title is the fact that I'm in the center of things. Not to say that being in the middle of everything is always good, but I believe as an actress, it's very important to go with the flow.
R: In 2005, you starred in "You Are My Sunshine" as an HIV-infected bar girl. That must have been an incredibly tough part to play?
Don't Miss
J: Any role compared to Shine in "Secret Sunshine," compared to that, is nothing close to being difficult. "You Are My Sunshine" was one of the happiest times of my acting career because the character was someone that was loved by everybody. Although you could say from the outside that the character was going through some of the roughest things in her life and seemingly tragic, but at the same time, I thought that she was probably one of the happiest people in the world. So in that sense it was a very enjoyable experience for me.
R: Do you think that there's something to be said for commentators who look at the South Korean film industry and say that it's sexist?
J: I don't really think so. I've never really felt that way about the scenarios. Whether the director writes it or a writer writes it out, I think because scenarios are always a reflection of society itself. In some form it will show how society feels about women and not necessarily that the scenario plays on sexism. But I also do think that through this, by watching the movie, the public does get to see a slice of the way that people perceive women.
R: So you've now got rather a wide body of work under your bed, and along with that comes a lot of celebrities. How do you deal with fame, given this was not the path you've been intending to go down?
J: Whenever I watch television, I always wonder how Hollywood stars manage with their privacy, always being invaded in such a way. As a public figure, I just think that it's important to perform, to try my very best in my own field and live up to my responsibilities in that area. If I have to put on my best performance in every single moment even off the set, I think it would be very difficult for me, because it would mean that my personal life would become like my work. I think it's ok for people to make mistakes, and I don't try to be perfect, because I'm a human being. I think that actually benefits my work, because it makes me a much more natural person and outside of my work I try not to think that I have to be a great public figure or a great actress, because by doing that I think I'm able to use that extra energy and put it into my work to put on a better performance.
BLOCK C
R: So, how easy is it for you to be able to come out into public like this and to just walk down the road?
J: I quite like walking and seeing people in the street. My style is that I don't really mind too much about people looking at me.
R: So, since you've become a public figure... Since you've been in the public eye, does that mean that you still get to go to the supermarket and do your own shopping and go to the dry cleaner's and pick up your own clothes, or do you have somebody to do that for you?
J: I usually do all that myself, and because I come across as being comfortable being out in public. People feel comfortable about that as well and just greet me naturally. At times at a shop they may give me more than I asked for, so I am getting a lot of benefit.
R: I guess it would be a lot worse if you were living somewhere like Hollywood, right? Has that got any appeal for you?
J: I have never thought of starting out in Hollywood. I think it's probably the same as when people watch movies, they look at this different world inside on the screen, and they think, wow, that's a different world, that's an interesting world. I kind of feel the same way about Hollywood.
R: What do you think about the state of the South Korean film industry at the moment? Because a lot of people say it's in a crisis, it's all going downhill like in the 1990s. Do you think it is? Because a lot of people say, you know, it's not that bad yet -- you yourself have had quite a hand in rescuing things.
J: I would be quite honored if I could in any way help the industry, however small the effort. A lot of people do say it's a rough time for the industry, but I think it's the same as when a child is growing up, he or she has to go through a lot of difficulties and pain to mature. It's good be optimistic instead. And I think the current state of the Korean film industry is probably in the same situation.
R: We all know that relationships in Hollywood don't last. It's very sad, but it's just very, very fickle. You have an extremely happy marriage, how do you make it work?
J: Just four months.
R: Four good months. Anyway, that's longer than most Hollywood relationships last.
J: Pretty much, it's important to make the best effort in any kind of situation. For instance, whatever the relationship is, be it love or work, if one is demanding and self-centered, the relationship won't last long. Again, what is important is whatever the relationship is. If one can put effort to compromise and be understanding, it definitely helps.
R: So what does your husband think about all the attention that you get?
J: We are happy about it and enjoy it together. He takes pride in being part of my life.
R: Aw, that's very sweet. But I mean, when fans try to contact you, as I assume they do, does he have no problem with it?
J: I'm always very grateful, thankful to my fans, and I think it's because of their support that I'm able to be in this position right now. But I do believe that the only way I can pay back is through my performance in films, rather than saying a hundred sweet "thank you"s.
R: Well, as we've been walking along, we've been collecting up a following of your fans. They've been all around here, waiting for you when we're finished with this interview so that you can sign some autographs or something. So let me just ask you this in finishing: What's the next step for you professionally?
J: It's always been pretty much been the same, I think, because that's the only way I can pay back -- is to make through good films, and that's what I always strive to do, and my hope and dreams.
R: Perfect, thank you very, very much.
J: Thank you.
E-mail to a friend