By Steven Jiang
For CNN





Editor's note: "Beijing Journal" is an occasional series examining China's capital as it prepares for the 2008 Summer Games.
BEIJING, China (CNN) -- Ronjon Sen flies across the Pacific once a week to serve cocktails. The San Francisco-based business executive began his weekly U.S.-China commute only this year and, by the end of January, had racked up more than 100,000 frequent flier miles.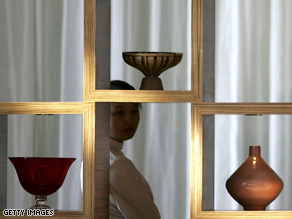 A cafe and bar at a Beijing landmark, the Beijing Hotel.
"I have a few single malt Scotch whiskeys along with my meal and then just go to sleep," Sen explained his strategy on coping with long-haul air travel on a recent flight from Washington to Beijing.
"This way when I arrive, I am ready to do business."
His business focuses on something less potent than Scotch but probably more popular at bars and parties. As vice president for international sales at The Margarita King, Sen sees the massive Chinese market as a golden opportunity for the company's bottled premium cocktail.
"The margarita's alcohol content is about double those in wines but half of those in whiskeys or vodka," Sen offered.
"If you drink in moderation, it's a nice drink that lets you have fun without getting drunk."
He said it took the company two years to perfect the blend of top-quality tequila, orange liqueur, and lemon and lime juices. The pre-made cocktail sells at around US$15 for a 750-milliliter bottle in the U.S. but will likely be more expensive in China.
With some 10,000 athletes and 3 million visitors expected in Beijing for the Olympics this August, Sen feels sanguine about the prospect of winning new fans.
"Many female athletes don't want whiskeys -- our margarita will be a perfect drink for them," he predicted.
As the countdown to the Summer Games continues, Sen has got his work cut out for him. He said he had a sharp learning curve in understanding the idiosyncrasies of doing business in different regions in China.
"Every deal is different," he observed. "And I thought this was a centralized economy."
But Sen is catching up quickly. He is meeting and signing on new distributors across the country every week, while keeping an eye on the mushrooming sports bars and upscale supermarket chains in Beijing for potential retail outlets.

On a recent China-bound trip, Sen brought 27 boxes of Margarita Kings, paying 100 U.S. dollars apiece for excess luggage fees. He said he did not mind the hefty charge, since clients had demanded the samples fast and were footing the bill.
"They really can't wait," he said with a smile.
E-mail to a friend

Steven Jiang is a Beijing-based freelance writer and former CNN producer.
All About Beijing • China • Olympic Games