By Steven Jiang
For CNN





Editor's note: "Beijing Journal" is an occasional series examining China's capital as it prepares for the 2008 Summer Games.
BEIJING, China (CNN) -- Chilly early spring winds could not cool Alex Chen's celebratory mood, as he walked his dog through quiet backstreets in his neighborhood near the famous Sanlitun bar district.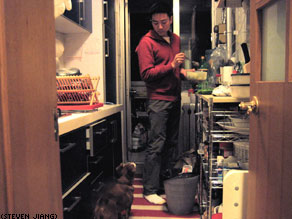 Beijing resident Alex Chen prepares dinner at home as his dog Charlie looks on.
"I'm just so happy that I signed for another two years," said the 29-year-old American marketing manager, who moved to the Chinese capital four years ago.
Chen was relishing the renewal of his apartment lease, normally a mundane affair but currently no small feat in Beijing as the clock ticks toward the start of the Olympic Games on August 8.
Landlords across the city are trying to hit the jackpot this summer, anticipating soaring demand for short-term rental from visitors shunning hotels because of inflated room rates.
A recent survey found two-thirds of owners of properties around Olympic venues expecting the rent to at least double during the Games, according the official Xinhua news agency.
Chen lives in Fortune Garden, a 10-year-old residential complex, a stone's throw away from two major stadiums and a nightlife hotspot.
He was paying less than $650 a month for his spacious 120-square-meter, three-bedroom apartment.
"It's a great deal," he admitted, adding that the going price for such an apartment is well over $900.
Online classifieds show some landlords of similar properties are asking for $300 a day during the Games.
Upon hearing several accounts of friends facing a steep rent hike or eviction, Chen nervously called his landlord before his lease ran out and tossed the idea of a new long-term contract.
To his amazement, the offer was accepted -- without a rent increase.

"They just don't want the hassle of finding and dealing with another tenant," Chen reasoned. "I never ask them for anything, I fix everything myself and I take good care of the apartment. I guess I'm a model tenant."
Well, almost. Chen had to hide his dog at a friend's house when the landlord came to renew the contract, which does not allow pets.
E-mail to a friend

Steven Jiang is a Beijing-based freelance writer and former CNN producer.
All About Beijing • China • Olympic Games