From Klaus Heymann for CNN
(CNN) -- "Do successful businesses follow the market surveys and offer what the customers want, or do they innovate and show their current and prospective clients what's best for them? How do you balance?" - Ronald Mahondo, I&M Bank, Kenya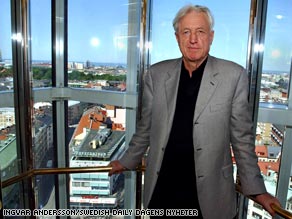 Klaus Heymann, founder and CEO of independent classical music label Naxos
Successful businesses should innovate and not rely on market surveys to tell them what the customers want. In many cases, customers may think they want a certain product or certain features in the product, but then don't purchase the product when it becomes available.
However, once a new product is launched, it is very important to monitor consumer response to it and to improve the product if necessary based on consumer response.
In the case of our record company, we have always planned our production schedule not based on surveys of what our customers want us to record, but based on other factors. For example, the top priority for us is always to fill gaps in our catalog, because we want all the most important works of classical music to be available on Naxos.
Also, our artists come to us with ideas, and quite a few of these are added to our recording schedule. Of course, we always consider proposals made by our customers as well and will occasionally include them in our future planning, but only those that have the potential of appealing to a wider audience.
We were far ahead of the market when we made our Naxos and Marco Polo catalogs available online on www.naxos.com (www.hnh.com at the time) in 1996 and when we launched our Naxos Music Library in 2002. Both services have undergone dramatic changes since we first launched them, most as a result of suggestions from consumers and users and we continue to monitor user comments so as to enable us to continue to improve the functions of the sites and to add features requested by users.
We were also the first company to release our Audiobooks on both CD and cassette at a time when the Audiobook departments in bookshops were called Books on Tape. This was a good decision and we had our entire catalog available on CD when the market finally turned.
Don't Miss
We also made mistakes -- We were the first company after Sony to make a wide range of our recordings available on MiniDisc. Unfortunately, that format was a failure as a carrier of pre-recorded music, although it became a success as a recording medium until the advent of other storage media.
We continue to watch all technical developments in the market and will experiment with or adapt new ideas if we think they have potential for our core business. It is important to continue to innovate and lead the market, especially if a company has been successful with a particular product.
Sony revolutionized portable music with its Walkman but was unable to maintain its leadership in the era of MP3 players. The iPod was not the first portable MP3 player but became the market leader because it was the easiest and most intuitive to use. And Apple did not rest on its laurels and launched the iTunes download platform which further enhanced the market leader position of the iPod.
Klaus Heymann
Chairman, Naxos Group of Companies
E-mail to a friend