By Geoff Hiscock
CNN
Global steel giant ArcelorMittal will spend at least $20 billion setting up two new integrated steel plants in India from 2009 onwards, company executives have told CNN.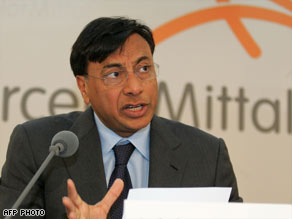 Mittal Steel and is headed by Lakshmi Mittal, whose 45 percent stake is worth more than $60 billion.
The two projects, based in the eastern states of Orissa and Jharkhand, will be the largest foreign direct investments yet seen in India and will add 24 million tonnes of annual steel production capacity.
Luxembourg-based ArcelorMittal is the world's biggest steel maker, with annual capacity of 120 million tonnes, but has no presence yet in the fast-growing Indian market.
The company was formed in 2006 from the merger of Arcelor and Mittal Steel and is headed by Lakshmi Mittal, the London-based Indian billionaire whose 45 percent stake is worth more than $60 billion.
Mittal began his rise to global preeminence with a single rolling mill in Indonesia that produced just 26,000 tonnes in 1978, its first full year of operation.
The Orissa and Jharkhand greenfield projects represent the first Indian investment by Mittal, though his brothers and father have run the family steel business, Ispat Industries, in India since 1952. Mittal, 57, is chairman and CEO of ArcelorMittal, which last month (May) reported 2008 first quarter net income of $2.4 billion.
Its earnings before interest, tax, depreciation and amortization (EBITDA) for the quarter were $5 billion.
Mittal's son Aditya, who is the company's chief financial officer, is forecasting EBITDA of $6.5 billion for the second quarter. ArcelorMittal's London-based head of investor relations, Julien Onillon, told CNN last week that the company expected to break ground on one of the Indian projects "before the end of 2009."
"India is a very exciting growth story for us," he said. "India's per capita consumption of steel is only 40 kg, compared with a figure of 500 kg for Europe and 270 kg for China."
ArcelorMittal has identified India as one of its key growth markets in its push to reach 150 million tonnes of production by 2012. Onillon said the first Indian project was likely to be built in two phases, each of 6 million tonnes, though that would depend on market conditions.
"We don't want to destabilize the market, so it could be in three phases," he said. According to Onillon, from breaking ground to producing steel normally takes two to three years, which suggests ArcelorMittal's first Indian plant could begin production in 2012.
But Onillon cautioned that a range of variables, including availability of power and iron ore, would have an impact on the plant's production start.
He said the $20 billion price tag for the two plants was also likely to rise. The company signed memoranda of understanding with the Orissa and Jharkhand state governments in 2005 and 2006 respectively.
As part of the deals, ArcelorMittal has been allocated 167 million tonnes of steaming coal in two blocks for use in the power plants it will build next to the steel mills.
Onillon said ArcelorMittal was not expecting any problems over its proposed investment in India.
"We have a cultural fit at the management level with India," he said. Earlier, ArcelorMittal's co-head of mergers and acquisitions, Rajat Kohli, told an Indian investment summit in London that patience was the key to investing successfully in India.
"One must be in India. But projects of this magnitude have a very long gestation period and you must engage with all stakeholders."
Kohli said that involved dealing at all levels politically -- on the ground in Orissa and Jharkhand, and then going further and dealing with a variety of other agencies and non-government organizations.
"It doesn't happen overnight, and it's not just a phone call to New Delhi," he said. But Kohli said the rewards were worth the effort, with India expected to consume between 150 to 200 million tonnes of steel a year from 2015.
While India's steel industry growth had been slower than that of China, its rate of growth was now increasing. Kohli said the world would never again see the sort of spectacular growth China had experienced, where steel production expanded from 100 million tonnes a decade ago to 400 million tonnes now.
With costs rising rapidly for key steel inputs such as iron ore and coking coal, ArcelorMittal is also moving to secure supply and prices of these commodities.
As part of its plan to achieve 75 to 85 percent self-sufficiency in iron ore by 2014-15, it has signed a 10-year agreement with Brazil's Vale, and is looking to increase supplies from Ukraine, Liberia and Senegal. Last week, it announced it would pay about $606 million for a 14.9 percent stake in Australia's Macarthur Coal, which is a major supplier of pulverized coal for use in steel making.
E-mail to a friend

Geoff Hiscock is the author of "India's Global Wealth Club," published by John Wiley & Sons.
All About India