(CNN) -- Joseph P. Lashinsky wants to move you to a new home at the click of a button. He's the CEO of ZipRealty, an online house-hunting service with annual sales of more than 100 million dollars. The company maintains an online database of homes for sale in more than 30 metropolitan areas for both buyers and sellers. And while you'll hear plenty about how tough the U.S. housing market is right now, Lashinsky is optimistic.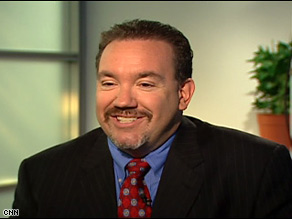 Joseph P. Lashinsky, CEO of ZipRealty
Maggie Lake: Were you concerned the housing downturn would actually make it difficult for the company to survive?
Lashinsky: We believe that our model has great service, agents who are local in the market. We give rebates back to consumers, we give complete transparency, we think those things will enable us to differentiate ourselves -- and we have a much lower cost structure than a traditional real estate broker, so we think we have some advantages with this model over our competitors.
Lake: How difficult is this? You are trying to disrupt a business model that has been around for a long time. People traditionally use real estate brokers to buy a house, now you are trying to get them to shop online. How hard is it to change people's behavior?
Lashinsky: This is a very difficult market to change. First of all, there are over a million, 200,000 realtors out there who are doing business one way. And we're a small, growing company that has 2,300 agents that are trying to do business a little different. We focus on the consumer instead of on the agents. And it's a business that hasn't really changed since Eisenhower was President. The commissions haven't changed, the way the business is done hasn't changed. So it's very difficult, it's very slow-moving, there's lots of entrenchment that's going on. And we have to work with them on everything we do, 'cause they're on the other side.
(Lashinsky had never worked in real estate before -- his background was in consumer products at the likes of General Mills. But personal experience led him to the online home business.)
Lashinsky: I just could not believe that here's an industry where, you know, I've talked to consumers who say, "I've had a better time buying a tire, or buying a purse, than I did buying my house. I found it so stressful, I couldn't believe it." And I just thought there was a better way to do it.
Lake: When you decided to take this job, did people say: "Hey, this company may not survive this downturn?"
Lashinsky: We'll, I've been with ZipRealty for seven years before I became the CEO. And so I knew pretty well what was going on in this business. Part of the reason I joined ZipRealty is that I believe there is a better way to do real estate. I had not had good experience before. I believe that agents should have some compensation that's tied to the satisfaction of their clients. We actually incent our agent, and if the client is happy, they get more money. No other brokerage does that. I don't know the last time any of my friends ever talked to a travel agent. Everyone online, buying everything online. I think that kind of transformation is very similar to what we're creating in the real estate space.
Lake: What part of the business are you seeing strength in and where is the growth?
Lashinsky: In the past nine months we've seen a very big influx of Canadians into this market, who've been waiting and would love to buy a second home, and they're really helping to prop it up -- followed by the Brits, Great Britain, they are being very strong on the East Coast, France, Germany, and then we're seeing strong Asian influence on the West Coast. And, they love our site because they can get on and find all the information they need before they actually have to see it and make a decision.
Lake: Is there a role model or a mentor you have that you have sort of styled yourself after as CEO?
Lashinsky: There was, there was a gentleman, and he wasn't the CEO of the company, his name was John Hoggin and he's the director of new health foods at General Mills. And what I liked about him is he brought kind of a quality of life along with business philosophy together. And his approach was, how do we balance those two off on a day-to-day basis. And he was always focused on ways to make the company be more successful and the people who worked for him be more successful.
E-mail to a friend

All About Real Estate