By Maggie Lake
CNN

(CNN) -- CEO of ZipRealty, Joseph Patrick Lashinsky, has his work cut out for him. At the helm just one year, he is trying to grow the online realty company during one of the worst housing downturns in decades.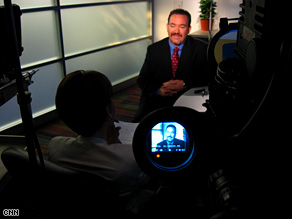 CNN's Maggie Lake interviews ZipRealty CEO Joseph P. Lashinsky for The Boardroom.
I expected him to show up for our interview with the weight of the world on his shoulders. Instead, he was in good humor and upbeat. Delusional? Not at all.
Lashinsky says yes, things are very difficult; they have had to cut costs and make adjustments, but he believes the online realtor business model is here to stay.
Lashinsky likens his business to online travel booking sites like Expedia or Travelocity. Just as people got used to booking their own flights, rather than using a travel agent, he thinks more and more consumers will use the Internet to buy and sell homes, rather than a real estate broker -- especially if it saves them commission money.
He says the hardest part of his job has been keeping employees' morale up. Many are on edge as they read the gloomy housing headlines day in and day out.
In fact, he says one of the biggest mistakes he made in his first year as CEO was canceling the company Christmas party. Given the environment, he thought it wise to save money and lay low. He didn't anticipate how disappointed his employees would be.
He came to the conclusion that in difficult economic times, people need a reason to come together and celebrate. And that really defines Lashinsky's approach to managing. He cares about his employees.
ZipRealty is a relatively small company, just two thousand licensed brokers. Lashinsky prides himself on holding a conference call once a month, during which any employee can ask anything.
He also responds directly to employee emails. He believes if his workers are happy, they will work harder at making sure the customers are too.
E-mail to a friend